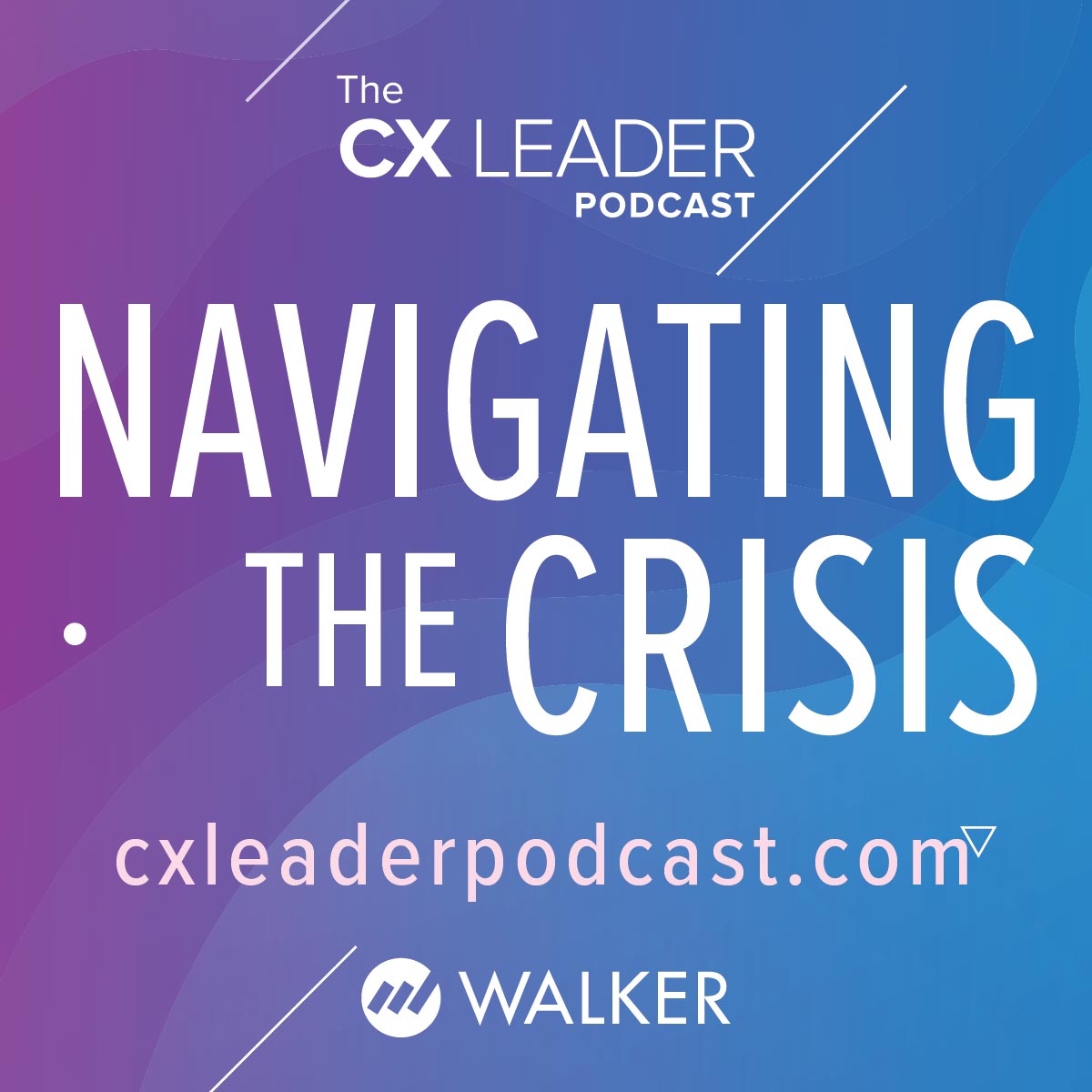 Navigating the Crisis
Release Date: June 9, 2020 • Episode #120
Host Steve Walker welcomes back guest Dereck Mobley, associate vice president at Walker, to share some stores of companies that were proactive and innovative in their approach to customer experience as a response to the pandemic.
Transcript
Download the "CX Leader Podcast: "Navigating the Crisis" audio file directly. This wav was automatically transcribed by Sonix (https://sonix.ai).
CX Leader Podcast: "Navigating the Crisis" was automatically transcribed by Sonix with the latest audio-to-text algorithms. This transcript may contain errors. Sonix is the best audio automated transcription service in 2020. Our automated transcription algorithms works with many of the popular audio file formats.
Steve:
We've spent several episodes discussing how companies should respond to the pandemic and even gotten a small peek into the actions they took to get ahead of the crisis.
Dereck:
What we found is that their business as a result of the impact of the pandemic is changing. So what this gives them, then, is the opportunity to explore and identify what that ideal customer experience is for their customers moving forward.
Steve:
Look at how companies are responding to COVID-19, through their customer experience on this episode of The CX Leader Podcast.
Announcer:
The CX Leader Podcast with Steve Walker is a production of Walker, an experience management firm that helps companies accelerate their CX success. Find out more at walkerinfo.com.
Steve:
Hello, everyone. I'm Steve Walker, host of The CX Leader podcast, and thank you for listening. On The CX Leader Podcast, we explore topics and themes to help leaders like you leverage all the benefits of your customer experience and help your customers and prospects want to do more business with you. Fans of the show will know that we've recently dedicated several episodes to resources and advice on how to respond to the coronavirus. And if you missed any of those episodes, you can listen to them on our website at cxleaderpodcast.com. But we thought we would share what we've observed from our perspective here at Walker. Stories about how companies we're proud to work with have focused on managing the experience to create better outcomes for their customers during this difficult time. My guest today is no stranger to the podcast. In fact, he is my friend and colleague, Dereck Mobley. Dereck is an associate vice president here at Walker. And he's going to share some of the stories that we've had today on how companies and CX professionals have responded to COVID-19. Dereck, thanks for coming back and being on The CX Leader Podcast.
Dereck:
Yeah, thanks, Steve. Appreciate being here.
Steve:
I know you've been on the podcast before, but just for context, tell our listeners a little bit about your background and what you do at Walker.
Dereck:
Yeah, appreciate the opportunity to do so. So I'm a consultant here, a Walker. I've been with the company for… celebrating my 10th year this year. So then able to work with some great companies and excited to share some stories about how they've addressed their CX experience and navigated through the recent months.
Steve:
Well, these are all really very timely and we're gonna kind of do them in industry verticals. The first one up is professional services. You had a global client in the middle of planning their program for the year. And right when this whole COVID-19 thing came through there, early to mid March. How did they have to shift their plans to accommodate that impact and then, you know, respond in different parts around the globe?
Dereck:
Yeah. So this client especially was an interesting case. We had done a pilot with him last year and really how their organization is set up, being a multinational company is that each country is almost like its own, B.U. So as a result of that, last year we just focused on a handful of countries and it was just an unmitigated success. And in terms of the traction they got from the C-Suite on down. We we're really excited going into 2020 to expand that program. And we are in the midst of planning just a couple of weeks out front from being able to move forward with it and launch. And suddenly, you know that the pandemic occurs and it impacts certainly not just here in the U.S., but across their global business. And so we've decided that it was in the best interest of wisdom, both with our customers and mine, as well as their business, to hit pause, take a breath and being able to navigate that immediate impact. And as we did, taking that month and being able to have a time where we were able to understand and identify how each of those individual countries were reacting to the pandemic, it actually resulted in the opportunity for the business to specify their customer experience back at that country level. Yeah, they're trying to to make sure there's a consistent experience across the globe. But in midst of the pandemic, as each country is reacting to how the pandemic is impacting them separately, it allowed us this chance to be able to tailor messaging, tailor the types of questions we are wanting to understand relative to the impact so that moving forward, the customer experience delivered by the business can not just be able to to maintain where they were at, but really respond proactively to the changes that their customers are having as a result of pandemic. So we went ahead and launched about a month later where we're wrapping up and super excited about the insights that we're gonna be able to take back to the business.
Steve:
You know, you raise an interesting point. It has to do with the way companies are organized and how the customer listening has to be in alignment with the way they're organized. And in this case, they they're decentralized because their business, they want decisions being made closer to their customers in those territories. And in essence, what they got was a laboratory of lots of different experiences going on, which they were able to learn from each other. Right?
Dereck:
Right. Absolutely. And really, you know, while there obviously is this cloud that's over, you know, these decisions that are being made, there's that silver lining that you have this canvas to be able to innovate on. Right? To experiment, to take some chances, because your customers are going to have the understanding that you're trying to understand and provide an experience that's going to set apart what they're able to experience with your business. And this gave them that laboratory. I think that's the perfect way to describe it.
Steve:
You know, another kind of macro impact that we've discussed on the podcast in multiple different ways is the impact of regulated industries. So we wanted to talk about the special considerations you have in regulatory industries related to this pandemic. So we looked at financial services clients and, you know, they tend to be highly regulated and organized and that's just the way it is. But you know what happens to a regulated industry when their timing gets thrown off?
Dereck:
Yes. And this one was – frustrating is the wrong word – but it was, you know, I think, disappointing probably to the client as we are working with them, because they had really spent a lot of time late in 2019 to make the preparations that were needed for a successful 2020 and their their customer experience programs. And what transpired is that the first quarter of the year is their busy time. It's tax season and things are going on that that really just makes them have to dedicate their time to serving the customers. And that's what they need to be doing. Well, when the pandemic hits late and that what they were forced to do was shift a lot of that business into later parts of the year, tax deadline gets extended into July. And those regulations are changing and evolving, of course, as the government's responding to the pandemic. And so we had to be able to very quickly and agilely respond to that within their customer experience program. So we try to be patient and wait and feel it out. And in fact, kind of we're just having one off conversations with the contacts, the client, as they navigate the waters internally. And then hear about three or four weeks ago, we came back together and said, OK. Now that things are starting to stabilize, we're understanding the regulations and how they change, how deadlines have been extended. What's the best approach? And what we found is that their business as a result of the impact of the pandemic is changing and it's probably not going to be the same. So what this gives them then going back to kind of that canvas is the opportunity to really innovate and ideate on what that future of their customer experience should be, learn from what it's been in the past, but really be able to explore and identify what that ideal customer experience is for their clients, for their customers moving forward. So we've found kind of that area that we want to explore and we are actually working now and excited here later in the month to be able to put together a hopefully what's going to be a good workshop for them to be able to really put in place those plans of action as they build on their customer experience and adapt to what obviously has been a significant change for so many.
Steve:
Great. You know, we talked about two businesses, financial services and professional services that more than likely transferred to a virtual environment, relatively easy. But, you know, manufacturing companies don't. You have a client that manufacturer parts that go into all sorts of applications, including medical devices, which, you know, while demand shrunk for a lot of industries, in the case of medical devices, the demand grew very, very quickly and very drastically. So how did things change as they saw a different level of impact across that business in manufacturing?
Dereck:
You know, while so many businesses, you kind of hit the point and they saw things go down or others, maybe we'll talk about later, saw things go up, this one saw different areas of their business shift, right, as some areas were scaling down and other areas were having to scale up. So it really led to some challenges that were unique to their business. And what we found in exploring that we had gone through and we're actually doing some interviews with some of their top customers trying to understand at a detailed level with some executives that their top customers, what that business relationship was like. And so, right as we are kind of starting to wrap that up, that the pandemic hit and we saw, you know what, we're going to wait and we want to reengage these folks here in about a month and see how they react and how they responded. What is interesting is seeing that this company manufacturers products for so many different applications, a lot of times a customer of theirs that might be focused on one area and one application wasn't necessarily aware that they could provide products for another application. Well, since they can, since they do have this diversity of the products they offer and the applications they can go into, it actually provided them an opportunity to expand their businesses as so many different companies were changing what they were doing as a response to the virus. So now we hear the names of the news companies like Ford and these big companies that were suddenly changing what they were doing and no longer were they are making cars, but now they're making ventilators. Well, now there's parts that go into those ventilators that maybe they are buying something else from the company previously. Well, now they could get that part instead that went into the ventilator. So those interviews that we were able to, to pause on and restructure really collected a number of opportunities for the business to be able to say, hey, we've had this relationship with our customers for a long time and now we have this chance and really a privilege for the organization to say, hey, we've served you and and are so proud to serve you for so long and now we can expand that relationship because of these other opportunities that we have in the business.
Steve:
So we've talked a lot about how you collect data under these circumstances and how you deal with your customers when you're trying to get the information out of them during the circumstances. But you had a client that was heavily into action planning at the time that COVID-19 came up and they were really trying to drive some customer-focused change through their organization. Share a little bit about that, because I think that's also an interesting approach of how things change.
Dereck:
Yeah. Yeah. And these guys were knocking it out of the park. I mean, they were doing a great job, you know, with regards to, you know, what they were trying to achieve in their customer experience, where we're really trying to drive actions and drive that business based upon the customer experience. They were looking to differentiate themselves by how they're providing service to their customers. And as a part of that, and we had wrapped up a pretty big and intensive program, had reported out to their executive team and had buy in just across the board in the organization. And we're ready to roll out an action planning workshop. So we're going to go down we are going to have this this big, beautiful action planning workshop all planned out, ready to go, excited about taking those insights and actually producing actions to move the business forward, to improve the business conditions, but also improve and impact that customer experience. Well, obviously, that the pandemic hits and travel restrictions are in place and offices are closed and it's just no longer practical for us to go on site and do that. So I know you've spoke previously to some of our colleagues here at Walker, how we shifted, how we can provide those workshops in a virtual sense. And that's what we did. We… so we adapted and we look to understand how we can continue to engage with their business, continue to deliver. What was that action planning to not just merely come up with: Yeah, we could do that or we could do this. But to settle on those specific actions that we could take to to move that business forward. And because it happened at the time, it did, we were able to do that, knowing that the situation in the environment had changed. And just in the past three weeks. So we weren't taking those actions into a world that we knew but as a world that was new in so many ways. And so it allowed us the chance to do that, not with guesses or hunches about what the customers were thinking and feeling, but instead informed based upon that customer experience. And it's take that to today, we are now actually working and have planned here later this month to take three very specific actions back to the business and are really excited about how those will play not just this year, but that even working ahead into 2021. And they're already setting the stage for how they're going to begin to just really focus in and hone that customer experience as a differentiator in their business. Really, really proud to work with those guys. They're doing a great job.
Steve:
Well, yeah. You know, now as we approach three months of work from home and virtual work and almost no business travel, we're seeing other clients that are taking these actions and figuring out a way to do it virtually. So congratulations to all the CX pros out there that have kept this going despite the challenges.
Dereck:
Yeah, it's a fun innovation for sure. That's that's been one of my those those silver linings we've talked about. That's one of the favorite things that we've been able to develop and and do here at Walker and really excited for our clients and for those other CX pros out there to do that.
Steve:
Do you know we've been talking about a lot of last three months, but, you know, it's one of the ways that you can take a bad situation and find good in it. And, you know, through necessity, innovation and solutions are created and those go on to make everything better in the future. So we allude a little bit to how some businesses went down and some businesses went up and how fast it all happened. And so I don't know about your house, Dereck, but my house, it seems like the delivery man comes like two or three times a day. And from my home office, I look out at the driveway. And, yeah, you know, it's like, well, here's the UPS man, here's the FedEx man, here's the Amazon Prime truck… So you had a client that makes boxes, right?
Dereck:
Yeah. Yeah. So had a client, you know, they're really in that packaging and labeling area. And what happened was, you know, they were kind of humming along and putting in place a strong CX practice within their organization. And then this… that the pandemic happens. And we saw, you know, as you alluded to, now suddenly consumer goods, there is this increased demand for weather that was toilet paper or bottles of water or whatever it was. Amazon orders. Suddenly we were all looking to to be able to make sure we had the stock and the provisions that we needed while we were in lockdown, while we were all working from home. So they saw their demand suddenly take a sharp increase. Talking to folks at the company, you know, they quoted and said, "we're busier than we've ever been." So suddenly they're responding to what was a big uptick and trying to navigate their customer experience through that, they were suddenly having calls and having to to delay orders that they had already planned because suddenly there was an uptick somewhere else from the customer. So it was difficult for them to try to take a step back because they didn't have the privilege or the opportunity to to step back, as some other clients did, and hit pause and try to understand and let things stabilize. They had to work through it. Right? And so as they're working through that and as they're seeing this huge uptick and they're dealing with all these big national brands are trying to get goods out to consumers like me and you. They were faced with how do we make sure that we're continuing to provide a customer experience that is proactive in these areas and not just responding to what is now a huge increase. So I did a couple of things. We were already working on an in-flight on a type of transactional program, so we sped that up a little bit. We wanted to hear back from those customers more quickly. But in addition to that, they put together a specific listening tool to go out to some of those key customers that they saw this increase in, and it was a COVID response type of survey. And I know we've encouraged that for it, for others, and now really want to make sure we were leading with that empathy and communicating. But so much of that, too, was understanding, hey, how's your demand changing? We want to make sure we're responding to you. So we're not asking this in our own interest here – understanding how our profitability is going to change for the year – but instead, hey, how can we make sure that we're able to meet the demand that you have as our B2B customer to make sure you're satisfying the needs of your B2C customers? So there was a lot of work done around that area and they've come through that just when flying colors. Right, to use the analogy, because what they were able to do was really tailor their response in a way that led to a type of proactivity in a time where proactivity was not easy to do. So they've really done well and we're excited about how they've set themselves up for the fall in the rest of the year and the things they're going to be able to accomplish because they've done such a good job navigating as CX pros here these last two and three months.
Steve:
You know, as you're telling that story, it kind of reminds me of the older days of CX and really the maturity that our industry and our profession has made, because probably five years ago they would have just said, well, you know, that CX stuff was great, but business is going so good now, we don't have to do that. But as you get CX more ingrained, as your business scales up, your business scales down, it becomes a more mature discipline within the company.
Dereck:
Right.
Steve:
It's so critical to sort of keep that long range view of what company's trying to do. So we've talked for ten years, probably at least that, you know, CX can't be something else to do. It's got to be integrated in what the company's focus is. And as companies do become more mature and their customer centricity, that example's just a great example of how, despite the fast increase in demand, they were able to keep their CX program humming along.
Dereck:
Yeah. And that was a credit to to their CX pro – that individual kind of leading their CX team, their CX initiatives. He's been doing it for a while. And he was that steady hand to say, hey, we need to make sure that we're not overlooking this. He was getting pulled into all kinds of fire drills and things in response to it as well. But he really led, you know, in that example of being a CX leader and how he was able to steer the company and their customer experience direction through the pandemic. And again, it set them up for success moving forward.
Steve:
Now it is that time of the show, Derek. I know you're a frequent listener and been on the show before, but, you know, we ask every guest to sort of leave us with their take home value. So based on your experience of working with all these fine companies through unprecedented time in our history, what's your take home value for the CX pros when they're dealing with a pandemic?
Dereck:
So whether it's dealing with a pandemic or any times of crisis or rapid change, whether that's on a global scale that we saw with the pandemic or it's on the local scale and an individual business, two qualities, two skills in a CX leader that can set themselves apart as individuals and working within their businesses, but also can lead to an improved and higher impact within their business are the skill sets of being flexible and adaptable. And we throw those words around quite a bit. Being flexible. But I was thinking back to a quote. I miss sports right now, like like a lot of folks do. But there is a boxer back in the 90s who had the quote. He said "everybody has a plan to get punched in the mouth." And so often that's what it is. We have these best laid plans. We're trying to go forward with as a CX leaders and what we're trying to to navigate through and then CX programs and then something changes. And when you see sales guys are hit in the business and they're reacting and responding and trying to restructure themselves to how they can continue to seek new orders and develop relationships with clients, and we see marketing his challenged with how they're going to communicate in the messaging that they're going to do, and all these different areas that business are trying to respond and navigate these these choppy waters. And so often that CX leader being flexible, being adaptable, being that steady hand to make sure that they're navigating and keeping that focus on the customer throughout they become that duck. Right? That duck that is smooth on the water, we might be churning like crazy beneath the surface, but the words it's a B that we're just trying to represent what is a consistency and stability to our customers, to those that we are ultimate trying to serve and making sure that that's felt and understood within the business. And just to have one more sports, quote has, as I miss sports so much right now: Al Davis, former owner of the Oakland Raiders and now Las Vegas Raiders, I guess, he said "you don't just adjust, you dominate." And so often I think that's kind of what we have to do, a CX leaders, as we have to be flexible, adaptable, we're making adjustments. But what we're doing ultimately is trying to build into a better customer experience, even when things change or constantly trying to say, hey, how can we have that customer experience that just is differentiated and sets us apart and makes us distinct in the organization, distinct in the industry that we make customers so satisfied, so felt and how we're serving them that they want to do business with us. And it's just so much fun to work with the companies like we've talked about, that it's my privilege to get to do it. And so many of them have done a great job. And it's been great just to be able to brag on them a little bit for how they've reacted through this.
Steve:
Well, your enthusiasm is contagious and it really comes through there. So thanks for being on the podcast and thanks for all the good work you do.
Dereck:
Yeah. Thanks so much for having me, Steve. Appreciate it.
Steve:
Dereck Mobley is an associate vice president here at Walker and has been my guest on the program. And Dereck, thanks for being on The CX Leader Podcast. If any of our listeners would like to continue the conversation, can you just quickly share your contact info or LinkedIn profile?
Dereck:
Yeah. Absolutely. You can reach me on LinkedIn. Just search for "Dereck Mobley" or you can reach me direct over email. It's dmobley@walkerinfo.com.
Steve:
Great. Thanks a lot. And we always enjoy the opportunity to continue the conversations off line with our guests and for CX pros who are listening to the podcast. And if you want to hear anything or talk about anything that you heard on this podcast or about how Walker could help your business's customer experience, please feel free to e-mail me here at steve.walker@walkerinformation.com. And be sure to check out our website, cxleaderpodcast.com, to subscribe to the show and find all our previous episodes, podcast series, and contact information so you can let us know how we're doing. The CX Leader Podcast is a production of Walker. We're an experience management firm that helps companies accelerate their CX success. You can read more about us at Walkerinfo.com. Thanks for listening and we'll see you again next time.
Sonix uses cutting-edge artificial intelligence to convert your wav files to text.
Create and share better audio content with Sonix. Sometimes you don't have super fancy audio recording equipment around; here's how you can record better audio on your phone. Automated transcription is getting more accurate with each passing day. Do you have a podcast? Here's how to automatically transcribe your podcasts with Sonix. Create better transcripts with online automated transcription. Quickly and accurately convert your audio to text with Sonix. Rapid advancements in speech-to-text technology has made transcription a whole lot easier. Are you a podcaster looking for automated transcription? Sonix can help you better transcribe your podcast episodes.
Sonix is the best online audio transcription software in 2020—it's fast, easy, and affordable.
If you are looking for a great way to convert your audio to text, try Sonix today.
Tags: Steve Walker Dereck Mobley innovative coronavirus COVID-19 stories