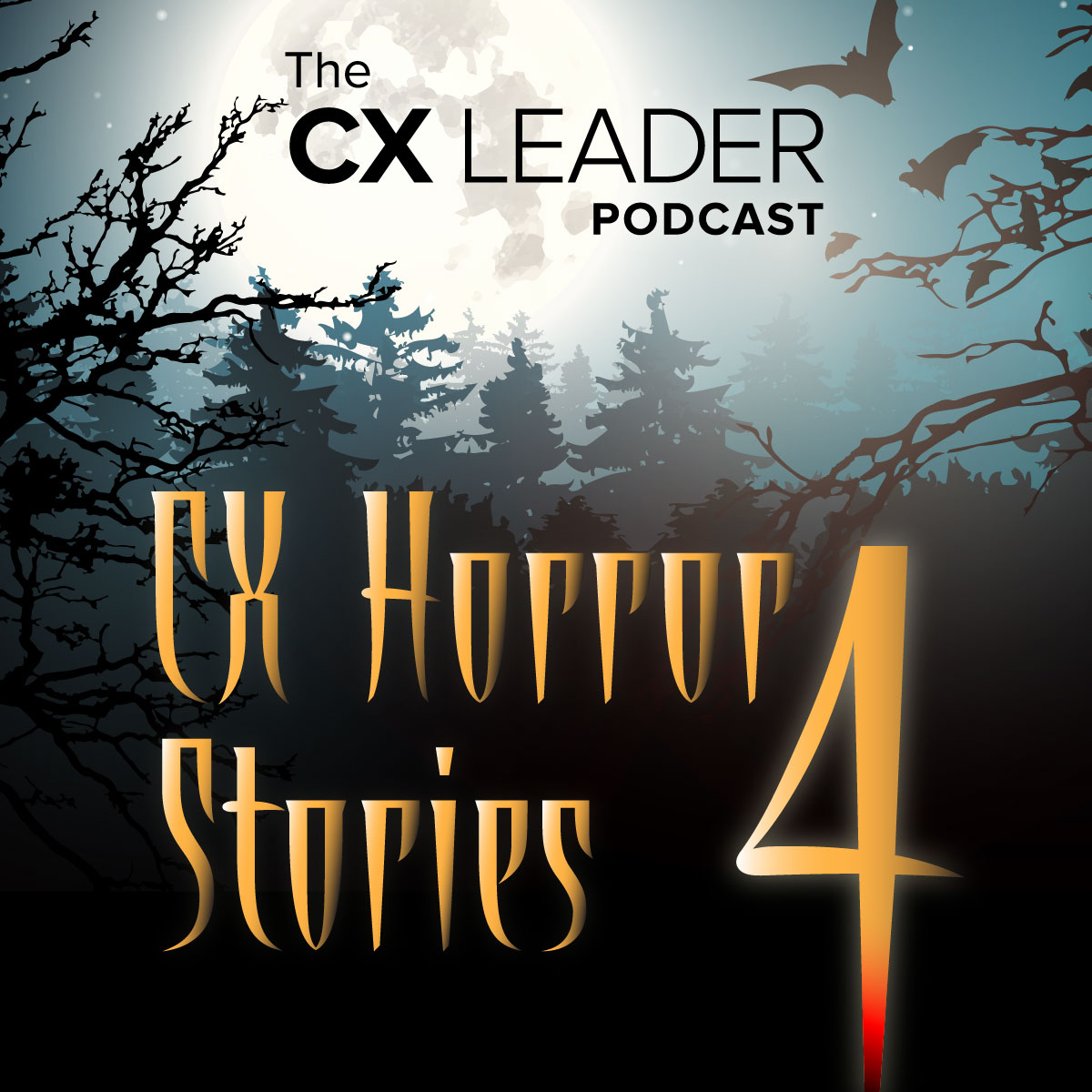 CX Horror Stories IV
Release Date: October 26, 2021 • Episode #189
Co-hosts Steve Walker and Pat Gibbons take listeners on a frightful journey of terrible customer experiences with plumbing, restaurants, baby supply stores, hospitals, and even vampires in blood banks! Guests include Jeannie Walters, Christine Trippi, Mike Grindstaff, and Drew Hall. Listen, if you dare!
Transcript
The CX Leader Podcast: "CX Horror Stories IV": this wav audio file was automatically transcribed by Sonix with the best speech-to-text algorithms. This transcript may contain errors.
Vampire:
[Shop door opening; sounds of footsteps] Ring a bell for service. [bell ringing]
Bob:
Yeah, just a minute. Yeah, I yeah, I got it, I got it, I got it, your here. That's enough. That's enough. Hello. Welcome to Bob's Blood Bank. How can I help you?
Vampire:
Hello, friend, I would like to purchase… some blood. [thunder rolling]
Bob:
We got plenty here. Are you pickin' up for a doctor or a hospital, or…
Vampire:
No, I'm hungry. [spooky music]
Bob:
All right. Not sure how that's relevant. What kind of blood do you need?
Vampire:
What do you mean?
Bob:
O-negative or A-positive? We got several different flavors, you know?
Vampire:
Hmm. Really? May I have some samples?
Bob:
What? Uh, no.
Vampire:
Well, how do I know I like what you offer?
Bob:
Well, we just don't do that here. [sound of wood falling] Oh, hold on a second. I keep kicking these wooden stakes down here.
Vampire:
*Gasp*
Bob:
Kid accidentally left them after a camping trip. Anyway, so seriously, why do you need it?
Vampire:
I told you, I require a sustenance.
Bob:
[door opening] Oh, that's my grocery order. Hold on over here. Yeah, thanks. I was out of some things at home like bread, milk, garlic…
Vampire:
Garlic!?
Bob:
…so I did an Instacart. So what were we talking about?
Vampire:
Sir, I do not mean to be rude, but I am in a frightful state. I need blood. I cannot wait a moment longer.
Bob:
Yeah, yeah. You got a freaky thing for blood, eh? Listen, pal, maybe you should go down to the butcher shop instead. This is human blood. [thunder rolling] Man, that storm is really rolling in now. It got dark. Let me just turn on this lamp. [click, sounds of searing heat]
Vampire:
Oh oh, what kind of lamp is that?
Bob:
It's a sun lamp, you know, good for vitamin B12 or something like that.
Vampire:
This is horrifying. I can't stand your terrible service. I curse you and your wretched store! [sounds of running, shop door opening]
Bob:
Huh… Weirdo.
Steve:
Well, I can't say that I feel too sorry for the vampire, but can you believe that guy?
Pat:
You know, even if it is a vampire, there are ways the storeowner could have offered a better experience.
Steve:
I agree, but you do know what it means when we start the show with a really cheesy intro, right?
Pat:
Oh, indeed, I do.
Steve:
That's right. It's time for more CX horror stories on this episode of… [girl screaming] The CX Leader Podcast.
Vampire:
The CX Leader Podcast is a production of Walker, an experience management firm that helps companies accelerate their XM success. Find out more at walkerinfo.com.
Steve:
Hello, everyone, I'm Steve Walker hosted The CX Leader Podcast and thank you for listening. It's never been a better time to be a CX leader, except maybe on the occasion of our annual Halloween edition, when we can get pretty scary. Listeners to our podcast know that the purpose of this program is to provide helpful knowledge and insights to customer experience professionals so they can provide the best experience for their customers. But not all companies are diligent in their CX efforts. Today, we're going to listen to stories of scary customer experiences. And as always, helping me cope with the terrors we are about to endure is my friend and colleague, CX Leader podcast fans should know. Well, Pat Gibbons. Pat, thanks for helping out on this special episode.
Pat:
Oh, you bet, Steve. It's a terrifying job, but somebody's got to do it.
Steve:
So let's get right to it, shall we? What terrible story do we have to start things off today?
Pat:
Well, Steve, this first one is very relevant for our time, and it comes from Christine Trippi, who was a guest on our on our show. Her episode was called "The Yes Mentality," and she was the victim of a lousy experience just because she forgot to put on a mask. Let's take a listen.
Christine:
Well, I was on a little road trip in the Upper Peninsula of Michigan, and it was in the heat of COVID and I, my sister and I had dined at a restaurant, but we left. I got in the car and we had a long drive and I just realized, you know, I better use the restroom before we head off on this long drive. So I just got back out of the car and I walked back into the restaurant not thinking which many of us are not thinking about our masks, and I didn't put my mask back on. So the moment I opened the door, I didn't even cross the threshold, and the cook from the very back screamed and literally screams across the whole restaurant: "masks in the restaurant!" And for a person who's a customer service person and loves all people and who understands the mask thing, I am on board with it all. It's fine. I was really taken aback. I had just forgotten it. I'm not trying to be dismissive or anti-masker, and I just was… I immediately got angry and I wanted to shout back. I didn't. But here's the thing we keep talking about how our customers have our are currently behaving like they've never behaved. However, if we're being really honest with ourselves, we are not behaving how we've ever behaved. And sometimes we need to look in the mirror. Am I receiving the energy I'm giving?
Steve:
Yeah, this is a tough one, really is. And, you know, obviously we've done a lot of shows over the past year and a half on COVID and how that's changed the equation. And you're kind of sympathetic to the worker, too, but she's absolutely right. I mean, you got to come at it with the thought that the customer is not intentionally trying to break the rules, so…
Pat:
No, you know, I can identify with this one. I had almost an identical experience. I was shipping a package and I went into, you know, one of the shops where you do that and just like she said, just totally forgot and didn't have my mask on. As soon as I walked in that door, the person behind the counter, "Sir, mask!" I mean two words. And that was it. And here's the thing I think there's an opportunity in there, kind of like what Christine said, you know, she's got other customers there, right? I think you've got to think, how are they going to react? And if they, you know, there's an opportunity where she could figure out a way to handle it kind of nicely. And I know she's busy and I was startled and just thought, Oh yeah, it's my fault. I'll go get my mask. But those other customers, what did they think they probably thought? Poor guy, you know? So it is a tough scenario, but there is an opportunity in there, I
Steve:
Think, yeah, we just have to kind of acknowledge these are difficult times and strange times. And we, you know, we cut people some slack. But you know, clearly any organization that's interested in serving their customers and welcoming their customers are not going to scold them.
Pat:
Right.
Steve:
You know, it's just that's just bad form.
Pat:
Yeah.
Steve:
And and not consistent, I think, with kind of the mentality of a CX focused organization. [thunder, wolf howling]
Steve:
Well, that was a good start. What's up next?
Pat:
All right, this next one comes from a CX Leader listener, and it's one many homeowners can relate with: plumbing problems. And the plumber he hired really didn't know what he was doing
Mike:
As a homeowner, everybody's had plumbing problems, right? So over the years, I've migrated to think the larger companies are the better ones. The more trucks they have, the more often they're going to be able to get to your house quicker, right? So over the years, I migrated to maybe one of the biggest in the area, and one day I woke up and it's never me, right? It's the wife that runs out of the hot water in the shower. So identified the hot water problem called that big plumbing company, and they were here quick. Exactly what I wanted. And I'm always one to watch what they do. I want to learn and want to see if I can catch them on stuff. But really, I just try to learn to see if I can fix it myself next time. So I watched this individual work on my water heater. He didn't touch it. He just kind of looked at it and turned to me and said I needed a new water heater. Well, luckily, I was smart enough to like question a little bit and I'm like, Well, are you sure something, something, something? Well, then he picks up his phone. It's on Google. Searches for a few things I watch him. He's literally not going on his company's site. He's Googling possible ways to fix my hot water. So I'm still kind of in shock, but thinking, OK, he's the plumber, right? I'm just I'm just a data person. So then he turned around and says, All right, I need a plumber. So now he specs out a new, nice, fancy water here on the wall. And I'm out of water, you know, I'm out of water. I have no heat in my in my water, so I'm panicking thinking and it gives me a big price tag. Lord knows what it was. Long story short, I made a call back to one of my original private owned two-people shop plumbers. He came in, took a piece apart, put some sandpaper to it and it immediately fixed itself, which saved me probably eight thousand dollars, and that was a year ago. And it is still working. The original one. So I kind of made a call to the bigger plumbing company and kind of ask him what the training, the training criteria was for their staff. And needless to say, I pretty much stopped my communication with them, but it scared me that I was within probably an hour of dropping eight grand on a water heater system when in fact all you needed is sandpaper.
Steve:
Wow. You know, it just kind of scares you what, how much of that probably does go on, particularly, you know, with products of a technical nature? You know, there's classic stories about it, reputable car repairs, and I'm sure it goes on with home systems as well, too. But that's that's just really a scary story.
Pat:
Yeah. Well, and it's interesting to his recommendation. I am no expert on water heaters, but I do know the difference between the tank water heater and a tank less, which is the more innovative but takes longer to install. And all that and the fact that he just went straight to that he clearly didn't understand, and it's surprising that it came from one of the larger organizations. You like to think that they have better training, that they get into the people skills of things. And you know, that's just, you know, one of the stories that's, you know, tough to understand.
Steve:
Yeah, you really hope that's not an ethical or an integrity question, like they really actually organizationally condone that. I think we have to assume that it was just an issue with training or poor expertize. And you know, obviously we all of us in the business community are dealing with shortage of skilled people today. So but yeah, you know, that one kind of is really borderline from a ethical standpoint. And if you if you play out the scenario.
Pat:
And it's good that our listener at least watched and knew something… New enough to make another call
Steve:
Kind of reminds me of the old buyer. Beware. Right? You know, and if you are the one that is parting with your money, you should definitely, you know, not succumb to any kind of pressure or any kind of fear tactics, but take a deep breath and and make sure you explore all your options. So good for Mike.
Vampire:
How do you like the show so far? Is your hunger for horror being satisfied? Well, if you can stop screaming for a moment, we'd like to know more about how you enjoy the show. Go to cxleaderpodcast.com/feedback And complete a short survey so we know what we can improve. [Evil laugh]
Steve:
I don't know about you, Pat, but that vampire really creeps me out.
Pat:
Yeah, I know. Maybe we should just keep moving along, but you know, I'll keep this bunch of garlic close, you know, just,
Steve:
Oh, that's what the smell was. I wonder what you were eating over there? What's next?
Pat:
All right. This next one will have parents cringing a bit. For those who have kids, they probably remember the anticipation and stress of preparing for your first child. And the last thing you need is a fight with customer service when buying baby supplies. Well, another CX Leader listener gave us this story that they experienced recently. Well, I'll let him tell the story.
Drew:
Like any parents to be, we have a a baby shower and a baby registry, and we put the companies that most would on that baby registry, Amazon, Buy, Buy, Baby Target, et cetera. And we have friends and family all over the world. So for those friends and family members that aren't able to attend the baby shower and instead choose to send gift cards, and let's just say the gift card experience for one of our registry companies was an absolute nightmare. We receive in the mail a gift card. We open it up and we're ecstatic to have more money that we can spend on diapers and bottles. And towards the end of your registry, you want to clean up things that didn't get purchased. It's what those gift cards are for. So we go down to the store, we fill up our shopping carts and we go to the cash register and we present to the the staff or gift card to which they say this card hasn't been activated. We're like, well, let's activate it. Well, we can't activate it because we don't have the order number. It's like, how do you? Let's let's look up the order number. We have a gift card number, right? And the conversation of how to even look up the gift card because this wasn't purchased by me, but it was a gift from a friend and family member where you don't want to call your your gift giver and say, "Hey, can you go look up the order number and help us track down that you actually bought it? Did you really buy us a gift card because they're saying you didn't? Did you steal this card from the shelf somewhere, right?" So puts puts both us in a situation where you don't want to call and ask. So instead, we call customer service. Now, what made it challenging here was customer service was not the same company. It was an outsourced or third party. They didn't have the same computer systems. So what the customer support agents had was different from what the in-store staff had. Namely, that they were on two different computer systems, neither of which tracked this order, number associated with a gift card. We did, however, have a tracking number. And that tracking number, believe it or not, showed the gift card hadn't even left the facility, so we had all types of challenges with this gift card. It took us, I'd say, collectively five hours of being in store and on phone, working with staff that were equally as challenged and troubled as we were by the difficulty in using the systems to deliver on the customer's expectations. Or we just wanted to use a gift card that we had in our hand. And after five hours when it was finally resolved, finally, the staff member said, "Congratulations, we're excited you're having a baby."
Steve:
Well, there's a lot going on here. Whenever I think of gift cards, I do go to like the best in class, you know, which is Amazon, which if you've ever gotten an Amazon gift card, you just load it into your profile. And then the next time you buy something, it asks you if you want to use the gift card or you know what your payment options are. And you know, we've become pretty spoiled, you know, kind of what the best in class is. So when you come across something like this, I can understand why this guy was really frustrated.
Pat:
Yeah, it's I like this example, particularly for our audience, because let's face it, a lot of our listeners are with big companies. They're not necessarily plumbers and restaurateurs. And I think everybody can identify with when there's a snag in the process. You know what happens down down the road and how frustrating it can be for the front line employees who don't have any control over this and want to try to do the right thing but get flustered and probably aren't trained and handling these types of things? So it's yeah, it really goes to testing, training all of those things to make sure a process is right for the customer.
Steve:
Yeah. And a couple other things that strike me about this is kind of the complexity of getting a gift from a loved one friend or loved one. I mean, you know, you don't want to go back and say, Hey, is this deal real? You know? I mean, that's kind of a, you know, that's like adding insult to injury here. And then, you know, also the fact that it's a, you know, it's for a baby shower, it makes it very, very personal. And you know, that's one of the things we've seen is that the, you know, kind of the more personal the thing that the customer is buying, the more important the experience becomes, you know, you think about, you know, an expensive meal out or travel for pleasure or your home or your car or your your loved ones. I mean, any time you get into those topics, you're CX better be pretty darn good if you're going to be those businesses.
Pat:
Well, and you know, it's good to have backup plans. So, for instance, at the store itself, they weren't empowered to say, You know what? Forget the card. Let's just ring this up and give it to you and figure out on the back end, how do we fix this in our system? They weren't empowered to do that. [man yelling]
Steve:
Well, I don't know if I can take one more of these, but I guess we got one last one.
Pat:
Oh yes, we do. So one more. Our finale is from another guest that we've had on The CX Leader Podcast. It's from Jeannie Walters. Many people would recognize her within the field of CX, and she had an experience I think we can all relate to. So let's take a listen.
Jeannie:
I had to go get an MRI, which is not fun for those of you who have done it. Nothing terrible just to follow up, but I purposely went to the hospital that my doctor was a part of. They had all of my records, all of that good stuff. So imagine my surprise when I had filled out everything online in advance, including all of the background information. When I showed up the front desk handed me a clipboard with a Xeroxed copy of a form that I had to fill out. I think the last time it was copied was like 1984 on an old copier had to fill out all the forms again. Then they sent me to the radiology department and guess what? They handed me a clipboard with all sorts of questions, the same thing that I had just filled out. So I actually asked, I said, You know what? I filled this all out online, and she said, We can't access that. We have to rely on this form. And I thought, Well, then why are you doing this to me? So while the MRI took about thirty five minutes, I estimate that the entire process took about two hours to schedule to do all of that. That is patient experience. That's why people are upset. That's my horror story.
Steve:
Well, speaking of things that are very personal, your health, obviously, and when you're going in to have a procedure that you're already maybe a little nervous about or, you know, discomfort that this is just and, you know, health care is one of those areas where it's just very, very complicated. But I think we are making progress. But here here's a perfect example of where we're still not quite there.
Pat:
All right. Well, as I was listening to this, I thought, you know, it wouldn't be a Horror Story episode without a health care experience. Yeah, right, right. Yeah. You know, I agree. I think I know that there are regulations and you know that everybody has to follow. But it just goes to an extreme, you know, and some of it for me is the little things. When you walk into an office and there's signs everywhere about, you know, sign in here, not here. And it's just, you know, it does stand out when you have a good experience. And I can say, you know, I go to my doctor and I walk in and it's like, you know, concierge service. And I talked to the doctor about that and mentioned it to me, he says, You know, I'm so glad you shared that with me because it's actually something we work really hard at. We know we've got complexities, we got stuff we got to handle, but we don't want you to be bothered by that. And it's like, Wow, how refreshing.
Steve:
Yeah, yeah. And you know, it's like, it really is is like they they ask you to show up 15 minutes early so you can sit there and be 15 minutes late. And you know, they, you know, when you're in, you know, your insurance card isn't up to date or, you know, but again, it's sort of the just the same thing. And I think, you know, even in health care. So your experience is a great one. And I was thinking that I actually took one of my family members to an appointment and they actually gave us a tablet and just said, check through this. And if any of the information isn't up to date, you can just edit it, which I thought was, you know, right? So there's kind of the, you know, the opposite experience.
Pat:
So right? You know, I also think back to one of our previous guests from IU Health, who did the immersion experience where they brought the board in and took them through and they they got to experience. This is what it's like to be a customer checking into the emergency room and everything. And it was eye opening. And that's what prompts change is when people can really see this is what the customer goes through.
Steve:
And it's also why it's still a great time to be a CX leader, right? It's there's still still work to do.
Pat:
Yeah, it's a little scary, but it's still a good time.
Steve:
Well, hey, I want to thank The CX Leader Podcast guests and listeners for sharing their stories with us. It's never easy enduring poor customer experience. And while we had fun in the show, it's an important reminder that poor customer experience can affect people's lives. It's one of the reasons we do this show to help CX leaders recognize and avoid situations like the ones we heard today and deliver the best possible experiences for their customers. And thank you, Pat, for helping me through this very scary ordeal.
Pat:
It's my pleasure. Thanks.
Steve:
It's always a pleasure to collaborate with you and the rest of The CX Leader Podcast team, and we always have a lot of fun with this episode. So if you want to talk about anything you heard on this episode or about how Walker can help your business's customer experience, feel free to email me at podcast@walkerinfo.com. Or visit our Web site, Cxleaderpodcast.com to find our latest podcasts. All organized by series on various topics and also a way to contact us if you have an idea for one of our future podcasts or just want to drop us a note and let us know how we're doing. Thank you for listening to The CX Leader Podcast, which is a production of Walker. We're an experience management firm that helps our clients accelerate their experience management success. Find out more about us at walkerinfo.com. Thank you for listening. And remember, what we heard today just reinforces the fact that it's never been a better time to be a CX leader. Thanks for listening, and we'll see you again next time.
Sonix has many features that you'd love including upload many different filetypes, world-class support, secure transcription and file storage, powerful integrations and APIs, and easily transcribe your Zoom meetings. Try Sonix for free today.
Tags: Pat Gibbons horror stories Halloween Steve Walker Mike Grindstaff Drew Hall Christine Trippi Jeannie Walters