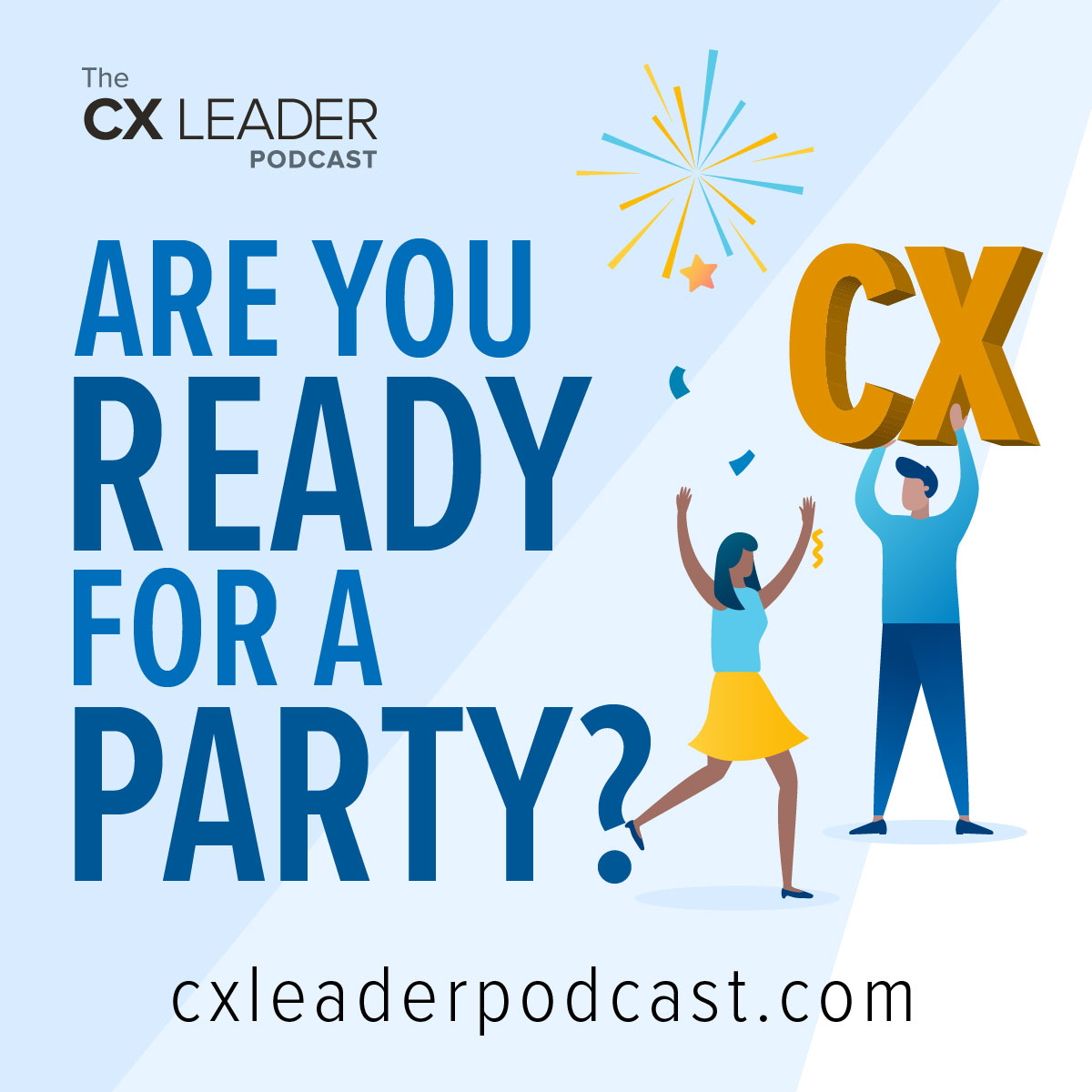 Are you ready for a party?
Release Date: August 24, 2020 • Episode #130
Each year on the first Tuesday in October, the Customer Experience Professionals Associate – or CXPA – encourages professionals and companies to take some time to recognize the importance of this practice and celebrate the ways they strengthen the customer experience within their own company. Host Steve Walker welcomes guests Gabe Smith and Derik Iverson of CXPA to discuss how companies can celebrate their accomplishments and customers on "CX Day."
Transcript
Download the "CX Leader Podcast: "Are you ready for a party?" audio file directly. This wav was automatically transcribed by Sonix (https://sonix.ai).
CX Leader Podcast: "Are you ready for a party?" was automatically transcribed by Sonix with the latest audio-to-text algorithms. This transcript may contain errors. Sonix is the best audio automated transcription service in 2020. Our automated transcription algorithms works with many of the popular audio file formats.
Steve:
CX Day is coming up soon, and while this year has had its challenges, we as customer experience pros still have a reason to celebrate.
Gabe:
…but it's a global celebration. It's a celebration of the CX ecosystem of the professionals who really do the critical work of creating better experiences within their organizations. And then, of course, it's a celebration of customers.
Steve:
Celebrating customer experience on this episode of The CX Leader Podcast.
Announcer:
The CX Leader Podcast with Steve Walker is produced by Walker, an experience management firm that helps our clients accelerate their XM success. You can find out more at Walkerinfo.com.
Steve:
Hello, everyone. I'm Steve Walker, host of The CX Leader Podcast and thank you for listening. On The CX Leader Podcast we explore topics and themes to help leaders like you leverage all the benefits of your customer experience and help your customers and prospects want to do more business with you. The Customer Experience Professionals Association, or CXPA, is an organization that is mentioned quite often on this podcast and I have and continue to endorse them as an excellent resource for CX pros. Each year on the first Tuesday in October, CXPA encourages professionals and companies to take some time to recognize the importance of this practice and celebrate the ways they strengthen the customer experience within their own company. My guests today are going to give us a heads up on this year's CX Day and talk about some ideas on how companies can celebrate their customer experience efforts. Gabe Smith is a certified customer experience professional, and he's also the content manager for the CXPA. Derik Iverson is the membership community manager at the CXPA and I am delighted to have both of these gentlemen on the podcast this week. Gabe, Derik, welcome to The CX Leader Podcast.
Gabe:
Thank you for having us, Steve.
Derik:
Yes, thank you.
Steve:
Well, the first one was Gabe and the second one was Derik, but I… Just for a little context, I always like to ask our guests to give just a brief background about how they got into this field in this profession. It's always kind of interesting. So, Gabe, you want to go first and kind of tell us your story and how you've come to become the content manager at the CXPA?
Gabe:
Absolutely. So I… I've been the content manager for CXPA for a little over a year now. And prior to joining CXPA, I spent 11 years with the American Cancer Society, found my way into CX after working in the training team and led a really successful collaborative project with the CX team and found my way onto that team where I spent four wonderful years helping the society activate on customer insights and improve experience at fundraising events and for programs benefiting cancer patients across the country. So in my role as content manager, I'm really responsible for creating and curating content that is going to help CX professionals overcome their business challenges, connect practitioners from around the globe and elevate the discipline of CX in the marketplace.
Steve:
Yeah, that's that's interesting that you came up from the not for profit association kind of management track, which makes sense because that's what CXPA is. But obviously American Cancer Society, one of the great organizations in the kind of the history of the not for profit sector. So very interesting. Derek, what's your background and how did you get to the CXPA?
Derik:
Yeah, thank you. So I've been with the CXPA for just over three years now, which is crazy to think about how fast it's really gone. But believe it or not, I'm actually not a customer experience professional. I am more of an association management professional myself. So my background is pretty varied. Honestly, I have lots of experience in hospitality and retail and marketing communications as well, so I've kind of been everywhere. But working with the CXPA has been really neat to kind of give my previous background a little bit of context. I learned from our members every day and it's really fun to really kind of dove into all of their thought leadership that they are contributing to the association every day. But also, I'd say, apart from managing the community of CXPA, I also work closely with our local networking volunteers as well. So CXPA doesn't operate on a traditional chapter model instead, we have a program that mobilizes local volunteers to plan periodic networking events which are open to all CX professionals in their area. So I work on the staff side to help support them in their event planning duties.
Steve:
Yeah, well, the profession, the industry, really lucky to have you two guys there at the organization. And we have repeatedly been proponents of the CXPA. You know, many of my team are active in their chapters and so great work that you're doing. So CX Day is coming up at first Tuesday in October, when I look at my calendar, that looks like October the 6th. Is that correct?
Gabe:
That is correct. Tuesday, October 6th.
Steve:
This thing is really kind of taken on a life of its own, hasn't it? Five, six years into this? Could you give us a little bit of the history of the day?
Derik:
Overall, CX day was really founded as a way to at least have one day where CX professionals across the globe could really connect with each other. That's really why the CXPA was founded to I mean, as we all know, there isn't a textbook on what makes a good customer experience. So we were founded all the way back in 2011 to create that safe online space where anybody could contribute to the conversation. So CX Day was started, I believe it was actually eight years ago now, where truly the goal was for all professionals across the globe to celebrate their own successes and share their story with with the rest of their peers.
Steve:
And what are some of the things that you guys are thinking about for this year? What's what are some of the things that are coming up this year for the eighth or ninth version of it, I guess?
Gabe:
Yeah, well, just to echo, I mean, what Derek said and I loved CX Day when I was a practitioner, I think I love it even more now. But it's a global celebration. It's a celebration of the CX ecosystem. It's a celebration of the professionals who really do the critical work of creating better experiences within their organizations. And it's a celebration of providers and consultants who are helping companies become more customer focused. And then, of course, it's a celebration of customers. So I love it because it gives a chance for the global community to come together, celebrate the work they've done in helping their organizations this year more than ever. I mean, navigate a really unprecedented year and learn from each other. So we're excited to be able to help professionals celebrate and also learn. So a key focus for us this year is going to be on driving community conversations that matter. So one of the things that we're going to be doing is convening three virtual conversations. If you're listening, you're invited. Please join us. The first conversation is going to be a panel discussion with global practitioners around how to really take control of your CX career, how to blaze your path. So they're going to talk about how they find found their path in this space. So if you're really wondering, you know, how do I make this plan about how to take the next step in my career or if you're not in CX, but you're wondering how to break in, or maybe you've just dabbled in CX or had, you know, sort of one piece of it, you're really not going to want to miss that panel. We've also got a diverse panel that is going to showcase professionals who've really helped their organization not just survive the pandemic, but really thrive. So we want people to hear those success stories about what really was working for folks this year. And then lastly, we're really going to look to the future. We're having a one hour panel discussion on augmented intelligence and having a dialog with some CX pros who are helping their organization create better experiences through use of A.I. So we're just so excited about this chance to come together in a difficult year and as this community always does, really lift each other up and tell those compelling stories.
Steve:
That's great. You know, one of the ideas we had with this podcast is to get out there a little early so we could help people start thinking about this, because now they've still got six, seven weeks to prepare. And I think that your three topics, your three conversations that matter would give some people some ideas about what they might want to do with their celebrations. Can you guys tell a few stories or maybe a few best practices or maybe even a few horror stories of some of the best things that you've ever seen companies do to celebrate CX day?
Derik:
So I could probably jump in first myself. So I think that when it comes to celebrating CX Day, there are really three main things to celebrate. I mean, of course, you want to celebrate your own customer experience, team successes, share that with your company and then also with the world as well. You want to celebrate your customers and to really show how much you appreciate them. And then you also want to celebrate your fellow employees as well. I think that CX Day is also a great opportunity for organizations to bring the entire organization together to celebrate all of the work that they truly have done in serving their customers. So in terms of some awesome things that that I personally have heard of other companies doing, and keep in mind that really the possibilities are totally endless. There really is no wrong way to celebrate CX Day. You had mentioned if we know of any CX Day horror stories, I don't know any horror stories, but I would love to hear at least one just to hear what what could possibly go wrong. But overall, you know, I had heard about CEOs, especially for large organizations, recording a quick video expressing their thanks to the entire organization for all the work that they do. You could create certain listening sessions or TED talks, I suppose, to share with the rest of the company all of the hard work that has been done. In terms of fun, fun parties that that you could technically throw, we see a lot of cakes being made professionally and homemade being brought into organizations with really any kind of message that you can think of. So you really can't go wrong with that, that's for sure. You can also treat your employees to a quick lunch while you kind of reflect on the previous year. So I think one of the common themes here is that CX day in general is a great way to bring the entire organization together to celebrate inside the CX team, outside the CX team, even customers as well. I know that Medallion has hosted local happy hour events for their clients, which I think is pretty neat as well. So truly, the possibilities are endless.
Steve:
Now, in this year, it's going to be a little more complicated with social distancing and a world that discourages large gatherings. You guys have any ideas for folks how they might want to approach CX day with given the the pandemic?
Gabe:
Absolutely. So, you know, we know we're all we're all virtual right now, obviously many of us. And so we'll be sharing some CX Day assets, some virtual backgrounds that folks can download to show their support of CX Day and CX in general. We'll also have some downloadable video assets, some shareable assets around, you know, what is customer experience for those in the organization that need to really understand? We'll have some video assets that focus around on CX success stories, as well as some welcome messages from CX luminaries. So we're really excited about the package of virtual offerings that we'll have for folks this year.
Derik:
Yeah, and to expand on that as well, I'd mentioned before that I worked closely with our with our networking volunteers. So, of course, they have been planning virtual networking events since March. And you can bet that many CX Day events are going to be virtual as well. And even though these are planned by local groups of volunteers across the globe, they are more than welcoming to anybody who wants to join their own virtual events. So taking a look at at CXPA's event calendar on CX Day to see all of the virtual networking opportunities available is also a great resource to turn to.
Steve:
My guests on the podcast this week are Gabe Smith and Derik Iverson, a couple of professionals at the CXPA, the Customer Experience Professionals Association. And we are promoting early CX Day this year, which will be on Tuesday, October 6th. And we're also trying to make sure that everybody out there in our audience is aware of the resources that CXPA can have for helping you celebrate CX Day in the very best possible way. Gabe, you mentioned some of the the assets that you have. And Derek, you mentioned the website and stuff. What are the resources and what other things might they be able to access at CXPA?
Gabe:
Yeah, great point, Steve. And I think it's so important right now for organizations because now more than ever, companies need to have a complete CX program in place. So CX Day is an opportunity for professionals to help their leaders understand what true CX is, how it ties to their business goals. And that CX isn't just one thing. It's not a survey. It's not a service interaction. It's not even a department. It is a disciplined set of practices that, when done well by experienced professionals, can lead to customer retention and growth. So, you know, we know, you know and I know and Derik, it's a discipline that has so many interrelated elements. You can't cut a supporting factor and expect it all to work. So one of the resources that we have for professionals is a website we've created called CXBuildsResilience.com that's really designed for those executive leaders who were wondering, you know, maybe I don't have the the ability right now to create that whole interrelated CX program. But what can I do to get started? CX Day is a chance to share some of those resources with those C-level leaders to help them really understand how they can become more customer focused in the organization.
Steve:
You said CXBuildsResilience.com?
Gabe:
CXBuildsResilience.com.
Steve:
That sounds like a great resource. You know, on the podcast we talk a lot about the roles that CX pros have to play, and there's many of them. But one of the biggest roles they have to play is sort of advocacy and in reaching out to to build bridges in the organization so that you don't get siloed because as you articulated very well, customer experience needs to be pervasive throughout the organization. And you're right. It is not a department or a survey. It is really a culture and and a way of doing business. And in many respects, I always joke around. But it's a great time to be a CX pro because so many organizations are seeing this as the way that they can differentiate in their marketplaces. And there's just such a heightened awareness about our whole profession today.
Gabe:
It's such a great and rewarding career. And you're right on, Steve. I mean, we're seeing so much global interest in growth right now, even with everything that's going on in CX. So, you know, this day is really a chance for us to put that on display for those young professionals who are considering CX as a career or those, like I said, who've been maybe doing some aspect of this work already. And they want to learn more. And it's a chance for pros to share information with their colleagues so that they can really start to focus your organizational effort on what is working and avoiding wasted or inefficient effort.
Steve:
And Derik, I would guess that the local activities are probably just as helpful to a CX pro that wants to plan a CX day and maybe even there are some activities going on in your city that you could tap into. Could you give any tips for if I'm out there and I don't know about whether CX has a presence in my community?
Derik:
Yeah, absolutely. So we have a full list of all of our active networks on cxpa.org, it's under our "Get Connected" section there. So there you can certainly browse the full list and get connected with all the different communities there. But also, let's say you're in a part of the world where there isn't an active network. You're more than welcome to reach out to me so that we can take a look at engaging other local members to help start up a new network in your area so that then there are local networking opportunities available to you.
Steve:
Well, we'll make sure that we get them your email here before we end the podcast.
Gabe:
Steve, I have a question for you, and that is, how are you celebrating CX Day this year?
Steve:
Oh, that's not fair, Gabe! [laughing] I still got six weeks to plan it. That's like an eternity in my life and my world. [Laughing] I will tell you, I am I'm kind of notoriously bad on the details. We have a pretty significant organization here and we operate functionally. And at some point, Pat Gibbons, who is a very active CX pro and our senior vice president of marketing and client experience, will have a very good program, I am sure, for CX Day. And he will tell me what I need to do to make sure I support that. So but good on you. You you caught me off guard there, Gabe.
Gabe:
[Laughing] No, we're we're so glad that you and Walker have been such great partners in advancing CX. And so, you know, we're excited that you'll be right there with us helping us celebrate.
Steve:
All right, Gabe and Derek, we've come to that point of the program where I always ask our guests for their take home value. And I think in this case, it would be important that we give them some CX Day take home value. It can be a summary of something you've already said or something brand new. But gentlemen, go ahead and give our audience your take home value for your best tip to make sure that you celebrate CX day as good as you can. Derik, you want to go first?
Derik:
Sure, definitely. So overall, I think that CX Day is one of the best opportunities for a CX professional to really feel connected with their global community of other CX professionals and also connected with their own organizations. So there's going to be a lot of different ways for you to to connect globally. But also, don't forget about bringing everybody together within your own organization to share your successes.
Steve:
And Gabe?
Gabe:
I would say that it has been a hard year and we've all been working so hard and CX day is a chance to really stand up. Take your head out of your day to day, take one day to celebrate your accomplishments this year and the accomplishments of your peers and to do so globally, you will feel better if you do.
Steve:
Great tips, guys. And I think particularly in times like this, it's important for all of us to realize that what we do does make a difference. And, you know, we do have to persevere through difficult times. That's kind of a innately human quality. And we got to do it for our our customers and we have to do it for our coworkers. And, you know, there's a lot riding on it. So great that you guys are out there doing this good work and and reminding all of us that there's a lot to be grateful for. And we got to keep on trying to fight the good fight here because there's a lot of people that are counting on us. So thanks again. Gabe Smith is a certified customer experience professional. He's the content manager at CXPA. And Derik Iverson runs the membership community manager for Customer Experience Professionals Association. Gabe, Derik, if anybody wants to continue the conversation, can you give us a quick download of your contact information or can they find you on LinkedIn or want to reference your website?
Gabe:
Absolutely. This is Gabe. Anyone can reach me on LinkedIn or via my email: gabe@cxpa.org
Steve:
Derik?
Derik:
Yeah, you can also reach me on LinkedIn. Otherwise my CXPA via email address is derik@cxpa.org. But Derik is spelled D, E, R, I K.
Steve:
Well, hey, that's good. And I think, you know, if they just hit hit up the website to CXPA.org, I'm sure they can find you guys there too, because that's what you guys are all about, is connecting pros to other people. So and that came through loud and clear in the podcast. CXPA is about connecting and so I would encourage all of our listeners that if you haven't connected with these folks at the CXPA that you do so now. If you want to hear about anything else you heard on this podcast or anything about Walker or The CX Leader Podcast, please feel free to email me at podcast@walkerinfo.com and also be sure to check out our website, cxleaderpodcast.com. You can subscribe to the show and make sure you don't miss any episodes. You can look at all our previous episodes. We have more organized by series and topic and you can also drop us a note there if you have any ideas about future shows or if you'd like to suggest something that we haven't covered in the past. The CX Leader Podcast is a production of Walker. We're an experience management firm that helps companies accelerate their XM success. You can read more about us at Walkerinfo.com. Thanks for listening and we'll see you again next time.
Sonix uses cutting-edge artificial intelligence to convert your wav files to text.
Manual audio transcription is tedious and expensive. Automated transcription is much more accurate if you upload high quality audio. Here's how to capture high quality audio. More computing power makes audio-to-text faster and more efficient. Do you have a lot of background noise in your audio files? Here's how you can remove background audio noise for free. Automated transcription is getting more accurate with each passing day. Here are five reasons you should transcribe your podcast with Sonix. Better audio means a higher transcript accuracy rate. Are you a radio station? Better transcribe your radio shows with Sonix.
Sonix is the best online audio transcription software in 2020—it's fast, easy, and affordable.
If you are looking for a great way to convert your audio to text, try Sonix today.
Tags: CXPA Steve Walker CX day Gabe Smith Derik Iverson celebration