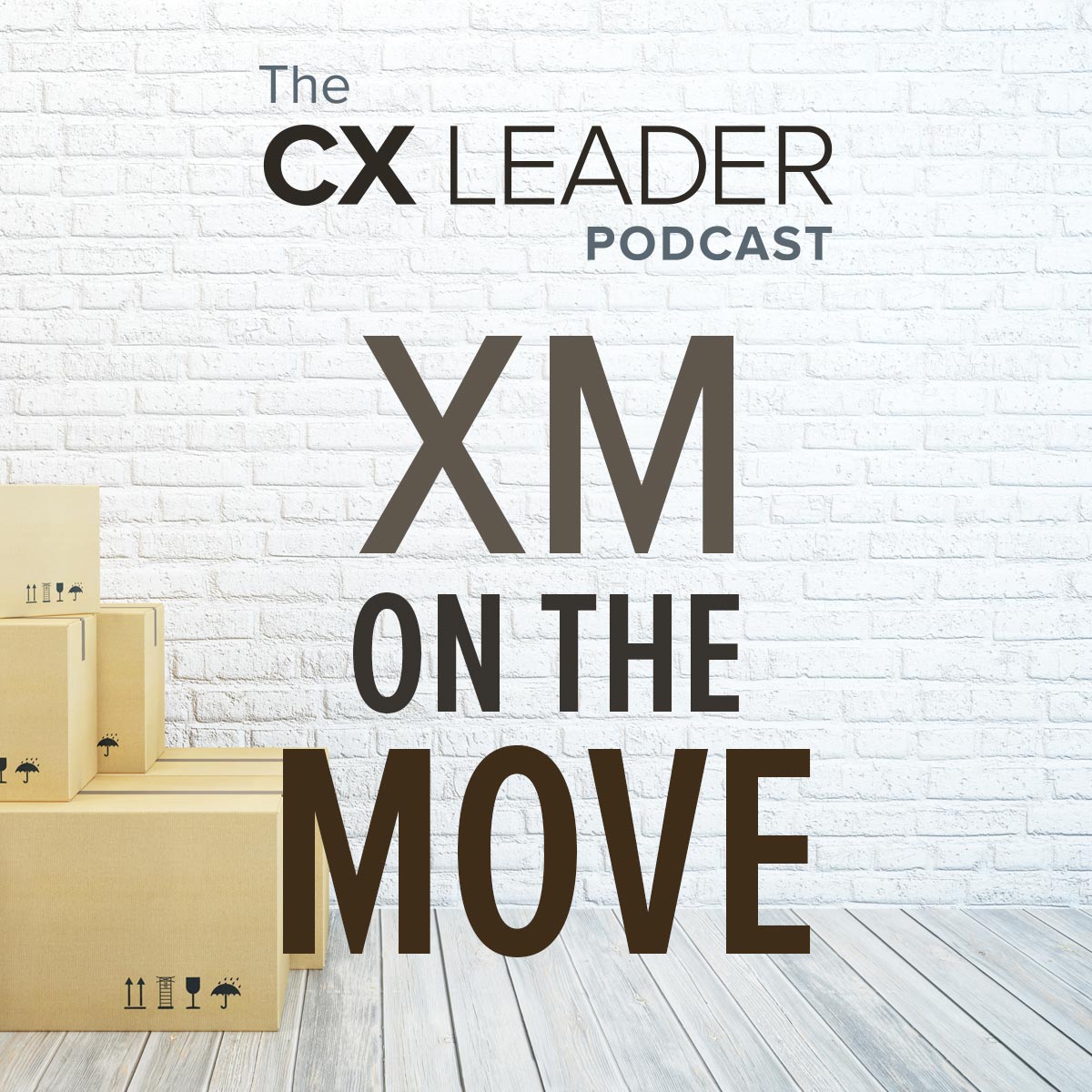 XM on the Move
Release Date: June 23, 2020 • Episode #122
Moving is stressful, but relocating employees is sometime necessary. Now imagine you're a company whose expertise is relocating employees for other companies: how does experience management work in that situation? Does your program focus on the company that hired you, or on the employee that is being relocated? Or do you focus on both? Host Steve Walker welcomes Kathryn Cassidy, President and COO of Altair Global, a full-service, global mobility services company, to discuss how they manage the experience from the perspective of both B2C and B2B relationships.
Transcript
Download the "CX Leader Podcast: "XM on the Move" audio file directly. This wav was automatically transcribed by Sonix (https://sonix.ai).
CX Leader Podcast: "XM on the Move" was automatically transcribed by Sonix with the latest audio-to-text algorithms. This transcript may contain errors. Sonix is the best audio automated transcription service in 2020. Our automated transcription algorithms works with many of the popular audio file formats.
Steve:
I think it's safe to say that one of the more stressful things in life is having to move, and when you're a company that relocates other companies' employees, you know, you have to have some serious, experience management chops.
Kathryn:
We realized that we needed to focus on the experience and less on the actual tactics around a move in order to understand our customer base and serve them better. And at the same time, then also be able to differentiate ourselves in this space.
Steve:
Executing experience management from both the B2B and B2C perspective on this episode of The CX Leader Podcast.
Announcer:
The CX Leader Podcast with Steve Walker is a production of Walker, an experience management firm that helps companies accelerate their CX success. Find out more at walkerinfo.com.
Steve:
Hello, everyone. I'm Steve Walker, host of The CX Leader Podcast, and thank you for listening. On the CX Leader Podcast, we explore topics and themes to help leaders like you leverage all the benefits of your customer experience and help your customers and prospects want to do more business with you. Moving is stressful, but relocating employees is sometimes necessary. Now imagine you're a company whose expertise is in relocating employees for other companies. How does experience management work in that situation? Does your program focus on the company that hired you? Or on the employee that is being relocated? Or do you focus on both? My guest today is going to explain this fascinating business and how they execute experience management from a perspective of a B2B and B2C relationship. Kathryn Cassidy is the president and COO of Altair Global, a full service global mobility services company headquartered in Texas. Kathryn, thank you very much for being on The CX Leader Podcast.
Kathryn:
Thank you for having me, Steve. I'm excited.
Steve:
Yeah, it's our pleasure. And this is a fascinating business model. Our intro there of, do you focus on one or the other or both. I'm going to take a guess and say we're going to talk about focusing on both, which makes this just a tremendous episode because you actually do have the multiple stakeholders there that you're trying to balance. But before we get into that, maybe, Kathryn, you could just give our listeners a little perspective on your background and how you came to be president and COO of Altair Global.
Kathryn:
Well, my journey is not unusual in this industry. Many of the folks that are in the mobility industry have been in it for quite some time. We seem to be a people business and attract a certain type of person. Also, there's a lot of folks in this industry who have traveled a lot, and I myself am originally from Ireland. But I was born in London. I lived in London. And then I moved to New York. And then I moved to Chicago. And then I moved to Plano, Texas. So I can… I have some personal experience of what mobility means. And so delighted to be with this organization. It's amazing. As you mentioned, we are headquartered in Texas, which has a very different perspective and cultural feel for me. And so that's that's really part of the challenge is this international business is fascinating. You never… You're never bored. There's always a challenge and you never know everything. And then overlay customer experience on top of what you have mentioned, pretty complex business model, and we're on a very interesting journey right now.
Steve:
So in your role as a senior executive operating the company, how did you get interested in CX or what was it that brought CX into your environment?
Kathryn:
Well, as an organization, we have always managed customer satisfaction is a key metric that we're measured on by our corporate clients. And to your point, we do have a B2B relationship and a B2C relationship. And over the last couple of years, our customer base has been changing. You know, everybody wants a highly personalized, customized experience. And we also have folks who want to, you know, be either managed very personally or through a technology solution. And so right now, we're managing a very varied customer base, more varied than we've ever had before. And so as an industry, because we were always focused on managing satisfaction, we realized that we needed to focus on the experience and less on the actual tactics of random move in order to understand our customer base and serve them better. And at the same time, secure more client loyalty and at the same time then also be able to differentiate ourselves in this space. The mobility industry is surprisingly crowded. It's a pretty niche industry, but there are a lot of players right now. And so we do feel that our approach here is really differentiating us in the market.
Steve:
And again, just for context for our listeners, can you tell us a little bit about some of the stats about Altair Global, sort of size, scope? Yeah, it's not a household name…
Kathryn:
No. [Laughing]
Steve:
…but I know a lot of our listeners would understand because of the B2B nature that these services are available.
Kathryn:
Right. Right. Yes. So we are a full service mobility organization, which means that we manage everything associated with both a U.S. domestic transfer as well as international moves. So we are managing all of the logistics around that from start to finish and that those are the services and benefits that we administer to our customer. But at the same time, our contract is with our corporate client. And so our corporate clients are our Fortune 500 companies for whom talent mobility is a key business driver, and they need to ensure that they've got the right people in the right place at the right time. And so we as an organization, we're headquartered here in Texas but we do have 11 offices around the world. And from there we coordinate managed services to both the corporate client and the customer. But, of course, we also then have another major stakeholder in that we manage a vast global supply chain in order to manage all of these end-to-end services. And so that really does add to the complexity. On top of that, Steve, we're working with to your point and folks at a particularly stressful time in their lives. They're uprooting their families. They're going to a new job. In many cases, they're going to a new culture. So that also really affects the experience. And then on top of that, we have different corporate cultures, which also will influence the experience from the customer's perspective. Some corporate clients are in a culture where they're very happy to make exceptions to policy. Others are not. And so there are a lot of external factors that can impact the customer experience. But we're ultimately typically held responsible for that.
Steve:
Yeah, that's interesting. You brought up the web of services that you draw in because you probably use a lot of subs and lots of suppliers to accomplish these moves and that each move would be somewhat unique given that the individual family and the executive and all that. But… So you mentioned that aspect of it. What are some other ways that CX is different in your world from maybe the traditional B2B client?
Kathryn:
Well, I think one of the key things that we have to measure with our corporate customer or corporate client is is loyalty and effort, because at the end of the day, our contract is with them. And these contracts are typically three to five years long. They tend to have a procurement aspect. So it's not a relationship that we have to manage. We also have to manage to some pretty strict SLAs. And we have a lot of key performance indicators that are very important at the corporate client level. And yet the services we're delivering are ultimately to our customers. And so from our customers perspective, we have to focus very much on their experience as well. So to your point, we when we started this journey, we were very focused on customer experience and focusing on journey mapping, what that looked like and measuring those moments that mattered. And then we very quickly realized we couldn't just do that in isolation. We had to also do the same in understanding the corporate client experience with our organization. And then on top of that, in order to provide a great experience because we're a people based business, we had to really understand our team member experience and how that impacted both our corporate clients and our customer. And then our fourth constituency, which, of course, is our suppliers. So we very quickly went from pretty narrow focus on improving customer experience to building at an experience management business model with those four pillars customer, client, supplier and team member. And for the past two years, we've really focused on making sure that every business decision we make, every business project objective initiative has to really improve one of those key lanes. So that has to improve the experience and one of our key stakeholder pillars. So it's become our kind of business driver.
Steve:
You did a really nice job of describing experience management. Just several weeks ago, we did a podcast on how CX was really morphing itself into this new category called "experience management," because, as you mentioned, you know, the team members, your employees, your suppliers, they're all part of that ecosystem that ultimately drives the loyalty of both your customer and your your corporate client. And so you really can't look at these things in silos. You've got to integrate those information streams, don't you?
Kathryn:
Absolutely. And that that was a very early learning for us. And then, of course, as we started to look at that as a business model, we then had to ensure that we had all of those various stakeholders on board with becoming an experience based organization. And so, you know, bringing them with us became very important and crucial from the beginning. And so a lot of time and investment was made in terms of developing training modules and, you know, educating. We have thousands of suppliers. And so really bringing them along on that journey, too, became a major undertaking and one that we know we started last year but it's going to be a multi year project for us. And then at the beginning of each year, when we hold our strategy meetings, we basically put up our four pillars and say, what are the key objectives in 2020 that are going to move the needle in each of these experience swim lanes. And it, if it doesn't affect one or more, doesn't get done.
Steve:
How long have you been doing this process because it's really very mature, it sounds like?
Kathryn:
We kicked it off at the beginning of '18. So '18 and '19, we set our business objectives using this experience management model. And, you know, we've been working with your organization to really help us hone in on how to refine that and how to really hone in and a measure of what we're doing properly because we set up the model and we learned a lot pretty quickly. We attended some great conferences and we put a small team together. And that's really when I became involved because we understood very quickly. It needed a top down approach and so our CEO and myself are very involved in that initial learning. And it became a top down but company wide initiative. So, yeah, a couple of years now, we've been doing it and it's proven very interesting. And our clients are loving it. Our corporate clients are loving it. And it's also going down very well in the marketplace. You know, as we talk to prospects and acquire new clients, this is really resonating.
Steve:
Yeah. You've essentially differentiated your company around the experience of these key stakeholders.
Kathryn:
We have. We have. And as I said, our industry is pretty small. And so a lot of the suppliers that we work with work with our competitors.
Steve:
Right.
Kathryn:
And so, you know, they are now learning from us. So we're helping to educate the industry as well. We'd like to do that. [laughing].
Steve:
Well, that's you know, again, that's a lot of why customer experience is so hot today as it is the way that most companies are creating value and differentiating themselves from their competition. So that's great. And congratulations on your journey so far. Let's talk a little bit about the differences between your B2B and B2C client. Your… I picked up on your lingo here. I think you call your B2C is customers and your B2B is your corporate client.
Kathryn:
Yes. And that took us a little time to get used to because in our industry, the folks that we move are usually employees or assignees or transferees and the client's the client.
Steve:
Right.
Kathryn:
So what we had to do was really shift our thinking to we're all here for the customer at the end of the day. We've got to focus on that experience. And there is one customer, there's clients, but there's one customer. And those are the folks that we are moving. We've got to get that right. That was fundamental. It took us a little time to wrap our heads around that.
Steve:
Yeah. So just talk a little bit about what do you try to look for from the customer standpoint and then what do you try to look for at the corporate clients standpoint?
Kathryn:
So from the customer perspective, we had historically asked for feedback at the end of a move. So we have a one to one relationship. Each customer that has moved gets assigned to a consultant. And in our world, that consultant is the person who manages all of the logistics and the supply chain for that individual employee or family that are moving. And so that one to one relationship is very important. And you can imagine those folks that we hire to do those jobs, they have a lot of empathy, but they're also great from a logistics perspective. They're very… They manage a project. They manage multiple projects at any one time. So but at the same time, they have to be great communicators. And so in the past, we've relied very much on them managing that experience, dealing with escalations, dealing with issues as they go along. And at the end of that process, we would ask the customer how that move went. Now, bearing in mind a move can be anything from a three month long process to a three year assignment. And so our ability as an organization to really govern that experience, that didn't happen until we had the feedback at the very end. So we realized very quickly when we started to look at CX in depth that that wasn't the right way to try and understand and experience and measure sentiment. And then also to build a close the loop process so that we could actually deal with issues as when they came up. So working with your organization, we developed the journey maps across our different move types. And we now have developed some experience checks or we call them "X checks" through the Qualtrics platform were we now send out pulse surveys at key moments that matter throughout the journey, literally the journey. That is allowing us to collect sentiment, to understand and make the experience highly personal, and then also to course correct as issues come up. And so putting that process in place then allowed us to have dashboards that could help us drill down and understand what the root cause was across multiple locations. And then obviously feed that information back to our corporate clients. They are extremely interested, as I mentioned, understanding how we are performing with the customer base. It is a key performance indicators for our corporate clients. So our ability to provide them with dashboards around our performance is critical. And again, a differentiator.
Steve:
I'm so… I'm intrigued because I just want to drill down on that point: so you take the data from your customer surveys and relay that back to your corporate client?
Kathryn:
Yes.
Steve:
And I guess… I got to imagine that's been really powerful.
Kathryn:
It really has. And we also realized that we had some education to do with with our corporate clients around how we were changing, how we measure, because as an industry, we've all sat back on a five point CSAT scale and said, "oh, we're all between four point three and four point nine." And everybody's the same. And this was the other thing we realized quickly when we looked into real CX was that measurement was not enough and it was very difficult to move the needle and… on that. And it was in some way giving us maybe a false positive because of response bias. So we said, OK, we're ditching that old way. But we had to educate our client because in many relationships we have with corporate clients, our service level agreement includes a lot of key performance indicators around the satisfaction of the customer. So we had to change our basic SLAs and reintroduce them to a different scale.
Steve:
You know, you piqued my interest there again, because I imagine that sometimes the SLA and the procurement aspects of your corporate client could put a barrier on your ability to truly serve the customer. Have you been actually been successful in talking to corporate clients about the total cost of ownership and what the value is so this doesn't get driven down to sort of the lowest common denominator?
Kathryn:
Oh, yes, that conversation is an ongoing one with our corporate clients from the onboarding of them as a new client to the ongoing performance and how we manage that. Typically, our SLAs, our service level agreements can have up to 20 different performance metrics that we're measured on. And depending on the corporate client culture, some of them drill down really quite detailed into the customer experience. Yet we're having some really great conversations with corporate clients about, you know, the differ ence that X-data brings and rather than just looking at the operational data.
Steve:
That's a great example of how CX pros can take this information and really drive really effective change, not just for the customer, but throughout the whole organization. This is a tremendous investment by your your company. What allowed you to kind of take this approach?
Kathryn:
I think a couple of things. We as a company in our industry, I would say we're maybe fourth or fifth. So we're not the biggest we're… although we've got six hundred employees and 11 offices around the world, we are still a pretty flat, nimble organization. And so the ability to be able to drive the organizational change that was necessary to implement a model like this was was there. We still think of ourselves as small and nimble and flat and we can move fast. So that definitely helped. We're also privately held. We are able to make decisions quickly. And we all decided very quickly when we really learned about this, that this was an investment that we needed to make and we were backed by our ownership group to do this. And as I said, the fact that our CEO, you know, he's all in. And so it really is top down driven. And then we put together a small but pretty powerful team that they are working with, Walker and led by Kelly Tepera. So from day one, we put in a a senior leader who is responsible for experience management. And I would say one of the final things that we did at the very beginning was we didn't want to follow our industry. We felt that nobody in our industry was doing this right. We started to look at other companies who… who we really wanted to work with as consumers, you know, companies that really, from our perspective, provided a great experience. And we kind of models ourselves and them. And we said, you know, if we want to be the Southwest of the relocation industry, what does that look like? And so that really helped us as well.
Steve:
I want to come back to your series of listening posts that you have now set up, and you did talk about how you govern that and stuff. But I think you have a pretty advanced sort of taking action program where you close the loop and create tickets that come from the customer feedback. Can you just talk a little bit about that?
Kathryn:
We do in the in the customer experience channel, we we have solicited and unsolicited channels for feedback. And we decided very early on that we needed to have a pretty tight close the loop process. Relocation thing, things can and do go wrong all the time. And so the ability to correct those is really part of the value proposition that we bring to our corporate clients. So being able to demonstrate how we were doing that in a very methodical way through a system was important in terms of the corporate clients perspective on customer experience. So close the loop from us means anything that comes back at a certain level, rated at a certain level, it will go to the consultant who actually owns that person's experience. That is that assigning your families experience to allow them to course correct. Depending on the question asked at this point in the journey, that ticket could also be elevated to that person's manager. And so it's been very powerful for us. And if an executive is having an issue and they send back a survey, we have a very tight turnaround – it's within four hours. And one of our managers will actually call that individual and talk them through their experience to understand fully what we can do to make that right to course correct. And that level of attention to the customer experience has really paid huge dividends to us. And you mentioned listening post: its also been important for us as we've been going through this journey to really make sure that our team members are highly engaged because, of course, they are providing a very personal service to the customer. And so we also have, mapped out each of our team members' journey as they kind of move through their career here at Altair. We regularly connect with them and we pulse check with them in terms of how they are feeling. And the level of engagement is something that we measure on an ongoing basis within our organization to make sure that we've got the right people focused at the customer. And that's been really important, particularly through this past three or four months with the situation that's going on right now.
Steve:
Yeah, I was going to ask you real quick: how is the world changed and how does that impacted your business and your ability to provide the customer experience? What adjustments have you had to make?
Kathryn:
Well, we have an office in Shanghai, and so in January, we were already dealing with clients who needed us to move folks very quickly out of China. When the virus first hit, you can imagine we're moving thousands of people around the world at any one time. And so as the virus started to spread and the pandemic became a pandemic, it really did impact our business in a huge way as markets started to shut down. You can imagine trying to, for example, get a household goods shipment into New York in the past couple of months. That has just not been possible. And so I would say one of the things that we've really learned through this experience, data has always been important in our world. Always. Real time data. Very important. It never became more important than in the last three or four months. And being able to collect that type of information that we're collecting today from our customer has been tremendously important to be able to go back to the corporate client and say, forty five percent of your people who want to move can't move because of the virus. But the sentiment is still there. They still want to make the move. They are still confident that they will be able to make the move. We've been pulsing our customers related to COVID, particularly so that we can understand their confidence level. It's one thing for the market statistically open up. How does the consumer feel about going there? And so if we ever needed proof that what we're doing around measuring customer sentiment is important, the virus has proven that, you know. And I think we are the only ones in our industry who have any real hard data around it. A lot of it's anecdotal, as you can imagine. But, yes, it does. It's been a challenge, obviously. You know, we're in the logistics business at the end of the day.
Steve:
I want to come back, Kathryn, to kind of the unique aspect of your business where you're using thousands of suppliers, you said, to pull these moves off for your thousands of moves for your big clients and their executives and their employees. What's sort of unique there? How do you make sure that the supply chain is involved in this and their objectives are tied into what is ultimately the customer and the corporate clients objectives?
Kathryn:
That's a great question. Yes. We quickly realized that it would be important that we have our suppliers really understand what it means to be an experience based organization. And so we've been working to put together a three tier certification process for our supply chain. And we're asking that every single one of our suppliers go through level one, which is really sort of a basic introduction to what it means to be a customer base and customer experience based organization. And we are asking them to put in place key metrics that they will then provide to us in terms of how they are managing within their own organization. And so we put together a series of videos and trainings for our suppliers and we've launched that. We launched that actually last year. And level two and three, there'll be fewer suppliers that go through that because that will be more in-depth training and level three will really be were they work with us on a major customer experience based project. We've also been helping them identify within their own organizations the folks that really do need to own the customer experience. And we've been helping sort of in the way that we have an XM team up them identify who are the XM champions within their own organizations. We've historically, when we used to do our old survey method with the customer, we would always ask around the performance of suppliers, but it was kind of difficult to differentiate between the bias towards us or the supplier. Now, with the way that we set up our pulse checks, our "X checks," we're actually asking very specific questions around individual supplier performance. And that is helping us manage the supply chain in a much more in-depth way than we were able to previously. So, again, it'll be a multi-year project. But one we're very excited about and again, we just feel that this is… this is different in our space. And the suppliers have given us feedback, too, that we're managing them in a very different way today.
Kathryn:
My guest on the podcast this week has been Kathryn Cassidy. She's the president and COO of Altair Global, a full service global mobility services company that's headquartered in Texas. And she has really given us an MBA on how to set up an experience management program across a complex set of stakeholders. Kathryn, you really have done a nice job of getting this program set up. And I hope our listeners can take something from this… I'm sure they can. But we've also reached that part of our program where we ask our guests to give their take home value. So, Kathryn Cassidy, you're on the hot seat right now to give our CX pros your best tip for how they can go back and improve their programs immediately.
Kathryn:
I think for us, I've said it earlier, but for us, I think it was taking a company wide approach. We learned pretty quickly that companies that really just focus one part of their organization on the customer experience are not really able to really change that experience. And so for us, it was taking everybody in our company through this learning and making sure that everybody was focused on one customer. We had a lot of conversations internally about the internal customer and we said we're getting rid of the internal customer. We're all focused on the external customer, and that is the family that is moving in. That for us was just a huge shift in terms of our mindset. And I think if we hadn't taken that company wide approach, I don't think we could have set things up as quickly or getting as much out of it as we have in this last two years. So and others may have said it before. So I'm not sure. Is it that unique. But company wide approach and getting everybody bought into this, I think is key from the beginning.
Steve:
That's a great, great take home value. Kathryn Cassidy is the president and COO of Altair Global, a full service global mobility services company headquartered in Texas. Kathryn, thank you for being a guest on The CX Leader Podcast this week.
Kathryn:
Thank you very much for having me.
Steve:
If anybody would like to continue the conversation, can people find you on LinkedIn?
Kathryn:
Certainly can. Kathryn with a "K."
Steve:
And Altair Global. Check out the website – it's a fascinating business. A L T A I R Global. If you want to talk about anything you heard on this podcast or about how Walker can help your business's customer experience, you can feel free to email me at steve.walker@walkerinformation.com. Be sure to check out our website, cxleaderpodcast.com to subscribe to the show, find all of our previous episodes, podcast series, and contact information. And if you have an idea for a future podcast, you can let us know there how we're doing. The CX Leader Podcast is a production of Walker. We're an experience management firm that helps companies accelerate their XM success. You can read more about us at walkerinfo.com. Thanks for listening and we'll see you again next.
Sonix uses cutting-edge artificial intelligence to convert your wav files to text.
Manual audio transcription is tedious and expensive. Lawyers need to transcribe their interviews, phone calls, and video recordings. Most choose Sonix as their speech-to-text technology. Sonix has the world's best audio transcription platform with features focused on collaboration. Do you have a podcast? Here's how to automatically transcribe your podcasts with Sonix. Sonix takes transcription to a whole new level. Sonix converts audio to text in minutes, not hours. Create better transcripts with online automated transcription. Are you a podcaster looking for automated transcription? Sonix can help you better transcribe your podcast episodes.
Sonix is the best online audio transcription software in 2020—it's fast, easy, and affordable.
If you are looking for a great way to convert your audio to text, try Sonix today.
Tags: Steve Walker B2B B2C Kathryn Cassidy Altair Global relocation