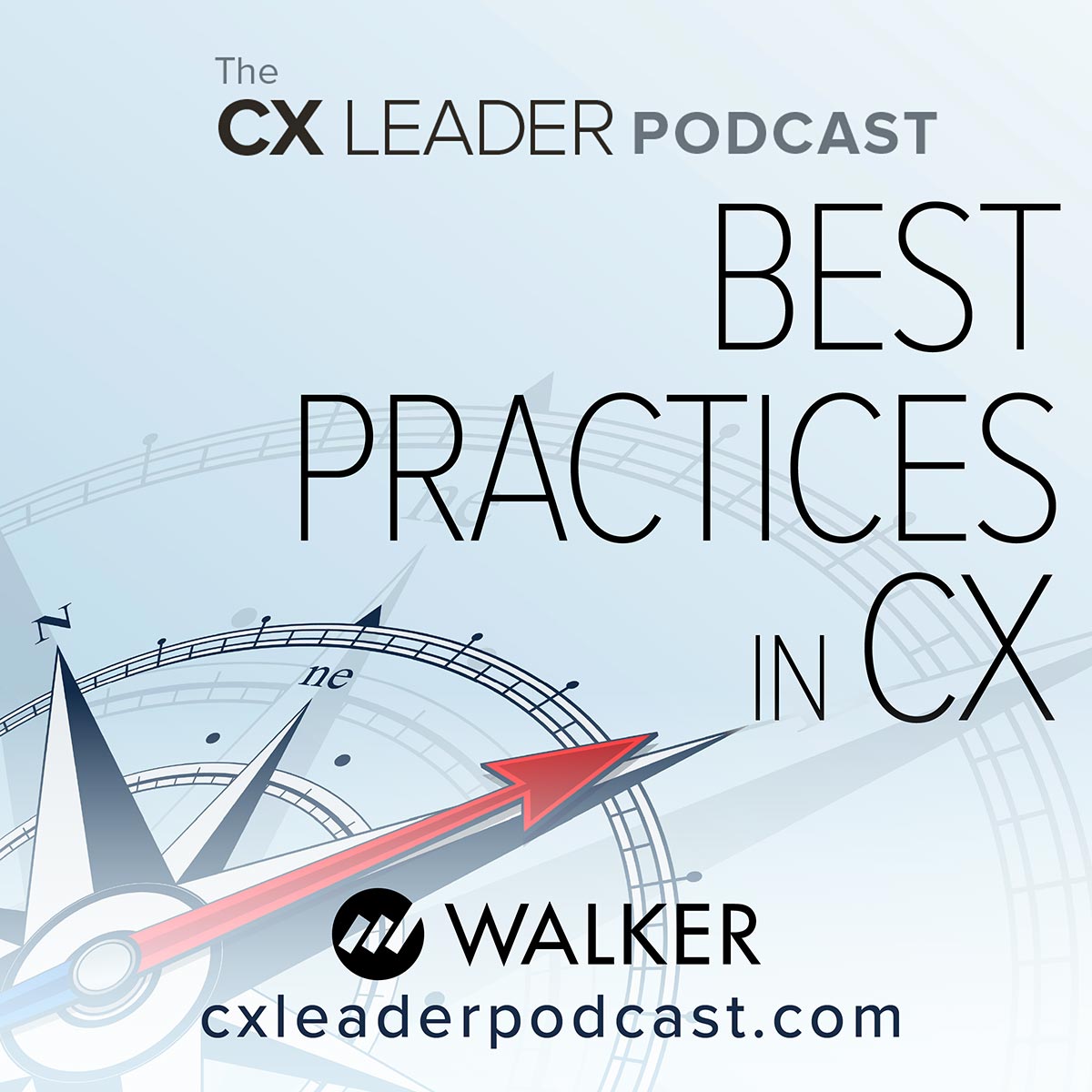 Wear Comfortable Shoes
Release Date: November 12, 2019 • Episode #92
Immersive experiences can be a powerful tool to demonstrate the customer experience, but for patients at a hospital, it can be impactful – and emotional – for the leadership of an organization. Guest host Pat Gibbons welcomes guest Karen Cernock from Indiana University Health to discuss how an immersive experience for their board developed into a program throughout the organization.
Transcript
Download the "CX Leader Podcast: "Wear Comfortable Shoes" audio file directly. This CX Leader Podcast: "Wear Comfortable Shoes" was automatically transcribed by Sonix (https://sonix.ai).
CX Leader Podcast: "Wear Comfortable Shoes" was automatically transcribed by Sonix with the latest audio-to-text algorithms. This transcript may contain errors. Sonix is the best way to convert your audio to text in 2019.
Pat:
CX leaders are always trying to help employees and even their board of directors understand what it's like to be a customer. So why not actually take them through what a customer actually goes through? Naw… That'll probably never work.
Karen:
We started to talk about what museums or historical sites do in this type of situation, how do they connect what they're showcasing with their customers. And then all of a sudden it just became clear that we needed to create this immersion experience to allow the patient to really tell their story directly to the board members.
Pat:
Understanding your customers' journey through immersion experiences on this episode of the CX Leader Podcast.
Announcer:
The CX Leader Podcast with Steve Walker is a production of Walker, an experience management firm that helps companies accelerate their CX success. Find out more at walkerinfo.com.
Pat:
Hello, everyone, I'm Pat Gibbons, guest host of The CX Leader Podcast. Thank you for listening today. On The CX Leader Podcast, we explore the topics and themes that help leaders like you leverage all the benefits of customer experience. One of the most common pieces of take-home value we receive from the guests on this program is to make certain leadership is supportive of your CX efforts. How do you convince them that customer experience is essential? Well, one way is to provide some sort of immersion experience in which your leadership is given a real glimpse of how customers perceive the company. Karen Cernock is a system leader in experience design for Indiana University Health. She joins me in the studio today to discuss how IU Health created such an experience for their board of directors. Karen, thanks for being on The CX Leader Podcast.
Karen:
Thank you, Pat. It's an honor to be here.
Pat:
Yeah, well, it's great to have you. I've learned a little bit about your program and I'm, I'm just excited to get into the conversation. So let me back up a little bit, because immersion experience is kind of a hot topic where companies are really looking for ways to put employees and others in the shoes of the customers. And we had one episode where a software company did that. You know, they had people use the software, people watch them use it and everything. This one's a little different because people physically went through the program. Is that a kind of a fair way to kind of set it up?
Karen:
Absolutely. I would 100 percent agree with that.
Pat:
All right. So how did you guys come up with the idea that immersion experience was a good technique within your company, within your organization?
Karen:
I think it started with a basic conversation. We had an objective on the table with a group of leaders understanding that we needed to make a better connection with the IU Health board members to what it was really like to be a patient or the family member of a patient at the Adult Academic Health Center downtown, which is our two biggest hospitals of Methodist and University. And we wanted to essentially run them through the pain funnel of coming in as a patient or family member at those locations. And it evolved from having them walk with what would be called an empathy card with prompt questions and perhaps a docent to bringing a different level of creativity and animation into the process to really hear direct from the patient themselves what it was like to be in their shoes at that particular moment – what they were thinking and feeling and going through along their healthcare journey.
Pat:
Yeah. So… So you obviously had a group of people discussing this, came up with the idea. Did everybody… did they jump on board? Did they say: "Yeah. That this will be interesting." And then people start questioning, "well, how are we going to do that?"
Karen:
I think initially we received a lot of funny looks. You know, people trying to be professional and courteous of the suggestion that was put on the table, but understanding that this would be a big ask, given the scope of the project, what we were actually trying to accomplish and who we were actually trying to accomplish it with. How could we make that connection between our board members and our patients and families, which of course, was a large gap. In going away and having additional conversations and thinking through the process, we started to talk about what museums or historical sites do in this type of situation. How do they make that experience memorable? How do they connect what they're showcasing with their customers who are walking through the doors? And then all of a sudden it just became clear that we needed to create this immersion experience to allow the patient to really tell their story directly to the board members.
Pat:
And this isn't just anybody, I mean, these are board members.
Karen:
Correct.
Pat:
So, I mean, I imagine there's somebody in the room going, "wait a minute, this is our board. Really? Are we gonna try this?"
Karen:
There was a lot on the table. It was a big chance, it was a big risk. And I have to really credit the senior leadership team that I had the pleasure of working with because they allowed us to do this. They allowed us some creativity. There was a lot of trust in our team to really bring this to life through a dry run and practice session with other leaders throughout the system. It started to become clear that, yes, we could actually do this, but we also had our CEO and chief operating officer involved in the process as well. And again, very supportive, very excited about the outcome. But of course, I didn't take a breath until it was all over.
Pat:
Right. Well, and it sounds like it was well-rehearsed. You had to walk through it a few times. Everybody had to know exactly what was going on.
Karen:
It was there were a lot of moving parts. We actually ran four of these simultaneously and divided our board up into four smaller groups. We had shuttle buses and ambulances and all different folks helping us really bring these immersions to life for that hour and a half.
Pat:
So somebody had to go in and tell the board that this was gonna take place. Recap that for me.
Karen:
We intentionally did not give them a lot of information.
Pat:
Oh, really? [laughing]
Karen:
There were a lot of leaders. There were a lot of leaders who were involved in this and a lot of conversations were taking place again with, with answering the objective of the immersion itself. And all we told them was to to wear comfortable shoes and to be at our head office downtown at a specific time. It was not until the entire group was together with our senior leadership group that we said, this is what you will be doing. And we did that intentionally. We did not want to take any moment away from what they were going to be experiencing. We wanted the entire or most of the entire experience to be about that patient's story. And we did not want to detract from that at all by giving them too much information upfront. We totally wanted them to be immersed.
Pat:
No, I think it's brilliant and it's a clue that if somebody tells me wear comfortable shoes, you know, watch out and what might happen next. So take me through it. What was the experience?
Karen:
I think we, we started to… you have to have your objective right. Where where do you want to end up with what was it that the group needed to walk away with? And there was a lot of discussion around that. And once we had alignment on that, we needed to piece together what stories we were going to tell. And we were intentional in telling actual stories from patients. So we also did patient interviews and we talked with family members of those patients and understood what it was like to be in those moments in time experiencing their journey from their point of view. And we landed on four unique journeys, again, going back directly to our objective of what is it like to be a patient here at Methodist? What is it like to be a patient at University? And we ended up with the journey of an emergency room journey, which we know nobody wakes up in the morning and says, I have nothing else to do and I like to go to the E-D today.
Pat:
Right.
Karen:
That's very painful. That's very scary. And we talked to a patient who had had a journey, never been to an emergency room in her life, and all of a sudden she's in the midst of what she compared to, you know, utter chaos, scared and frightened. And how do we pull out those emotions and thoughts in that particular moment in time? We talked to a patient who was on a cancer journey, which we know has a lot of moments and touchpoints along their way. And so how can we bring that into the board? How can we help them better connect…
Pat:
Yeah.
Karen:
…with what those journeys were like?
Pat:
And you said you broke them into four different groups. Did they have similar experiences but in different parts of the hospital, how did that work?
Karen:
Each journey was unique. We had a journey that… two journeys started in the parking garage. I think a lot of our leaders will look at the patient journey when they start to have that first face to face interaction. And for the patient or the family member, that's really not where the journey begins. It begins in their home. It begins when they're searching online for health care. It begins when they pull into the parking lot for the first time. So we actually had shuttle buses drop off two groups in our parking garage and walk them through there. And we had two other groups that came in through the emergency department and we pulled out moments in time that could be true moments of truth in that patient journey. What is it like to be on that gurney? We had a board member who was actually on a gurney in the emergency room and…
Pat:
Wow.
Karen:
…he was kind enough to play along and actually rode in the back of the ambulance over to University Hospital on that gurney. We put another group through some of our our smaller rooms that are in university to understand really what it's like to be a patient who's maybe sharing a room with another patient or maybe sharing a bathroom with another patient. And how does that look in 2020 and beyond and health care? And does that really make the most sense moving forward to have that type of facility?
Announcer:
Do you have an idea for a topic that you'd like us to cover? A suggestion on how we can improve the program or just want to let us know how much you enjoy listening? Email The CX Leader Podcast at podcast@walkerinfo.com. We'd love to hear your feedback on how we're doing. That's podcast@walkerinfo.com.
Pat:
So I'm curious: along the way, was the board commenting like, "well here's something that has to change" or "I can see why this is so awkward?" I mean, what were some of their comments along the way?
Karen:
They were overwhelmingly in awe, I think. The comments that we were receiving were overwhelmingly positive about the experience itself. The stories that they were listening to were really pulling on their heartstrings. And we were strategic in… in formulating the stories. Like I said, we had interviewed patients. So these were live, actual stories that we had had from our patients and family members. But the feedback that we were getting was this is great to see what it's actually like to be told to go down to the basement for pre-admission testing and how confusing it can be to know which parking garage to be at. And here's a set of elevators over here versus another set of elevators over here. And I don't know which one to use as I'm trying to get upstairs to see my patient. So the overall feedback was overwhelmingly positive. And to this day, we still have conversations about some of the patients and leaders that they met along those journeys to follow up on how their stories are playing out today. So it was impactful and it was… and it made an immediate impact on them while they were involved in that immersive experience. And it stayed with them well beyond I think it was June when we first ran our… our immersion experience for the first time.
Pat:
So was there a time where they got back together, whether it's their next board meeting or whatever, I mean, there had to be a buzz where they were talking about each other's experiences. How did that go?
Karen:
At the end of the immersion… so this is a timing piece, right, and a lot of fingers crossed and a lot of but a lot of pre-planning went into this. We had to begin the experience at the same time. But then there was a planned event that evening. So we needed to make sure that those immersion experiences ended at the same time. But they were all over downtown Indianapolis.
Pat:
What a logistical battle.
Karen:
It was a good logistical exercise where we got to hone in on some skills that maybe we don't use everyday.
Pat:
[Laughing]
Karen:
My team at least. But at the end of the immersion, we had the shuttle buses pick them back up from the exits of the hospitals and bring them back to a central location. And the shuttle buses were silent. They…
Pat:
Oh my.
Karen:
…were in true awe of what they had just been through. And I don't think any of them had expected that for the evening. They knew that they had objectives for the board meeting that was coming up. And they knew that they were learning about new things that we wanted to do and having those discussions with our leaders. They were not expecting to walk a mile in the patient's shoes. And I have to say that they were awestruck. Later that night, there was a group dinner, and that was the topic of discussion.
Pat:
Of course.
Karen:
And it wasn't supposed to be, but that was the topic of discussion. And when they went into the meeting the following day, again, the buzz that was generated about this and the the understanding and the empathy that we were able to to connect them with was was priceless.
Pat:
So obviously successful, you know, and… I appreciate how you've shared not only kind of what they've gone through, but the amount of planning that had to be put together, the logistics, the timing, everything in lockstep to provide that clear of an experience. So obviously successful. Have you… have you rolled it out with other groups? Have you done anything else with this?
Karen:
We have, I think, the intention of this coming on the heels of the success of our initial one was to spread it to the rest of our regions where a large health system with, with 16 locations and four physician practice groups, there are a lot of team members who could benefit from going through this. And we realize that. Now that we had proven that it was a success and had shown that we could really make a better connection by bringing those stories to life and putting folks in the lives that the shoes of our patients, we could could emulate this and repeat this across the system. So since then, we have done three more immersion experiences. We have done an immersion experience, well, with one full hospital and walked folks through that journey. We've also done a specific service line and, and brought those to life for a couple times in a couple of our groups of leaders and team members. And under the premise that it's the best way to bring storytelling to life and allow team members and leaders to look at the environment that they are in each and every day from the patient perspective. So, yes, it's been very successful and with…
Pat:
I was going to say: was… did the success of the first one, did it translate to the other groups as well?
Karen:
It did, and it's, again, at the end of it, part of the planning for an immersive experience is "what now?" So we don't want to leave and just have folks go back to their daily lives. So it's intentional that the group comes together for a bit of reflection and understanding, not necessarily and all about the story that they heard, but how they're making an impact in the lives of those that we serve. The small things that we may not recognize or appreciate or understand can come to life by just listening to how we impacted that patient. And while we… we have our real-time feedback survey and have data coming in from all of our voice of customer channels, this removes all barriers for leaders and team members to really connect with those patients and understand what it's like to be in their shoes.
Pat:
So with these… with these other groups, I'm curious, did they have a similar reaction to the that the board did? Was it highly emotional for them?
Karen:
They did, and it was highly emotional. I tried to be present during the immersive experience and actually walk through with them for my own learnings to understand what's going well and what I can do better for the next one. And during our most recent immersion experience at one of our… our hospitals on the north side, we actually had the clinical director in tears
Pat:
Oh my.
Karen:
Standing in that moment in time in the recovery room, listening to the patient tell her story and what it was like to wake up from surgery. And she wasn't the only one with tears in her eyes. And it's never my intention to make people cry. That's not why we do these. But we want to really remove all of those barriers and create that space to to empathize with that patient. And…
Pat:
Yeah.
Karen:
…we, we hit it on the head on that one.
Pat:
Yeah.
Karen:
And that was impactful for her part of the reflection period at the end when we we asked about what they had just experienced, she made the point that had she not gone through this experience, had she not had the opportunity to be immersed in the patient journey, she would never understand fully how much of an impact she had made in the lives of that patient.
Pat:
Right. No survey or anything can really quite get that across, and while it may not be your goal to put people in tears, it is a goal to create empathy. And that's a guess one of the signals of it. Nice.
Karen:
Exactly. That's…
Pat:
Nice job.
Karen:
…what we hope to do with these… with these as we continue to roll them out across our system. How are we designing better care experiences? And nobody can tell us better than our patients.
Pat:
It's an amazing experience and certainly within health care, I mean, what could be more personal than a health care scenario and more important for everyone to really understand what a patient, what a customer is essentially going through?
Karen:
Exactly. Exactly.
Pat:
You know, it's what also touches me is it's a highly creative process. And one of the questions I wanted you to share with listeners. I mean, we know each other and we've… we're familiar with each other's backgrounds. I feel your background, like there's not many people when we ask them about their background, nobody says, "well, I studied customer experience" or anything. So everybody gets here by a different path. I think yours is particularly interesting. Would you mind sharing your background?
Karen:
Sure, my background… I thought I would end up in hospitality. I started out in school actually in interior design and thought that I would be designing hotels across the world. So I certainly didn't think that I would be running hotels here and in other places. But I did that for… for quite some time. I also did a small stopover with a major airline, understood what customer service meant within the airline industry. And also retail. So to… to finally end up in health care, I wouldn't have thought that. I have the highest respect and admiration for folks who are at the bedside. And I'm not a clinician. I will never be clinical. But the fact that I work on a team that can still impact that patient experience across their journey is something I couldn't ask for a better opportunity.
Pat:
Yeah. It's just amazing how to me, that background, really, and even your education, the creative background, the hospitality, all of that really rolls up nicely into this. And it's no surprise you came up with a creative solution that worked so well.
Karen:
Well, thank you. It was a design process and something that we have recently brought into the organization is the design thinking process, and that first step is to start with empathy and relying on past experience and seeing some other great things that have worked and that are continuing to work across the hospitality or retail or restaurant experience. How do we translate that into health care? Consumerism is not coming to healthcare. It's here…
Pat:
Absolutely.
Karen:
…and we need to respond to that. And I think working with the leadership at IU Health, my leader in particular, and the team that I'm allowed to to serve on, they're open to that. We… we want to… to do what we can to make Indiana a healthier state and we can't do that if people don't come through the door. So how can we better remove those barriers and make those connections? And what type of creativity can we test and try and get away with? Sometimes, if you will. [laughing]
Pat:
[laughing] Right. Right. Well, we… we are at that part of the episode where we ask you the big hallmark question of The CX Leader Podcast, and that is what we call the take home value question, and that is: what's one or two tips you can share with our listeners that might be something that they can take away and somehow integrate in their programs almost immediately.
Karen:
I would say it's to ask better questions and not rely on what you did yesterday. We were looking for a better way to connect our board members and our leaders with our patients and families. And we have great ways of doing that. We have a lot of different ways where we understand our voice of customer and make that connection. But what could we be doing better? So it's the "how might we" questions, how might we remove those barriers and better connect with with those that we serve? Secondly, I would think it might take home would be to, to challenge your own thinking and to perhaps challenge the thinking of those around you and not to be afraid to be courageous and try something new. And if it works, that's fantastic. And then you figure out a way to move it forward and replicate it and make it better. And if it doesn't work, then you take your learnings and you try something new the next time. So I think if the empathy walk and the immersion experience wouldn't have been a success, we would have taken what did work well and… and moved on to some other way to… to make that connection with our patients and families.
Pat:
Yeah, we all have to make ourselves a little vulnerable from time to time and put some big ideas out there if we want to get somewhere.
Karen:
Exactly. Exactly.
Pat:
That's great advice. Well, Karen Cernock is a system leader in experience design for Indiana University Health. Karen, are you on LinkedIn? Can you provide people contact information in case they have questions?
Karen:
I am on LinkedIn. My my profile is up along with my email address. I'm happy to… to discuss our immersion experiences and the other great things that we're doing to… to better understand the voice of our customers at IU Health.
Pat:
Excellent. So you can find her on LinkedIn. The last name is C.E.R.N.O.C.K. Karen, thanks for being on The CX Leader Podcast.
Karen:
Thank you, Pat.
Pat:
If you want to talk about anything you heard on today's episode or how Walker can help you in your business customer experience programs, Feel free to email me at pgibbons@walkerinfo.com. Or you can contact Steve Walker at steve.walker@walkerinfomation.com. Or give us a call. Do it the old fashioned way: call us in the US at +1.317-843-8890. Don't forget to subscribe to The CX Leader Podcast. You can go to our new web site, cxleaderpodcast.com and you'll find links to subscribe through iTunes, Spotify, iHeartRadio, Google Play, and YouTube. You can also find all our previous episodes, podcast series, contact information, and you can let us know how we're doing, so our new Web site makes it a little easier now that we have almost a hundred episodes, you can find the information that you want. And thank you for listening to The CX Leader Podcast. It's a production of Walker. We're an experience management firm that helps our clients gain a competitive advantage by accelerating their CX success. Find out more at walkerinfo.com. Thanks for listening and we'll see you next time.
Sonix uses cutting-edge artificial intelligence to convert your CX Leader Podcast: "Wear Comfortable Shoes" files to text.
Thousands of researchers and podcasters use Sonix to automatically transcribe their audio files (*.CX Leader Podcast: "Wear Comfortable Shoes"). Easily convert your CX Leader Podcast: "Wear Comfortable Shoes" file to text or docx to make your media content more accessible to listeners.
Sonix is the best online audio transcription software in 2019—it's fast, easy, and affordable.
If you are looking for a great way to convert your CX Leader Podcast: "Wear Comfortable Shoes" to text, try Sonix today.
Tags: Pat Gibbons immersive experience c-suite Karen Cernock Indiana University Health board leadership