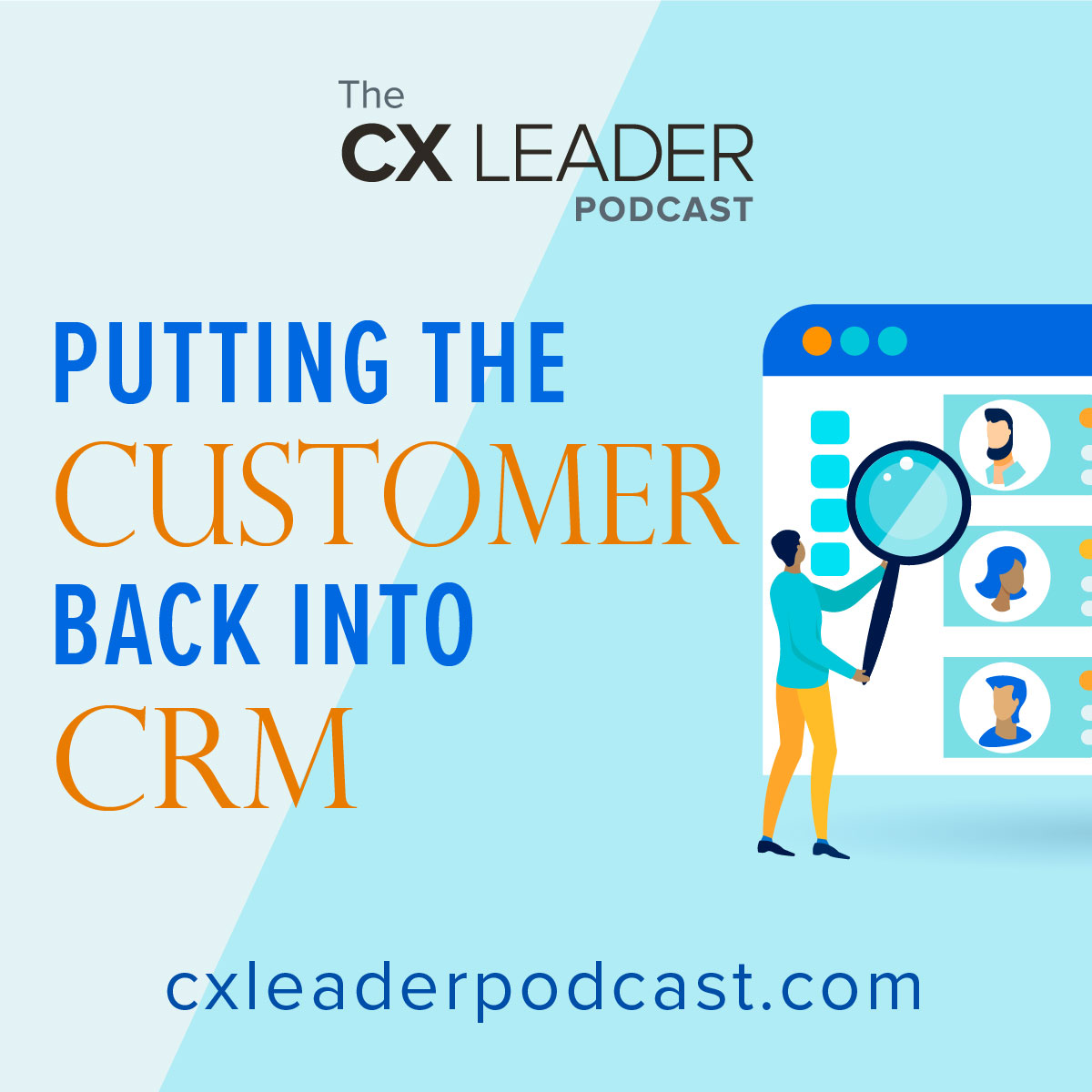 Putting the Customer back into CRM
Release Date: August 18, 2020 • Episode #129
Many businesses today use a customer relationship management platform, or "CRM" to help organize how they interact with their customers and prospects. But how customer-centric are these platforms, and do they truly help put the customer at the heart of your business? Host Steve Walker welcomes guest Jake Sorofman, president of MetaCX, to discuss how his company plans to put the "customer" back into "CRM."
Transcript
Download the "CX Leader Podcast: "Putting the Customer back into CRM" audio file directly. This wav was automatically transcribed by Sonix (https://sonix.ai).
CX Leader Podcast: "Putting the Customer back into CRM" was automatically transcribed by Sonix with the latest audio-to-text algorithms. This transcript may contain errors. Sonix is the best audio automated transcription service in 2020. Our automated transcription algorithms works with many of the popular audio file formats.
Steve:
There are probably not many people in the business world today who haven't had some experience in using a CRM, but are these platforms actually customer focused.
Jake:
Traditional concepts of CRM we feel are necessary but insufficient. Like that platform needs to be there. You need to manage the lifecycle, your customer. But there's this idea that our customer, you know, there's a relationship here that needs to be managed very intentionally.
Steve:
Exploring how we can put the customer back into customer relationship management on this episode of The CX Leader Podcast.
Announcer:
The CX Leader Podcast with Steve Walker is produced by Walker, an experience management firm that helps our clients accelerate their XM success. You can find out more at walkerinfo.com.
Steve:
Hello, everyone. I'm Steve Walker, host of The CX Leader Podcast, and thank you for listening. On The CX Leader Podcast, we explore topics and themes to help leaders like you leverage all the benefits of your customer experience and help your customers and prospects want to do more business with you. Many businesses today use a customer relationship management platform, or a CRM, as it's known, to help organize how they interact with their customers and prospects. There are tons of options when it comes to CRMs and they can be powerful investments for a company. But how customer-centric are these platforms and do they truly help put the customer at the heart of your business? Jake Sorofman is president of MetaCX an Upfront Ventures and High Alpha Company, creating innovative software to manage the customer lifecycle. And he's going to explain how they plan to put "customer" back into CRM. Jake, thanks for being on The CX Leader Podcast.
Jake:
Thanks for having me, Steve. Great to be here.
Steve:
Well, it's a real pleasure to meet you. We just met as a function of this podcast, but we we kind of have some shared history and some people that we know throughout the industry and I know you've been around the business world for some time now. Maybe just for the the benefit of our listeners, if you could just give us a little context and how you came to be the president of this organization. And so what was your journey to become a customer experience pro?
Jake:
Yeah, it's a long, convoluted journey, but I'll give you the short version of it. I spent most of my career running, marketing or being part of marketing teams within venture backed software companies. And then after about 17 years of doing that, having reached the CMO role within a growth stage company, I left that world and I spent five years as a Gartner analyst. And one of the topics that I covered at Gartner was customer experience. And I became chief of research for the digital marketing and CMO practice. But the thing I really cared about was, was customer experience. It really spoke to me as something with real strategic value and importance. And frankly, marketing was was recognizing that that nailing CX was really how they created differentiation and value of their customers. So something I leaned into from a research perspective. I spent five years at Gardner and then I came back to my roots and became CMO of a company called Pendo, which is a very fast growing B2B SaaS company and the product analytics and guided user engagement space in in Raleigh. And that was just a rocketship ride. It was just an amazing experience. So the better part of three years growing from, say, 100 to 450 employees, growing my team from four to thirty four, it was just phenomenal, super rewarding professional experience and one I'm very proud of. While I was at Gartner, I got to know a guy named Scott McCorkle, who at the time was the president of ExactTarget in Indy, and then through the acquisition by Salesforce, the CEO of the Salesforce marketing cloud. And, you know, we didn't know each other super well, but in the six or seven interactions with him, he really impressed me as someone who is both remarkably intelligent, just a real technical visionary, but also just a great guy, just a good human being. And we stayed in touch a little bit when I left and we started talking again. I knew I wanted to work with Scott, but when we started talking about what he was doing with MetaCX, I lit up because I saw myself in that problem and I saw it as sort of unsolved and high value.
Steve:
Yeah, that's a great, great background and that is how we are connected. ExactTarget was one of the real technology success stories from my hometown of Indianapolis, Indiana. And I always joke around. I'm one of the few people that I'm one of the people that turned down an angel investment for a company that Salesforce paid billions for. Correct?
Jake:
Two point five billion.
Steve:
Two point five billion. So it's just a fantastic company. I was able to see these guys take this thing from literally zero to nothing. It's one of the most fascinating business stories.
Jake:
And I think that everything I said about Scott is also it was evident in a lot of the people I met at ExactTarget, a good group of people, a great success story, but as importantly, just great, great humans.
Steve:
So MetaCX has sort of a different way of looking at CRM. You mentioned the 900 pound gorilla, which is Salesforce, which probably didn't invent the category, but I would say perfected the category. And there's a lot of horror stories out there about CRM implementations, particularly for organizations that maybe don't approach it right. So it just give me kind of your guys take on CRM and how MetaCX fits into that.
Jake:
Yeah, absolutely. And we have a tremendous amount of respect for Salesforce as a company, as a as an innovator, as as a category leader. And we don't see ourselves directly competing with Salesforce in any way. CRM is a very big idea. And how you tackle it requires innovation from lots of different participants. And we think we have a unique approach that's adding value to how companies think about how they manage relationships with their customers in a way that is highly complementary to what Salesforce does as a system of record for managing customer information. And let me start with a little bit of an anecdote here. When Scott left Salesforce, he spent some time starting actually several companies working with a bunch of entrepreneurs in Indy. And one of the things that he couldn't get out of his head was this idea that CRM was sort of incomplete if you looked at it through the lens of the current state of the world and how companies operate and what they're trying to solve for and is a thought experiment, he asked himself, like, what would be different if I were to design CRM today? And he came up with a few different characteristics. The first is it would be collaborative. You know, CRM today is very much an internal system. If you replaced it, your customers wouldn't notice, nor would they care. There is no differentiation created by virtue of which CRM you use. That's not to say you don't need one… you do. But it really doesn't create anything profound in the mind of your customer that would help change their impression of you as a company or a brand. The second is it would be focused on your customers outcomes. Remarkably, within our concept of CRM today, there's no notion of the value that the customer is looking to realize or the outcomes that they're looking to achieve. And without making that the center point of the relationship, sort of the steel thread that traces across the entire customer lifecycle, it's easy to lose focus on what their definition of value is, much less have the basis for measuring whether it's been achieved. And then the third and final point is that it would be product led and digital first, knowing that there is a tremendous amount of signal generated inside of your products and across digital touch points, all of which need to inform how you think about that experience and how you deliver value, sort of progressive value to your customers across your relation to the relationship.
Steve:
That's fascinating. Know CX pros, we tend to kind of operate around the edges on a CRM platform. We, you know, we take feedback from customers. We help people use that feedback. It typically might be integrated with the CRM platform. But I think you're particularly the perspective on the fact that it should be basically a nonfactor for the actual customer experience is really kind of an intriguing point. You know, it should add value, but not in any overt way. And yet so much of the discussion about CRM that I hear from clients is, well, you got to put it in this way or you got to put it in that way or it doesn't allow you to do that. So that that seems to be kind of the swing thought that Scott had in coming up with this product.
Jake:
Totally. And traditional concepts of CRM, I feel the need to reiterate, we feel are necessary but insufficient. Like that platform needs to be there. You need to manage the life cycle of your customer from the perspective of reliable and accessible information. They build it and report on it, et cetera. But there's this idea that, hey, our customer, you know, there's a relationship here that needs to be managed and managed very intentionally and managed in a modern way. Like if you think about everything that has happened in the B2C world around digital transformation and customer experience, and then you hold that up to the light and look at it relative to B2B, it's like we're in the Dark Ages. B2B companies have really not digitally transformed. They have not thought differently about how they sell, about how they deliver, about how they renew in a way that is, you know, sort of modernized and creating a delightful experience. There's a lot of process optimization that happens within organizations to try to get very conventional things right and very few sort of leaps forward and trying to rethink what that experience should look like for the customer. And that's what MetaCX is is doing here. Like the most basic level, there's really three primary use cases that we solve for. The first is deal management. So it's about enabling sellers to better align with their prospects around a shared definition of value. So very early in the sales cycle, creating a mutual success plan like a shared success plan that defines the outcomes that customers are looking to achieve and then the path to making that real. So that creates trust and transparency in the customer relationship. It says in a very specific and intentional way, I hear you and I'm understanding what you're looking to achieve and this is the path forward in this relationship. And that can have a really material impact on win rates because it is creating trust and transparency in the relationship, not to mention differentiation. The simple act that that's how you're showing up to the party, is going to make an impression on your customer in a way that your competitor doesn't. The second piece of it is what I describe as the coordinated handoff, and this is where people light up. Anybody that has worked in B2B knows that for all the optimization of the sales process, most companies just really, really suck at the handoff.
Steve:
They drop a few batons there, don't they.
Jake:
They certainly do. It's like all the goodwill and momentum we create within the sales cycle is lost the moment the deal closes, and that's the moment where it matters the most because your customer is nervous. They're feeling like, did I make a terrible mistake here? And they lose confidence. And then that sets the tone for their relationship, particularly in that first year, like marching to that first renewal event is digging out of a hole because that handoff was fumbled. So we're coordinating that handoff, making it feel like a celebrated and elevated moment and experience, not a dip in the experience, ensuring that customers feel that they that we have their back, ensuring that there is a consistent transfer of knowledge between the sales team and the implementation, success and onboarding teams and really leaning into it. I think that's an important, important moment in the customer relationship. And then finally showing proof of performance now that you've captured the target outcomes that customers have in mind in buying whatever, whatever it is you have to sell, let's prove it. Let's show them that progress has been made and actually delivering on that promise by bringing in live data to illuminate those outcomes and show actual proof of performance.
Steve:
So my guest on the podcast this week is Jake Sorofman, president of MetaCX, an Upfront Ventures and High Alpha Company, creating innovative software to manage the customer lifecycle and help put the customer back in your CRM program. Great discussion of sort of what's missing in what your vision is for MetaCX going forward. And I think that our listeners could really relate to this because we talk a lot in the podcasts about linking what we do as CX pros to actual business impact and how critical that is. We talk about moments of truth like and you've picked this handoff particularly for B2B. And then I think one of the most compelling things is this, how can you create a different experience in the selling process, which I think is something that is way underrated. And you can particularly, you know, in complex B2B sales, you can really show up differently than the guy that's just pitching the product. And so that trust transparency thing I'm intrigued with, because I think that's one of the things that technology is doing for us, is it's getting us to transparency and it really behooves the the people to buy into that. So how can the buyers and sellers arrive at this moment where there really is transparency and trust? And how would the MetaCX help them do that?
Jake:
Yeah, it's a great question. It's a big question. And I, I would start by saying that it's an evolution like companies are going to get there overnight and there is in many buyer seller relationships, there's a tension there that that may be hard to break. So maybe you don't arrive at perfect trust and transparency in the early innings of the relationship, but simply by showing up with a different way of thinking about this, with the intention of asking smart questions, with the intention of documenting what you understand about what they're looking to achieve, with the intention of validating and confirming and understanding and doing it in a way that is modern and and distinctive and new, maybe a little unfamiliar in a positive way. That's a step in the right direction. Like we think we can have a material impact on the health of buyer supplier relationships over time. And that starts in a just the sort of early baby steps of just showing up differently, as you said.
Steve:
I totally agree that this is you know, it's not something you're going to just flash a magic wand over and suddenly you got trust and transparency. But I'm amazed at how many times companies just don't follow up on stuff. I mean, it's really easy stuff. And if you really do go into this saying it's going to be a relationship over some period of time and you make sure you have quarterly business reviews and set standards of delivery and keeping each other accountable, that's how you build the trust. So you think about your other relationships, you know, you don't automatically trust somebody. It's developed over time and over a period of experiences. And that's what I think you guys are trying to bring to this process.
Jake:
Yeah. And also confirming that you are listening. So I think trust is founded on a principle respect, and that's only earned when you when you confirm that you are taking… your valuing the person's time, you are investing and understanding what they're trying to accomplish.
Steve:
And basically following through on what you said you were going to do.
Jake:
One hundred percent.
Steve:
Hey, let's go to the third one more. This proof of outcomes, proof of performance. Tell me a little bit more about that. How do you make that happen? Easily for both the seller to help educate the buyer and then the buyer to kind of reinforce that going forward?
Jake:
Yeah, it's a great question underlying the MetaCX platform and really one of the core innovations of what MetaCX is all about is a data integration layer based on a complex event processing engine. So without getting really deep into the technology, it allows you to instrument any application or any data source and pull that data into medic's and contextualize it within this outcomes views. So you define, say, three or four key outcomes that a customer is looking to achieve in the relationship. MetaCX allows you to map those outcomes to live data found in various systems that will actually point either directly or indirectly to the achievement of that outcome. So this could be like a leading indicator of that outcome. In most cases, it would be a leading indicator and the most basic leading indicator could be around product adoption and usage. Like one of the conditions of achieving any outcome is use the darn product and use it in the right sort of ways. We want to build healthy habits because if you want to achieve that outcome, you're going to have to use the product you purchased. The second leading indicator could be, you know, anything in route to that that that outcome that was promised, which would be more of like a KPI associated with it. Let me give you a very concrete example. If you're selling a marketing automation platform, the promised outcome might be something like increasing transaction size or something. Let's just say it's increasing revenue, period. What would be a leading indicator of that? Well, landing page conversion rates would be a good one. Like, that's an that's an easy thing to track because that's… as a provider of that platform, you have access to that data. Serving it up to your customer in the context of what's been promised is a great way to advertise that you're moving the needle in the direction that they had hoped for. There are other things that are more binary, like task completion, project completion, showing that you're on track on things that are more qualitative and rolling that up to outcomes are also a great way to tell that positive story. Your customer.
Steve:
Yeah, this is a concept that we talk a lot about on the podcast and really the CX pros are guides; they're guides for their organizations to make sure, like I love the analogy, like the guide isn't there to make sure that you make the summit, the guides there to make sure you don't kill yourself. And I think in a much safer way, that's what CX pros are doing for their organization. They're trying to get everybody to move in a direction that's going to create positive business performance by delivering value for the customer. And I love your description of KPIs. That's one of the big things that a guide can do is, hey, you can't jump from we're going to implement this system to increase revenue. But what are some of the pieces in there? And then over time with real data, you can validate those pieces to the point where it can get very, very predictive. And I've seen this this happen in organizations that really dedicate the effort to it. What are some of the benefits of this for an organization over time? I mean, not just the financial stuff, but I guess maybe even cultural sustainability of the organization, some of those other benefits?
Jake:
Yeah, I mean, the more obvious ones would be increasing win rate, which has an economic impact, increasing lifetime value of a customer relationship by improving renewal rates, driving expansion revenue. So net revenue retention increases when you do these things right. But to your question around, what are the other cultural attributes and artifacts of this? One of the things that I'm very critical of personally is, is customer success, not because they aren't some of the most valued, valuable people within any recurring revenue organization. They are. It's because we thought about customer success in a way that's too narrow. It's our belief that customer success needs to be the company goal, not just a role within the organization. Today, you often see customer success teams like kick saving deals that were otherwise bound to churn. You know, kind of like…
Steve:
White knight. The white knight rides in, saves the deal.
Jake:
It's like these these heroics are just not sustainable and it puts them in incredibly uncomfortable position. I've seen it in their eyes like they're just they know they're out of control because they are, you know, what's been sold, what's been promised and what's been delivered and what they have to renew against is not something that they can control. And that's why we think that customer success needs to be full lifecycle. It starts with what you market it's and what you sell, what you what you promise to the customer, what you then deliver through the implementation and onboarding. And then it requires this sort of discipline around to your point, around being the the the guide, you know, showing them the way like how do you make customer successful from the early innings of the relationship? And that starts all the way up stream with the claims you make, the promises that you make and the thing that you sell. And if you get those things right and you get that full lifecycle coordinated, then you put the CX team in a position to drive growth and to not exhaust themselves, trying to, you know, repeat those heroics that are so necessary to keep the wheels on the bus.
Steve:
Jake, we've reached the point in our show… we do this every week is we ask our guests to give our pros their best tip. We call it take home value. What can they do based on some of the information that you've shared today that they could take back to the office today or tomorrow or next week and actually improve what they're doing in terms of creating a customer focused effort in their company?
Jake:
Yeah, great question. So I think the thing I would pick that I think has disproportionate impact on the health of a customer relationship is the handoff, nail the handoff, and in order to nail the handoff, you need to get aligned with the customer in the sales cycle. You need something to hand off, like if you're not capturing a rich understanding of the outcomes they're trying to achieve in their view of what success would look like, then the handoff is a really difficult thing to effect. Capturing all that information, getting the knowledge transfer to happen in a coordinated way, but doing in a way that is visible for your customer and provides continuity in the relationship, gives them comfort and confidence that they made the right decision. That's an important part of setting the relationship on the right path.
Steve:
Thanks, that's a great tip. And I think that that is unique. I don't think we've ever had anybody on the show who specifically talked about this. And yet, just from my reflection, how many times do we find out that the source of some customer dissatisfaction is the fact that the expectations weren't set right or, you know, the scoping wasn't maybe done exactly right. So if our CX pros can just dial in a little deeper to how their handoff works and their organization between getting a deal done and then getting the customer up and using the product, I think that they could have a tremendous impact on their organization. So thank you, Jake. Thanks for being on the podcast. And if people want to continue the conversation or check out MetaCX, you want to give us a little bit of contact information? Can they find you on LinkedIn, the website?
Jake:
Absolutely. MetaCX.com is our website. You can find me on LinkedIn or Twitter, Jake Sorofman in both places and feel free to reach out. We'd love to talk more.
Steve:
Well, thanks again. Jake Sorofman is the president of MetaCX, an innovator in the new outcomes based approach for managing the entire customer lifecycle by transforming how suppliers and buyers collaborate and win together. Jake, thanks one more time for being on the podcast. Really enjoyed our conversation.
Jake:
My pleasure. Likewise. Thanks, Steve.
Steve:
If you want to talk about anything you heard on this podcast or about how Walker can help your business's customer experience, feel free to email me at Steve.walker@walkerinformation.com. Check out our website, cxleaderpodcast.com, to subscribe to the show and find all our previous episodes, podcast series. You can even drop us a note if you have an idea for a future podcast or just let us know how we're doing. The CX Leader Podcast is a production of Walker we're an experience management firm that helps companies accelerate their XM success. You can read more about us at Walkerinfo.com. Thanks for listening and we'll see you again next time.
Sonix uses cutting-edge artificial intelligence to convert your wav files to text.
Manual audio transcription is tedious and expensive. Are you a radio station? Better transcribe your radio shows with Sonix. Get the most out of your audio content with Sonix. Do you have a podcast? Here's how to automatically transcribe your podcasts with Sonix. Create better transcripts with online automated transcription. Quickly and accurately convert your audio to text with Sonix. Create and share better audio content with Sonix. Are you a podcaster looking for automated transcription? Sonix can help you better transcribe your podcast episodes.
Sonix is the best online audio transcription software in 2020—it's fast, easy, and affordable.
If you are looking for a great way to convert your audio to text, try Sonix today.
Tags: Steve Walker MetaCX Jake Sorofman CRM customer relationship management