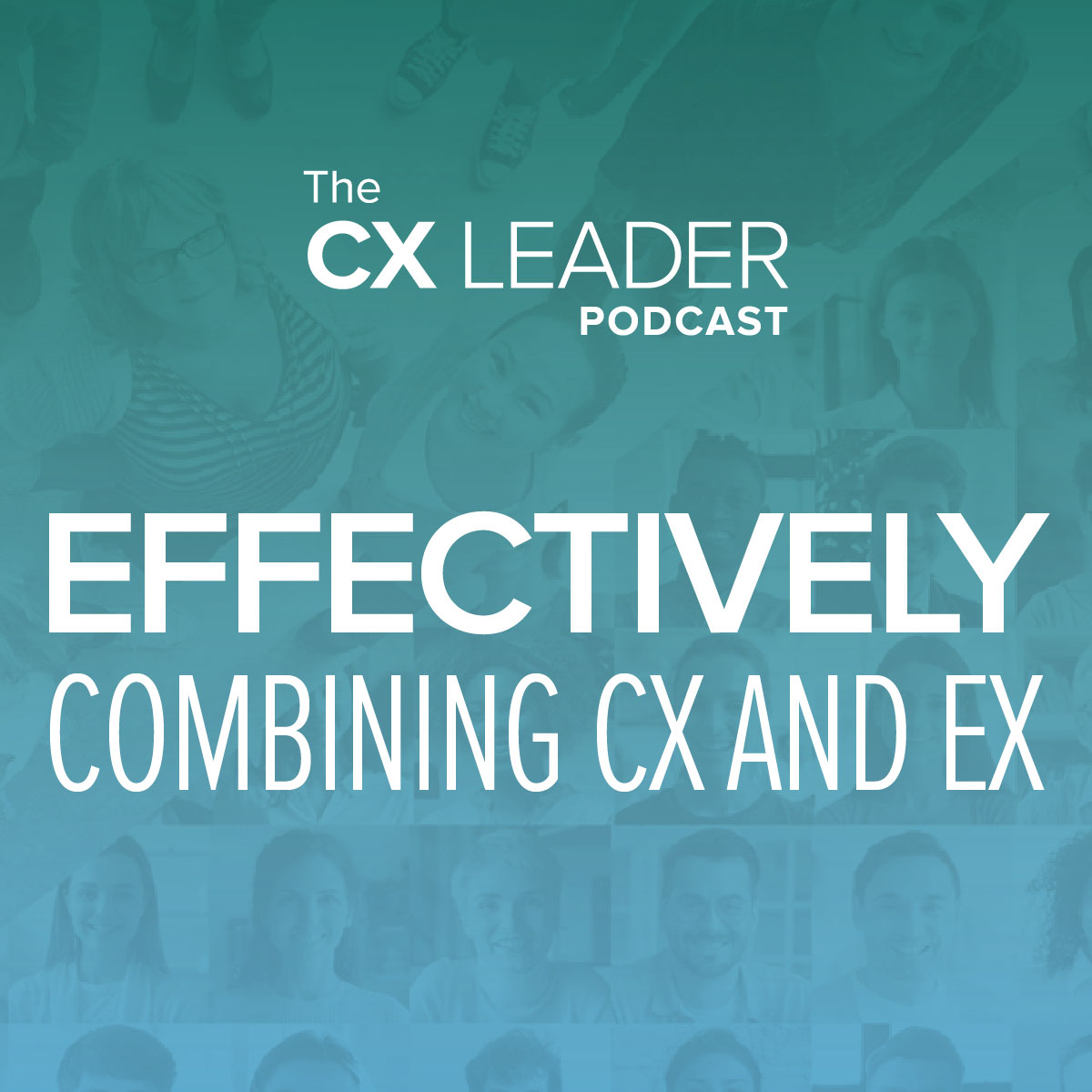 Effectively Combining CX and EX
Release Date: September 14, 2021 • Episode #183
The importance of the employee engagement has been featured on this podcast throughout several episodes. And while there is a strong connection between engaged employees and engaged customers, the two programs are typically separate. Employee experience is run by HR, customer experience is run by CX pros, and the two typically don't interact much. However, that seems to be changing and experience management leaders are seeing applications for the two to come together. Guest host Pat Gibbons welcome back Troy Powell for a discussion about Walker's new report, "Effectively Combining CX and EX."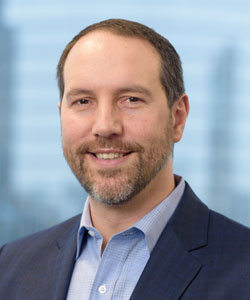 Troy Powell
Walker
Connect with Troy
Transcript
Download the "The CX Leader Podcast: "Effectively Combining CX and EX" audio file directly.
The CX Leader Podcast: "Effectively Combining CX and EX": this wav audio file was automatically transcribed by Sonix with the best speech-to-text algorithms. This transcript may contain errors.
Pat:
CX pros are always looking for that three hundred and sixty degree view of how their customers experience their company, but sometimes overlook another critical source of insights.
Troy:
Companies have really engaged employees and really loyal customers tend to perform better, and they're more sustainable over the long term. But we think that the concept of combining those two internally really gives you an exponential impact
Pat:
Considering the experiences of customers and the employees on this episode of The CX Leader Podcast.
Announcer:
The CX Leader Podcast with Steve Walker is produced by Walker, an experience management firm that helps our clients accelerate their XM success. You can find out more at walkerinfo.com.
Pat:
Hello, everyone, I'm Pat Gibbons. I'm sitting in today as the guest host for Steve Walker, and thank you for listening. It's never been a better time to be a CX leader, and The CX Leader Podcast explores topics and themes to help leaders like you leverage all the benefits of customer experience. Now, longtime listeners will know that we've discussed the importance of employee engagement in several episodes, and even though we intuitively recognize there's a strong connection between engaged employees and engaged customers, the two programs are typically separate. Employee experience is typically run by HR, or customer experience is typically run by CX pros, and the two typically don't interact that much. However, that seems to be changing, and experience management leaders are seeing applications for the two to come together. Well, we're on top of that issue. And in fact, Walker has recently released a new report that addresses that very concept. "Effectively Combining CX and EX" is a free report you can download from our website at cxleaderpodcast.com. And we have the primary author of that report, Troy Powell, vice president of advisory services here to tell us more about what you'll find in that report. Troy, welcome back to The CX Leader Podcast.
Troy:
Thanks, Pat. It's great to be here.
Pat:
Yeah? Another report. Another time to have you on the on the podcast. It's great. And these reports, they're just a great source of information and practical advice for CX leaders. And this one is an interesting one. You know, you heard my opening statement that the two are typically separate. What do you think of that? Do you you agree. What what do you see out interacting with clients?
Troy:
Yes, I completely agree. You know, we're seeing a lot more interest, definitely in the concept of combining the two disciplines. But for most companies, they're very separate. You know, the the employee experience employee engagement work is handled within HR. In most cases, they have their own methodologies, they have their own consultants, they have their own technologies often that are working in that space. And then the CX team is operating in a number of different areas within the company, but tend to have again their own methodologies providers, consultants as well. And so usually completely disparate teams are running those, even to the point of reporting up through different channels, reporting up through the chief research officer at one side and the HR and the other.
Pat:
Yeah. So do you think it's just the kind of the silo effect they're just not interacting with each other? Or do they not necessarily see the full value of how each each group can benefit each other in and sharing information and strategizing together, et cetera?
Troy:
I think it is more just of the silo effect of, you know, different, slightly different objectives. All all, pulling in the same direction. You know, everybody is focused on what needs to happen in each of these areas in order to achieve company success. And I think if you talk to anyone in either organization or either group, they will see the value of how great employees help to create stronger customer relationships and vice versa. So. You know, I don't think anybody doubts that, but it is with everything that's on everybody's plates, the objectives they have, you know, being passed down again through their differing kind of chains of command, fill up the time and there's no one mandating or spelling out that the two groups should work together more. But you know, we do see a lot of work being done on the CX side, particularly of bringing H.R. and bringing kind of that employee view in more and saying, "Hey, we need to train better, we need to hire for certain characteristics." So we're starting to see these kind of grassroots overlays for sure between the groups. Just maybe not quite at the level of listening to employees and listening to customers and merging that data together.
Pat:
Yeah, it seems that they're the processes are becoming a little more formalized, and that's making that link a little bit stronger. Now this is not a new issue. I mean, we've all heard for a long time happy employees, make for happy customers and all that, and I think it goes back… The first rumblings I recall hearing at the risk of showing my age is from the service profit chain, which I believe is a book. Maybe you know the background on that and you can share that.
Troy:
Yes. So yeah, it was a book that came out in 1994, I believe, authored by some kind of luminary professors in the space of customer satisfaction and customer loyalty. And they went through it. And really, most of it's based upon a case study at Sears, where Sears at the time was very focused on linking up this idea that what you do internally, you know, operationally affects your employees and then their satisfaction, engagement has an impact on the customers. And then that obviously altogether has an impact on your performance as a company. And so they were working to really quantitatively build that out at the time, along with a number of other companies. So the book really brought that to light and formalized it in a way and in a framework, you know that very few people disagreed with, but it kind of gave a little bit of a source of rallying around the concept that then has bridged through to today. So, yeah, that's I would say very few people will say, Oh, there's no relationship, you know, you don't have to care about both of those things. And that comes from all of this history of working through it and understanding it.
Pat:
Yeah, interesting. Well, let's get into the report. Why this topic? Why now? Obviously, there's a lot of things that you're involved in, a lot of topics you could pick. What? What prompted you to dig into this one?
Troy:
Yeah, I think at the root of it, it is, like you said, it's something that's been talked about in the space for decades, but it's not something that very many companies are really doing at a high level or acting upon. So it's a belief, but it's not necessarily a discipline and an activity and actions around it. And I think we're missing out on that a little bit saying it's great and there's evidence that companies have really engaged employees and really loyal customers tend to perform better and they're more sustainable over the long term. But we think that the concept of combining those two internally really gives you an exponential impact. And companies are kind of missing out on the ability to make great improvements and strides in delivering better experiences by not thinking of the two jointly in more cases.
Pat:
Yeah, yeah. Interesting. Well, it does seem very timely and it I do feel like I see more and more, particularly in the CX world, that there's just a reaching out to all areas of the organization. So it's not surprising that human resources and employee engagement is a big piece of that. I feel like the heart of this report and and going through this is you've got a diagram. So this is a clear, unapologetic teaser for people to download this. There's a nice diagram on page seven, and it's replicated in more detail in the back of the report on Page 15. But something that stood out to me is that the top of it you start out by saying to make this work, it requires two things. Tell us about that.
Troy:
Yeah, I really do think we can sum it all up in these two thoughts or the two activities that have obviously a lot of detail behind them, but basically, it really takes an organization to be committed to the fact that we need to hear from everyone who's involved in experience. So thinking about these important touch points that customers have with your company. Everyone involved in delivering or receiving that experience need to be involved in providing feedback. And then the second piece is something that we touch on and other reports, too. But the focus needs to be on how do we enable employees to provide a good experience? We often say, Hey, provide a great experience, but we don't always give them the tools to do that. And I would actually expand that after writing this. There's always things you want to change, say enabling employees in systems and processes to deliver a good experience because it's not always delivered through an employee, but employees are always involved in building out an experience in whatever channel it goes through.
Pat:
So make it work through hearing from everybody, enabling employees through some processes that it delivers a good experience. And then the diagram you go through basically three levels of how CX and CX can combine in a practical way. Maybe you can highlight those.
Troy:
Yeah. And so we, you know, we do acknowledge that you can't combine CX and EX activities and data if you don't have them. So at each level, there is this requirement that that you're doing certain things in the CX space and in the EX space. And then that you can do something to combine and really to amplify those two sources of information. So at the top level, it really is about getting read on the health of customers and the engagement of employees. So those things separately, but then finding ways to really combine that to say, Hey, let's look at this as a joint almost like a human health check, a stakeholder health check, you know, whatever you want to think of it as to be able to combine those two and think about them jointly. Second tier, then, is really looking to identifying symptoms, causes, you know, diving a bit into what is causing the overall health to be what it is. And so looking through the customer journey and touchpoints and looking through the employee lifecycle and interactions that they have and enablement, finding that information and then seeing where they line up, like where are you seeing a joint story and something to fix and how to fix it? And then at the lowest level, it's about getting some unstructured feedback from both and using it right, talking to the people who are embedded in these processes, getting their feedback, getting their ideas and using them.
Chris:
Hello, CX Leader Podcast fans, I'm the show producer Chris Higgins. Just as customer experience professionals need to get feedback from their customers, we here at The CX Leader Podcast want feedback from you, our listeners, to let us know how we're doing and how we can improve the show to provide a better value to you and your time. Go to cxleaderpodcast.com/feedback, fill out a short survey. Let us know how we're doing, how we can improve or what subjects you're interested in the most. Again, that's cxleaderpodcast.com/feedback. I can't wait to read your responses. Thank you.
Pat:
Troy, you've got a case in here as well, which I think is always great that you know, a company in this case, it's Medxcel. They are a leader in health care facilities services. Maybe just highlight that because we hope to have them on an upcoming episode of the podcast.
Troy:
Yeah. You know, that'll be an excellent podcast episode to listen to. You know, they've got a great story. They've been doing this combination for a while. And, you know, at the heart of it, it really started with just a deep seated recognition from leadership that the employees at specific sites really have an important and amazing impact on the customers that get served there. That's obviously makes sense. But they started doing a lot of work to ensure that those two things were being noticed and looked at and improved jointly. Not saying, OK, we obviously want great employees, but it's like we want employees to be engaged and enabled so that they can deliver experience that customers need. And we need to figure out how to do everything we can to provide that opportunity. So that viewpoint has existed there for a number of years, and they report out on it all of that. So, you know, a lot of great insights as to how they got to that point and then the impact that they've been able to see.
Pat:
Yeah, it's always great, you know, to go beyond the frameworks and the structure. And here's somebody that's put it to use. So we'll look forward to that episode. So Troy, we've gotten to that point in the broadcast and you know, I'm looking to my producer now because I think, you know, this needs a little more pizzazz. And as Steve doesn't usually do this, but can I just I like I want a drum roll or something. Can you throw in a drum roll? [drum roll] Ok, yeah. Yeah, that's good. How about a drum roll followed by, like, you know, one of those deep dramatic voices saying, Take home value?
Announcer:
Take home value!
Pat:
Very nice now. Ok, let's try this again. Troy, we've gotten to that part of the show. [drum roll and cymbal crash].
Announcer:
Take home value. [applause]
Pat:
Yes, that's right. It's take home value. It's your turn to deliver one tip that people can put into action. So you've talked a lot about frameworks and the logic behind this, but give us one tip that people can use to get started on this.
Troy:
I feel like you may have built me up just a touch, but I'll try and deliver on that.
Pat:
Don't be modest. Now's not the time to be modest.
Troy:
This is a good. It's actually a good opportunity for slipped in the area that really, I have two tips because I can never confine my thoughts to just one thing.
Pat:
All right, fair enough.
Troy:
I think the number one tip I really would give is starting fairly simply with just reporting out your findings from customer relationship assessments, from your customer feedback and your findings and recommendations from your employee feedback in the same presentation. Doing kind of like a joint executive presentation, let's say here's what we need to think about and look for customers, and here's what it is for employees. You know, you don't have to do anything even to overlap them, but you'll start to see some things that probably are overlapping.
Pat:
Love that, yeah,
Troy:
It's just that one simple thing, really. It just sets the stage that, OK, we are focused on that combination.
Pat:
Yeah, that's a great one. Very simple. And you're right. I think when people do that, it, the light bulb will go on as to I see how this connects. So you've got another one? Go ahead.
Troy:
Yeah. So the other one, which would be it's a little bit maybe longer term for some organizations, but this concept of three hundred and sixty degree interaction feedback, we think about that often on the employee side, 360 degree employee evaluations. I think you take that same thought when we talk about specific touchpoints, interactions, moments of truth where you we often and a lot of cases are doing a pretty good job of getting the customer feedback on those key points. But we usually aren't doing very good at all and getting employee feedback. And so really thinking about everyone involved in that touchpoint, how can we understand from an employee perspective what how do they think it's going with that interaction? What obstacles do they face in delivering a better experience and ideas that they might have for improvements that alone can do a lot to fix things that customers might be feeling or areas where customers think it's going well. But employees are having to do a whole bunch of extra work to make it to make it that way. So that 360 degree concept around. Touch points, I think, is the next change in thinking that I would nominate.
Pat:
Excellent advice. Troy Powell is Vice President of advisory services at Walker. Troy, as always, it's great to have you on the podcast. Thank you. And if people want to get a hold of you, what's the best way?
Troy:
I mean, so you can obviously email me, tpowell@walkerinfo.com, or you can hit me up on LinkedIn and send a message and I love to connect there as well.
Pat:
And if you want to talk about anything you heard on this podcast or about how Walker can help you with your business's customer experience programs, feel free to email me at pgibbons@walkerinfo.com or through the podcast at podcast@walkerinfo.com. Be sure to check out our website cxleaderpodcast.com to subscribe to the show. Find all of our previous episodes and series. And as we've mentioned earlier, you can download this report. The CX Leader Podcast is a production of Walker. We're an experience management firm that helps companies accelerate their XM success, and you can read more about us at walkerinfo.com. Thanks for listening today, and remember, it's a great time to be a CX leader. We'll see you next time.
Sonix has many features that you'd love including secure transcription and file storage, world-class support, transcribe multiple languages, powerful integrations and APIs, and easily transcribe your Zoom meetings. Try Sonix for free today.
Tags: Pat Gibbons report Troy Powell employee experience CX EX