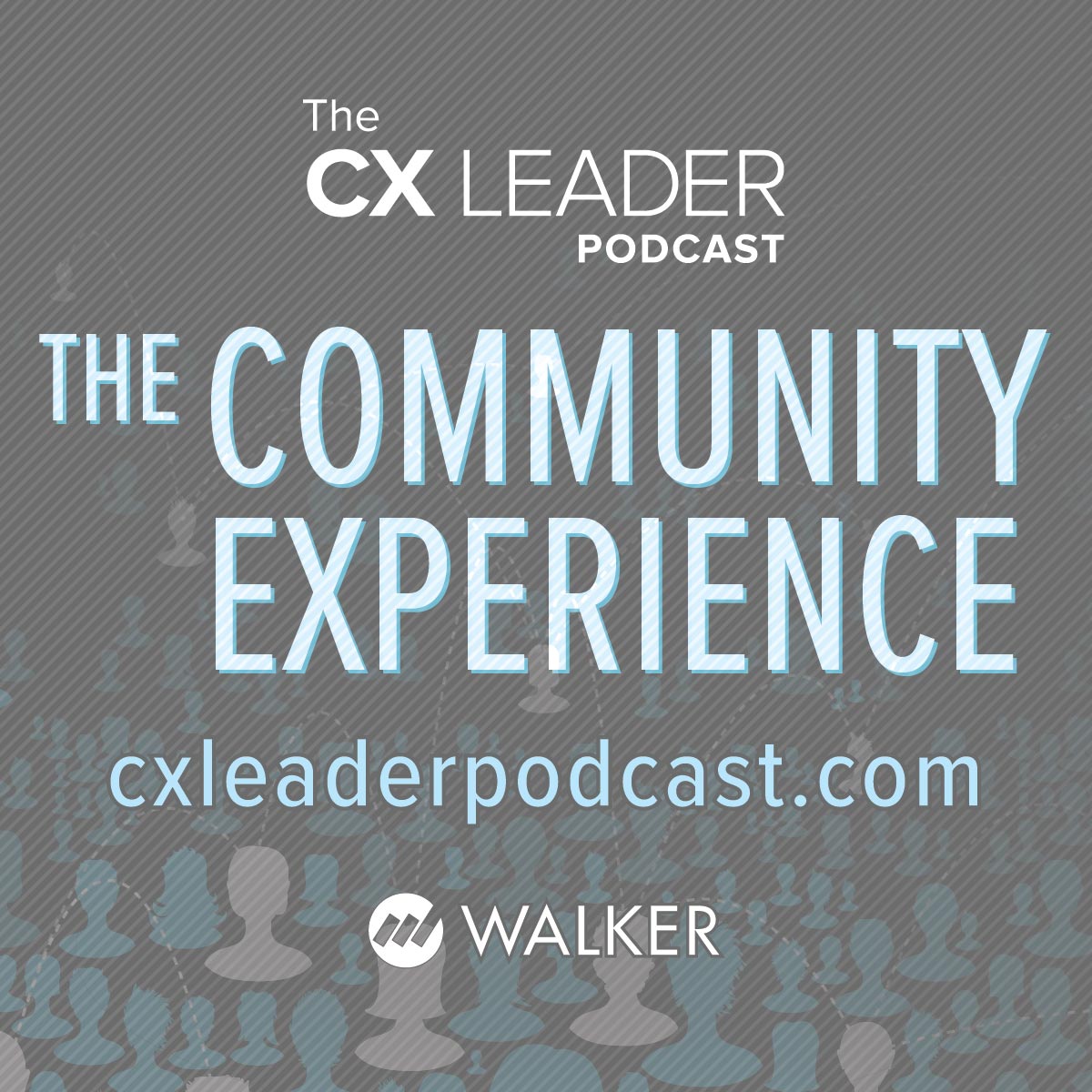 The Community Experience
Release Date: March 10, 2020 • Episode #107
Online communities are now part of daily in life for many consumers and businesses. Most community interaction happens within larger social media platforms such as Twitter, Facebook, and LinkedIn. But some companies are finding the value of having their own online community that focuses customer interaction and experience to their product or services, allowing for the customization of a user's experience within their platform. Host Steve Walker welcomes guests Heather McNair and Dan Reese from Higher Logic to discuss the value of online communities and marketing automation to improve the customer experience.
Transcript
Download the "CX Leader Podcast – "The Community Experience" audio file directly. This wav was automatically transcribed by Sonix (https://sonix.ai).
CX Leader Podcast – "The Community Experience" was automatically transcribed by Sonix with the latest audio-to-text algorithms. This transcript may contain errors. Sonix is the best way to convert your audio to text. Our automated transcription algorithms works with many of the popular audio file formats.
Steve:
Have you ever asked the "hive mind" of social media for help or opinions on a product or service? Well, we're wondering how that can work for customer experience.
Heather:
We actually did this with our own community, for our customers to share information with each other. And we found that customers who participate in that community have a Net Promoter Score on average, that's 11 points higher.
Steve:
Incorporating online communities into your customer experience on this episode of… The CX Leader Podcast.
Announcer:
The CX Leader Podcast with Steve Walker is a production of Walker, an experience management firm that helps companies accelerate their CX success. Find out more at walkerinfo.com.
Steve:
Hello, everyone. I'm Steve Walker, host The CX Leader Podcast, and thank you for listening. On the CX Leader Podcast, we explore topics and themes to help leaders like you leverage all the benefits of customer experience and help your customers and prospects want to do more business with you. I'm sure we've all been there one point or another. We're considering purchasing something or hiring someone to perform some sort of service and on a whim you decide to post a question to social media asking for input or opinions. So how does that work from the perspective of customer experience? What are the advantages and disadvantages of incorporating online communities into your CX program? On the podcast today, there're two guests that will help shed some light and expertise on these questions. Dan Reese is the chief customer officer and Heather McNair is the chief community officer, both from Higher Logic, a company offering cloud based engagement platforms, including online communities and marketing automation. Heather, Dan, thanks for being on The CX Leader Podcast this week.
Heather:
Thanks for having us, Steve.
Dan:
Looking forward to it.
Steve:
Would one of you tell us just a little bit more about Higher Logic, may not be a household name, but a very interesting company and something that CX pros should know about.
Heather:
Sure, absolutely. We have been in business for about 13 years and we… really it's about collab… it's about online collaboration, bringing groups of professionals together to share ideas, share best practices, ask each other questions. And really, if you think about LinkedIn groups, Facebook groups, that type of thing, it's like that, but in private spaces. We integrate with people's CRM systems, databases and give them what's called a "white label space" so that it looks like an extension of someone's brand. And and by integrating with their database, we're able to pretty populate profiles, put people in communities already. So it removes a lot of those barriers to participation and gets them going right away. Just an easier way to bring people together. And it also overcomes some of those fears that people may have about having their conversations, their data out there in public spaces, because this way they can own… their the company can own their data.
Steve:
And Dan, you're the chief customer officer at Higher Logic. Can you briefly tell us a little bit about your role and what your focus is there at the company?
Dan:
Sure. I am relatively new with Higher Logic. I've been here under a year, but prior to that, I've spent over 25 years in customer facing roles, leadership roles in various industries. So my primary focus is on, simply stated, engaging the customer and providing the best service that we can provide. So I'm a big believer in the offerings that Higher Logic provides, and it's a matter of getting our brand and our name out there to help iterate against what customers are facing today and how we can help satisfy and enhance their business experience with us.
Steve:
And who would be the target customer for higher logic or what's kind of your sweet spot in the marketplace?
Dan:
Sure. So the Higher Logic originated really in the association space, which is probably where it's best known. But really, it's broadened beyond that into a variety of different corporate companies and specifically those that are seeking to have scalable conversations with a broad audience. So we have a very large government contractors that are using us. We have small organizations, private companies, public companies. So it's a pretty eclectic group. But really what it comes down to is those that are looking to have a bilateral dialog with their audience in and ultimately scale, that's who we're focused on.
Steve:
And Heather, your role as chief community officer. What's that entail?
Heather:
It has entailed quite a few things in the seven and a half or so years that I've been with the company. I have overseen every customer facing department within the company and in that time span. These days, about I guess, about six months ago, I moved over to our product side, which is a new role for me. I'm representing the customer voice on the product side, helping lead a new team called "applied research." And what we're doing is looking… we have over 3000 customers at this point who are generating a lot of data and we get to spend our days looking at that data and making informed decisions about how to improve the product, how to improve best practices, how to improve strategy and bring that information to bear for our customers to make them better at their jobs and make the platform perform better for them.
Steve:
So 3000 installed clients.
Heather:
Correct.
Steve:
Where you run their white label online community.
Heather:
Exactly.
Steve:
And all the conversations that are going on during that community is residing in your systems and you provide that back to the clients exclusively, I would assume?
Heather:
Correct. Yes.
Steve:
But then there is some other services that you wrap around that.
Heather:
Yeah. So some of the stuff… and there's some that is still in an experimental phase – and we're looking at sentiment analysis as an example. So things like when conversations are happening in a community, you can rate are people happy about things. Are they upset about things? Are are they talking about things that are difficult or easy? And some of our customers are using that data to tie back to their net promoter scores. We actually did this with our own community. We obviously use our own platform for our customers to share information with each other. And we found that customers who participate in that community, who have conversations there, we correlated that with our net promoter score and our NPS scores and found that customers who participate in that community have a net promoter score on average, that's 11 points higher than customers who don't participate in the community. And so we're working with customers to do the same thing, to correlate that data for themselves against their NPS scores. We also have customers who are looking at the difficult vs. easy – they may not be talking about the organization itself, but perhaps they're talking about topics that they're dealing with on a regular basis. And and so they're using that information to inform their programming. What education programs should they be coming out with? What sessions should they be introducing at their conference this year? What should they be producing in their journals and their magazines, that type of thing, so that they can serve their audience better.
Steve:
So are online communities – I get how they would interface with the CX program – but they're really broader than that, aren't they?
Heather:
They absolutely are. They… if I like to think of a successful community as touching potentially every part of your organization with finance possibly being the exception, although you could argue that finance cares about everything. But if a community is successful, it is helping your sales team, because in one part it's a growing customer advocates. You can find people, you can find new champions out there and you know that you may not have known even existed. But they start participating in your community perhaps in a very simple way. They start replying to other people's questions and then you can grow their asks. We think about it as a ladder of engagement. You know, you keep asking for greater and greater things. And so they, you know, it helps sales, it helps sales with information, it helps them marketing from that aspect as well. They find someone who's successful, they tap into them for case studies. It absolutely helps products. One of our big groups is our a software user groups and they find a wealth of information about their out in a community about what people are happy about with their product, what they may be struggling with. And they also use it as a venue for a product, advisory councils, that type of thing, releasing new information out onto their community, getting feedback about it before it actually rolls out into the product. That type of thing.
Steve:
So, Dan, you mentioned it began in associations and then we've talked about government agencies and Heather just mentioned the software communities. What are the attributes of an organization that might benefit from looking into having an online community?
Dan:
Sure. Well, speaking from experience, as someone who's been a consumer of communities and different platforms at multiple stops, when you think about in a customer experience sense, everybody wants to know what's going on in the heads of their customers and they want to understand how to harness that and transition that into a better service or better product. Ultimately a better offering. Well, so when you look at that, you see very standard characteristics such as, OK, you may have a conference or you may have a user group meeting and that's great. Or you may conduct loyalty surveys. And so you have measures of how the customer views you at a moment in time. But ultimately, what you want is something that scales, that's bi-directional, and it is also in a not so costly fashion. And that's really where we think about the profiles of the target audience, that's what they look for.
Steve:
So let's say I'm a business and I have some scale and have customers and employees and issues. What would be the first step to setting up a community? How would you get started?
Heather:
I think the first and most important step, an interestingly this is one that people tend to leap frog over, is to define what the primary goal of the community is. And it, you know, it can range from a support ticket deflection, which could be a podcast in and of itself, but a support ticket deflection. It could be a customer success. It could be helping with the product team and really diving into that and figuring out what are the key performance indicators that align to that, who needs to be involved. You know, really fleshing out that business case that goes with it and talking to whomever the community members are going to be. Figuring out what needs they have that are unmet at the current time. Because to have a successful community, I think one of the core drivers of it is that you need to be providing information to people that they either can't get somewhere else or they can't get as easily somewhere else. You have to provide value in that community or people are not going to participate. And so really outlining that goal and the strategies that align to that goal are absolutely a critical first step.
Steve:
So I get it setup up and now I'm ready to start activating it. What are some ways that you get people to engage on the platform and make sure that you're generating activity that can be useful to the client?
Heather:
One of our favorite ways to get things started is by seeding content. And working again with a handful of your target audience to come up with questions. And some people kind of feel like this might be a little disingenuous, but you're working with the people who would be asking these questions anyway. You're just… you're trying to make sure that those first questions going out in the community are phrased in a way that is going to generate conversation because it models the type of behavior that you want to see in your community. Some people are… they're afraid to ask questions, especially the types of communities that we host are professional communities and people are amongst their peers and they tend to be afraid to ask a question because they don't want to look silly in front of their peers. And so we have to overcome that fear. And by modeling that type of behavior and saying, "hey, these are the kind of questions you can ask in this community," it helps them overcome that fear. So that is an absolutely critical first step in launching a community. And we tell people have 20 to 30 seed questions in your back pocket ready to go.
Steve:
Yeah, I don't have a problem with that. Disingenuous. You know, you can't have a party till somebody hits the dance floor, right?
Heather:
Exactly. That's a great analogy, Steve. Yes.
Steve:
I'm having a great conversation with Dan Reese, who's the chief customer officer, and Heather McNair, the chief community officer, who are both at Higher Logic. Higher Logic is a cloud based engagement platform really focusing in on online communities and marketing automation. And we're talking really about how this is a great augment to your current CX program and really creating a different channel and vehicle for you to have all sorts of conversations that could be beneficial for your company in the marketplace. Maybe you could each share a story. You've shared a couple of stories, but maybe there's another story or two that you'd like to highlight how companies have used online communities to further their business objectives.
Dan:
Sure. So I'll start – as a consumer of this, maybe looking at it through a different lens – let's say you like the idea but the challenge is how do you get your company to adopt it? Let's say case deflection is something that your company desires to do. Well when it comes to communities, that's a great gateway if that gets the solution in the door. But the real return on investment is growth for your organization. That's… that's what everyone is striving for. Whether it's growing your customer base, growing your revenue base, whatever it may be, but growth is largely your objective. So if you're an organization that says, okay, they enter with the idea of creating case deflection and they pitch that to their financial decision makers and say you're making up a number of, let's say, cost you $150 a case. And if we use a community, we can deflect 2000 cases a year that's going to reduce by $300k. And based on my initial investment, my return on investment might be two and a half to three months for doing that. And so that might be the difference between getting the approval to say, okay, that's a great idea, let's do that. And then once you get past the initial case deflection, that's when you start to harness the real information. That's when these customers will come back, not only will they find solutions, but they will then turn around and say, "well, now what's next?" Now you're influencing someone's product or solution, you're influencing their service direction, and then you can fine tune and shape your business to really tailor it to your audience. And so coming full circle, you know, we have a large enterprise customer that has deployed the solution. And now if one of their customers wants to use their support, that actually has to go through the community to get to the support section. And so it's a gateway, if you will, to have peer-to-peer interaction. And then only if they can't find their solution, they can then log a case and then they'll treat it just with all the normal service level targets that any other support organization would have. But what they're doing is they're tracking this so they can turn back around to their organization and show the full return on investment that they're getting from it, I think is a wonderful idea.
Steve:
I love the example of the support ticket or case deflection. And this goes right back to some of the things that we've been saying about customer experience today: in today's world is a lot of customers want to self-service if they can. So if they can access a community and get their question answered, it's better for the customer. It's also lowering the cost of support for their business. And then as you articulated very well, Dan, you know, there's some add-on benefits that that come from kind of maintaining this this dialog.
Dan:
Yeah.
Steve:
Heather, do you have a favorite example of how people are using online communities?
Heather:
My favorite example is actually a personal example. I was a customer of Higher Logic before I joined the team and I worked for an organization that was certifying body. So we certified people who were in the nursing field. And with certifications, typically they last for two years. And so people will join an organization to earn their certification and then they'll fall away the next year and then they'll rejoin to earn their certification and the fall away the next year. So you see this kind of pendulum swinging with retention, which is obviously not a great thing for an organization. And we… when we introduced the community, we did a member satisfaction survey. And we within less than a year, we saw that the community became the second best benefit of belonging to the organization. And a year after that, it actually surpassed certification for the reason that they belong to the organization, which was incredible because it was a certification organization. And so when you talk about the power of community and seeing that firsthand, that… like that became the reason that people belong to the organization. We also saw the retention rates of the organization increase substantially and level out. So we didn't see that cyclical pattern continue to happen and we saw about a 20 percentage point increase happen across the organization as well. So that was an incredibly powerful case study in what a community can bring to an organization.
Steve:
Well, that leads us into our signature moment of the show, and that is the take home value. Let me give each of you a shot at providing our listeners with sort of a take home value. And maybe we ought to think about it in two perspectives: one, somebody that's maybe very new to this topic that hadn't really thought about having an online community and then maybe somebody who might have one, but not optimizing that.
Dan:
Sure. I'm happy to go first. So, yes, we will. We want online communities to be the flying cars and hoverboards. Right, Steve? And this is where we want us to be the cutting edge in this space. So if you're somebody who's thinking about using this, you want to think about your audience and you want to think about what is your desired result. And as long as you actually have the stated goal and the stated purpose, that is 101. So the first thing you have to ask is what are we trying to accomplish as an organization? And then once you establish that in terms of your take home value, then you can build from there and identify communities as a long term solution and growth engine for your company.
Steve:
Heather, your best tip?
Heather:
One of the big things that I hear when I'm out in the market, when I'm talking to people and they're considering a community, they love the idea. There is this fear that exists that, you know, "what if people bash us" and "what if we launch a community and people are bashing us and what if they're talking negatively about us?" And a lot of times the CX person completely gets the power of a community and they're bought into the idea. It may be their superiors that are the ones who are afraid of these conversations, these negative conversations that may happen. And, you know, one of the most important things that they can share is those conversations are happening anyway. They may be happening out on Twitter or they may be happening out on LinkedIn. They may be happening in person, but they're happening. And to have the power to give people a venue within your purview is to have those conversations and to be able to participate in those conversations. And to get that data and to make it constructive is… just really raises the level of your business. It gives you the business intelligence to really grow and do productive things with it. And I think that that is… that is a piece that's really overlooked.
Steve:
I think that's a great tip. Thank you for both of you, and especially that last point about just because you don't hear it doesn't mean it in going on. In the world today with all the technology, transparency really is a key concept and we just have to be willing to embrace feedback and try to get to the truth. Not necessarily what we want to hear, but what is actually occurring out there. And when we do that, we have a better chance of making an impact too. Heather McNair and Dan Reese, both executives at Higher Logic, this week on the podcast. Dan's their chief customer officer. Heather is their chief community officer. And Higher Logic is a fascinating company that provides cloud based engagement platforms, including online communities and marketing automation. Could one of you give us your company's website in case our listeners want to check out a little more?
Heather:
Yeah, absolutely. It is www.higherlogic.com. It's H-I-G-H-E-R-L-O-G-I-C dot com.
Steve:
And then Dan and Heather, I assume both the you are on LinkedIn if anybody wants to continue the conversation they could find you on LinkedIn?
Dan:
We are and we would appreciate that. Happy to speak with your listeners, and again, I want to thank you too, Steve. Appreciate the contribution you're making to the customer success community.
Steve:
No, it's my pleasure and I appreciate you guys being on the show. So I look forward to having you back on – we'll do that support ticket deflection show maybe someday.
Dan:
Looking forward to it. Thank you very much.
Steve:
And if you want to listen or talk about anything else that you heard on the podcast or about how Walker can help your business customer experience, feel free to e-mail me at steve.walker@walkerinformation.com or give us a call here in the U.S. at +1-317-843-8890. Remember to visit our website cxleaderpodcast.com to subscribe to the show and find all our previous episodes, podcast series, and the contact information so you can let us know how we're doing and anything else you'd like to know about the podcast. The CX Leader Podcast is a production of Walker, we're an experience management firm that helps companies accelerate their CX success. You can read more about us at walkerinfo.com. Thanks for listening and we'll see you again next time.
Sonix uses cutting-edge artificial intelligence to convert your wav files to text.
Thousands of researchers and podcasters use Sonix to automatically transcribe their audio files (*.wav). Easily convert your wav file to text or docx to make your media content more accessible to listeners.
Sonix is the best online audio transcription software in 2020—it's fast, easy, and affordable.
If you are looking for a great way to convert your wav to text, try Sonix today.
Tags: Steve Walker Dan Reese Higher Logic online communities marketing automation Heather McNair