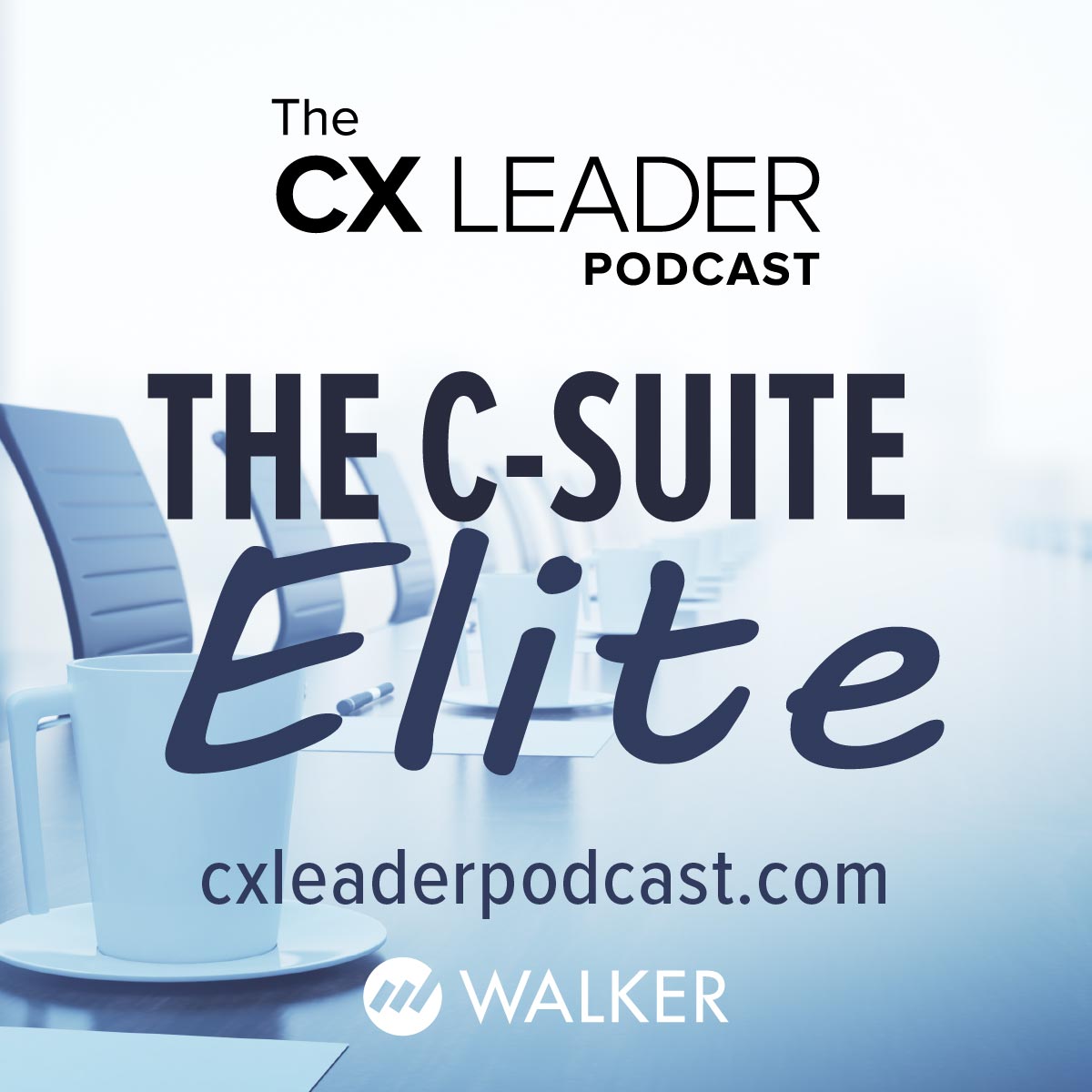 The C-Suite Elite
Release Date: January 21, 2020 • Episode #100
On the 100th episode of The CX Leader Podcast, host Steve Walker interviews his friend and mentor Dwaine Canova, CEO of Zynity, a company that provides online tools for organizational Leaders. Dwaine discusses his new book, "Elite Executive Teams," and how executive leadership should be the driving force in making customer experience a priority in your company.
Transcript
Download the "CX Leader Podcast: "C-Suite Elite" audio file directly. This wav was automatically transcribed by Sonix (https://sonix.ai).
CX Leader Podcast: "C-Suite Elite" was automatically transcribed by Sonix with the latest audio-to-text algorithms. This transcript may contain errors. Sonix is the best way to convert your audio to text in 2020.
Steve:
It's time to dive deeper into something that my guests and I have been talking about for quite a while now.
Dwaine:
I had begun to realize that there needed to be a much more deliberate and disciplined process of getting the C-suite to engage with the customer experience in a more broad term so that the parts of the organization work together more effectively on the customer experience.
Steve:
Getting your company's leadership on board with customer experience on this, the 100th episode of The CX Leader Podcast.
Announcer:
The CX Leader Podcast with Steve Walker is a production of Walker an experience management firm that helps companies accelerate their CX success. Find out more at walkerinfo.com.
Steve:
Hello, everyone. I'm Steve Walker, host The CX Leader Podcast and thank you for listening. On The CX Leader Podcast we explore topics and themes to help leaders like you leverage all the benefits of your customer experience and help your customers and prospects want to do more business with you?. Well, I can hardly believe it myself, but this is our 100th episode and I'd like to take a moment up front and thank all of our listeners in podcast land for your support. And it's much appreciated and I'm excited to see what the future has in store. We've had amazing guests on the show and we're planning some amazing guests for the future. So to recognize the past couple of years, I want to invite you to visit our website, cxleaderpodcast.com and check out a feature we put together: a list of some of my favorite episodes. You'll have an opportunity to let us know what your favorite moments were or if there's a topic that we haven't covered yet, we'd like to hear from you. That's cxleaderpodcast.com and click on "Steve's Picks." To kick off our third season of The CX Leader Podcast, we're going to dove deeper into a topic we've mentioned numerous times, but not extensively explored. And that's how to get your company's C-suite committed to customer experience. It's something difficult to see the ROI on a program like CX, but it's critical that your leadership is on board. And if you are part of the leadership of the company, then this episode might help you understand why we think CX is so, so incredibly important for your company. And so it is my honor and really a kick to have one of my friends and really mentors in the business on the program today. Dwaine Canova is an entrepreneur, author, consultant, and an executive, and he's the CEO of Zynity, a company that provides methodology and online tools to develop executive leadership teams. And Dwaine has a brand new book out called "Elite Executive Teams" that offers different perspective on the role of executives, including CX. Dwaine, thank you very much for being on the CX Leader podcast.
Dwaine:
Steve, I am just exceedingly excited to be here with you today and to just realize all of the times and events from our past and to.. get to be honored to be a part of your… your 100th podcast. I'm just delighted to be here and very excited to talk about CX and leadership.
Steve:
Yeah, well, you were CX before we even knew what it was. Right?
Dwaine:
Well, absolutely. One of the walking fossils, if you will, going back to the very, very early days. And it was it was just a terrific time, frankly. And it was usually in those days, most of the CX was around promotion work. We worked for the retailers, the banks, and we would make calls into homes. Of course, we received calls and calls into businesses. And it was just a terrific time. And it was a part of how those large companies would work to try to build relationships in communities, whether they were opening a store, opening a branch. But to go in and really introduce themselves and… and just help launch their new locations, it was… it was a terrific time.
Steve:
Yeah, why don't you just for the benefit of our listeners, tell a little bit about your background, particularly as it relates to Zacson Corporation, because that really is in many ways the very founding of what we call CX today.
Dwaine:
Yes. And the… as I was talking earlier about working with the retailers and the the banks that all occurred a few years even before we started Zacson. And… and Zacson then began this whole issue of how do we really create relationships with customers? And of course, we expanded from, you know, working with individual customer bases and also to work with with actual business to business clients for customer bases. But the issue was around how do we create relationships, how do we understand more about customers and how do we then expand those relationships in terms of actually providing more value to them and understanding more carefully what they really needed?
Steve:
And was it about this time that you started to see the gap that was created between those who were trying to take care of customers and those who were at the senior level?
Dwaine:
You know, it really was. And it was kind of an odd set of circumstances that made me see that. You know, I had… just before I got into this business, I had finished up my MBA at the Wharton School, gotten my MBA there. And, you know, that's kind of a "heady" school.
Steve:
Oh yeah.
Dwaine:
But what I noticed was, as I begin to understand more about companies and growing companies, I found that hardly anyone in the C-suite built their career in those companies coming up through the customer service or customer focus side, unless it was marketing.
Steve:
Yup.
Dwaine:
And so the issue of engaging and building, I thought, oh, my goodness, there's a whole need for the whole C-suite to really understand what's going on as we engage with our customers. Post the sale.
Steve:
Yeah, and really, as the markets evolve, service became such an important part of the overall experience and the value that the customers were receiving. Right?
Dwaine:
Absolutely.
Steve:
Yeah, if an exec had come up through, say, the finance ranks or maybe legal or something like that, there just was no real appreciation for what was the service element of the business.
Dwaine:
Absolutely. Yeah. If… if they came up through financial, they wanted to know that we were not spending too much money doing customer service. If they came up through the sales side, they just wanted to know if we could sell more.
Steve:
Yeah.
Dwaine:
And so that's sort of… the sort of two of the general attitudes that went with it. And we're not talking about bad people here. We're talking about how… how people set goals, how they set objectives and what they were really focused on. It just wasn't a part of the… of our cultures those days.
Steve:
So we kind of reconnected back in the CX space here over the last couple of years. And you had done a speech, I think, at Stanford that kind of really reignited your…
Dwaine:
Yes. Well, you know, actually, yeah, I had kind of had some thoughts about it. But what happened is I had been going around literally around the world, had been in Asia and Europe and even Mexico, South America. I'd been talking about this gap between the customer and those serving and working with customers versus the C-suite. And I noticed this gap. So I was invited to do that speech to the Stanford Business School, to their alumni group out in the Bay Area. And the title of the speech was "Customer Focused Companies." And the subtitle was "Using Integrated Marketing Practices to Increase Profitability." And in that speech I presented really that the issue of if you were really customer focused, it would be a significant positive impact on your company and always. The second part was that the idea of integrated practices was really a myth because they weren't… all the different touch points weren't really integrated – they were running in parallel so that the parts, the marketing, the sales, the customer service, the research, those groups didn't really work with one another. And my solution at that point was to build a… build a set of capabilities in your call centers so that you could… could begin to collect direct and really important information and use that information to go feed it back to the different parts in the hopes that they would at least behave in a much more integrated fashion.
Dwaine:
What the book represents is that I had begun to realize that there needed to be a much more deliberate and disciplined process of getting the C-suite to engage with the customer experience in a more broad term so that the parts of the organization work together more effectively with clarity about what… what really has impact on the customer experience.
Steve:
And the book is called "Elite Executive Teams." I've got a copy of it right here in my hands. You want to talk a little bit about the book?
Dwaine:
Yes. You know, coming out of the experience of being every day and in customer experience, I decided I wanted to understand more of why the companies just in general would give it a… a second or third position in their concern at the C-level. So I have spent quite a bit of time researching and and came up with this idea that there are four things that executive leadership teams sometimes talk about, but actually don't do in a disciplined manner. And if they would, the customer experience would show up much more effectively. And so the first of the four is around the issue of the executive team being connected and aligned at the thinking level. So what are the five to six big issues that they're thinking about each week? They need to share those and under… and have an understanding of what what each person on the executive team, the principle and let's say five direct reports. The second thing is there needs to be clarity about how do we create, prioritize, and execute to all kinds of new strategic initiatives. And there needs to be real discipline around that. And the third is… it is around stakeholders, but it began with customers. So if we go to a company and we ask them, "are you customer focused," everyone will say yes. But if we say, "hey, can you show us a document that would prove that there is an overall clear understanding of what it means to be customer focused and a document that describes how all the parts contribute to that process," we find that organizations just don't have that. And then, of course, the fourth thing was around measurements: as they begin to measure things in the different parts of the organization, we need to include that, of course, with the customer experience issues. And if they'll do those measurements more effectively, just give them a greater understanding of what's going on with the customer, and at the same time, how the parts are working together to build much more effective relationships with one another.
Steve:
Let's break those four down just a little bit deeper, maybe if that's OK, Dwaine. On the first one, connected and aligned thinking: what are some of the qualities or what are some of the trademarks you've seen of high performing teams versus those that are not as well aligned on their thinking?
Dwaine:
Well, sort of a general thought is this is in most companies. I'm using this with a little bit of sense of humor, but for most organizations at the senior level, the drug of choice is busyness. Let's go get everyone busy. And it's sort of a secondary issue of thinking, gosh, if I'm in one part of the organization, wouldn't it be nice if I knew what was going on in the other parts? And where people get distracted with that is that they try to connect at the doing level. And the doing level is down the road, frankly. We need to collect and understand what everyone is, quote, thinking about. What are your big topics for the week? So as we sit with our executive leadership team, we just go through each one of them. What are you thinking about this week? What's going on and why are you thinking about that? And of course, we have a technology tool that allows them to do that. And of course, the tool is mobile, but it really helps them clarify the big issues of what they're thinking about and then they can explain it in a little more detail if needed. And then others can comment about those… those big issues. And that's how they share in developing an understanding at this real conceptual level of what's going on in each of the parts.
Steve:
And then the second phase was this clarity and discipline around execution.
Dwaine:
It's really around identifying what we're going to have in the way of strategic initiatives because it… and getting clarity so that everyone understands what's going on with all of the strategic initiatives and how those strategic initiatives impact one another. Most organizations, those are done within the parts or silos and they don't really share what's going on with the other parts.
Steve:
And then we talk about stakeholders. But for this purpose, let's focus in on the customers. What aspect of that is most important for the elite team?
Dwaine:
For the elite team, it's for everyone on the executive team to understand a number of things. But they first of all, they need to understand the full experience of the customer. And that begins with the customer, becomes aware of the company. And then we connect with one another. And then there's how the… how the… how the customer engages with the company. There's even the financial pieces that go. There's the customer service piece. And then there's the ongoing relationship building. So if we think of just those steps. Most of those steps are done in a silo. And so we've got to get those silos to understand one another and what they're doing. So each… each part needs to understand how the other parts do what they do to contribute to the customer experience.
Steve:
And then the measurement is just a really key aspect of management, always. But I always like to say what gets measured gets managed.
Dwaine:
Yes, absolutely. And, you know, we even refreshed that thought in the book. And so as we go through measurements and we understand measurements, it certainly impacts our performance. But it also helps us have an understanding of what's going on even more than just the the outcome of a transaction, if you will.
Steve:
Right.
Dwaine:
So what we do in working with the organizations is we take, for example, the period… the people who are responsible for customer service and we have them learn how to present the reports that are used for the sales team. So… And so if I have people from different disciplines understanding how to present and discuss the reports from a different part, that's where we begin to develop a lot of cross-fertilization and deeper understanding of what… what goes on in each of the parts so that the parts can get a flavor and a deeper understanding of how what they do impacts the other parts.
Steve:
Yeah, and measurements are real tricky one, too, because you can get it wrong, right?
Dwaine:
Well, exactly. So one of the first principles that goes with this is are we doing our measurements correctly? And are those measurements in the use of those reports creating the outputs that we really intended? And as… as odd as this might sound, what we find is it's a rare, rare company that we can go in and find that there is discipline around updating and reviewing their ongoing reports. Once a report gets put in place, they just leave it there and it just continues to grow. And then we can look at the distribution of a report that might go to 20 people. But we have a little process that we can use that would find out that maybe only 10 of those 20 people are using the report and the 10 that aren't have created their own report. And so we want to get it so that, you know, every few months we go in and review those reports so that we have the right measurements and we have them being used in the right way.
Steve:
My guest on the show this week is Dwaine Canova, who is a friend and a mentor to me in my career and also the CEO of a company called Zynity. Dwaine has a distinguished career in CX and really goes back to the origins of the call center evolution that's really revolutionized business and customer experience as we know it. He's also the author of a new book called "Elite Executive Teams" and we've been talking about the principles of the book. Dwaine, how does a company know that they're making progress related to becoming more of an elite executive team?
Dwaine:
Well, first thing is there has to be a deliberate process in place. And so that's one of the things that we suggest in the book is there has to be a deliberate process. And we use the normal measurements, if you will, for the company. Are our measurements improving? And of course, many, many people refer to those as KPIs, or key performance indicators. So we begin to track those and pay attention to those on a scheduled and disciplined basis. So it's about being deliberate with a process. And, of course, in the book we describe a methodology that can be used and we refer them to a set of technology tools that can be used and that really begins the process of being more disciplined. And what I just described there, let's just for a moment see how that looks in another part of the organization. Let's go to the accounting team. We know that if we ask a company about their accounting system, they're going to tell us the technology they use. And if we ask them about their sales system, they're going to tell us principally about the technology that they use in that in that process. And so then if we say, OK, we're all in agreement that it's really important to have an accounting methodology and technology sales methodology and technology that we all know that the executive team is probably the most impactful group within an organization. And so then we ask the question, tell us about your executive leadership system. And of course, we always get blank stares because people don't discuss that hasn't been discussed. There's not a book on it. It's mentioned in this book here, the "Elite Executive Teams." So this idea of performance has to be built within a discipline, just like we do for accounting or sales or any other discipline in the business.
Steve:
Do you have any good stories about writing the book and the things that as you think back on it?
Dwaine:
Well, [laughing] one that I do enjoy is I was invited… this is now I'm going to say five years ago when I was early in the middle of this, I was invited to make a presentation to a peer group of folks that met. And, as I began the presentation and started talking about this, it was so new and I was so inarticulate in what I was really doing because I didn't have full clarity, of course, at the time. And this group normally had the speaker, you know, come mid-morning, say 9:30, speak to 11:30 and stay for lunch. And I knew I didn't do very well because they didn't invite me to stay for lunch. [Laughing] So it was a little discouraging, but I can remember coming home and explaining to my wife what had happened. And she says, what… what does that make you think? So it makes me think I have a lot more work to do.
Steve:
Yeah.
Dwaine:
So anyway, that was… that was one of the really fun ones.
Steve:
And this book is just the start, right?
Dwaine:
It really is. And of course, what… what precedes this, I've written six other books that precede this that explain the methodology and the processes. And those books are used to train our… our coaches. So they can be certified coaches, they get their green belt, blue belt, black belt, mentors belt. And so all of that has been put in place. And now this book is really used to help… help the audience, if you will, or the users understand what we're talking about.
Steve:
Dwaine, the framework for the elite team is awesome. I love the way you think about it. How would a team know that they're on the course to becoming an elite team?
Dwaine:
So if we know elite, because we know elite people are always improving and they're always measuring their performance. And so that becomes a key part of this whole process is built into this this methodology and the processes are this ongoing focus of growth and change and having it be very deliberate. And it must be done within structure and it must be done within discipline. And in almost every case, there needs to be some guidance. And that's where the coaches come into play.
Steve:
Wise words from a wise man. All right, Dwaine, it's that time of the show where I ask our guest for some take home value. So this is the hallmark of The CX Leader Podcast. We try to send our listeners off with your best tip, something that they can go right back into the office tomorrow and implement to enhance their performance as a customer experience professional. So, Dwaine Canova, what's your tip of the day?
Dwaine:
Well, customer experience begins at the top of an organization, and every organization deserves an elite executive team. An elite executive teams are the ones who will pay attention to the concepts, as well as the details required to really build relationships with customers and expand their value to customers on an ongoing basis.
Steve:
Thank you. Dwaine Canova, CEO of Zynity, and his new book is called "Elite Executive Teams." Dwaine, how can our listeners get a copy of the book? I assume it's… I think I got mine on Amazon, right?
Dwaine:
Yes, it's on Amazon. And then, of course, our website, Zynity, zynity.com. And by the way, Zynity is a contraction of a couple of words that means creating harmony among the parts. And so they can do it there or they can find me on LinkedIn and send me a note and be very excited to talk with anyone.
Steve:
Yeah, you're Dwaine, D W A I N E Canova, C A N O V A. And so you're on LinkedIn. And then the website is Zynity, Z Y N I T Y, and the book is "Elite Executive Teams." Well, thanks again, Dwaine, for being on the program this week.
Dwaine:
Thank you very much for having me. It's been a delight and especially to be a part of your 100th podcast and having listened to many of your podcasts, I'm just honored to get to be a part of that. So thank you very, very much.
Steve:
Well, we are honored to have you as our special guest on our 100th episode. And if you want to talk about anything you heard on the podcast about how Walker can help your business's customer experience, feel free to email me at steve.walker@walkerinformation.com or give me a call here in the US that's +1-317-843-8890. Be sure to check out our website: cxleaderpodcast.com. You can subscribe to the show and find all our previous episodes, podcast series, and contact information so you can let us know how we're doing. And remember to check out our 100th episode feature "Steve's Picks." That's at cxleaderpodcast.com. The CX Leader Podcast is a production of Walker, we're an experience management firm that helps companies accelerate their CX success. You can read more about us at walkerinfo.com. Thanks again for listening and we will see you again next time.
Sonix uses cutting-edge artificial intelligence to convert your wav files to text.
Thousands of researchers and podcasters use Sonix to automatically transcribe their audio files (*.wav). Easily convert your wav file to text or docx to make your media content more accessible to listeners.
Sonix is the best online audio transcription software in 2020—it's fast, easy, and affordable.
If you are looking for a great way to convert your wav to text, try Sonix today.
Tags: author Steve Walker c-suite CEO Dwaine Canova Zynity Elite Executive Teams executive team