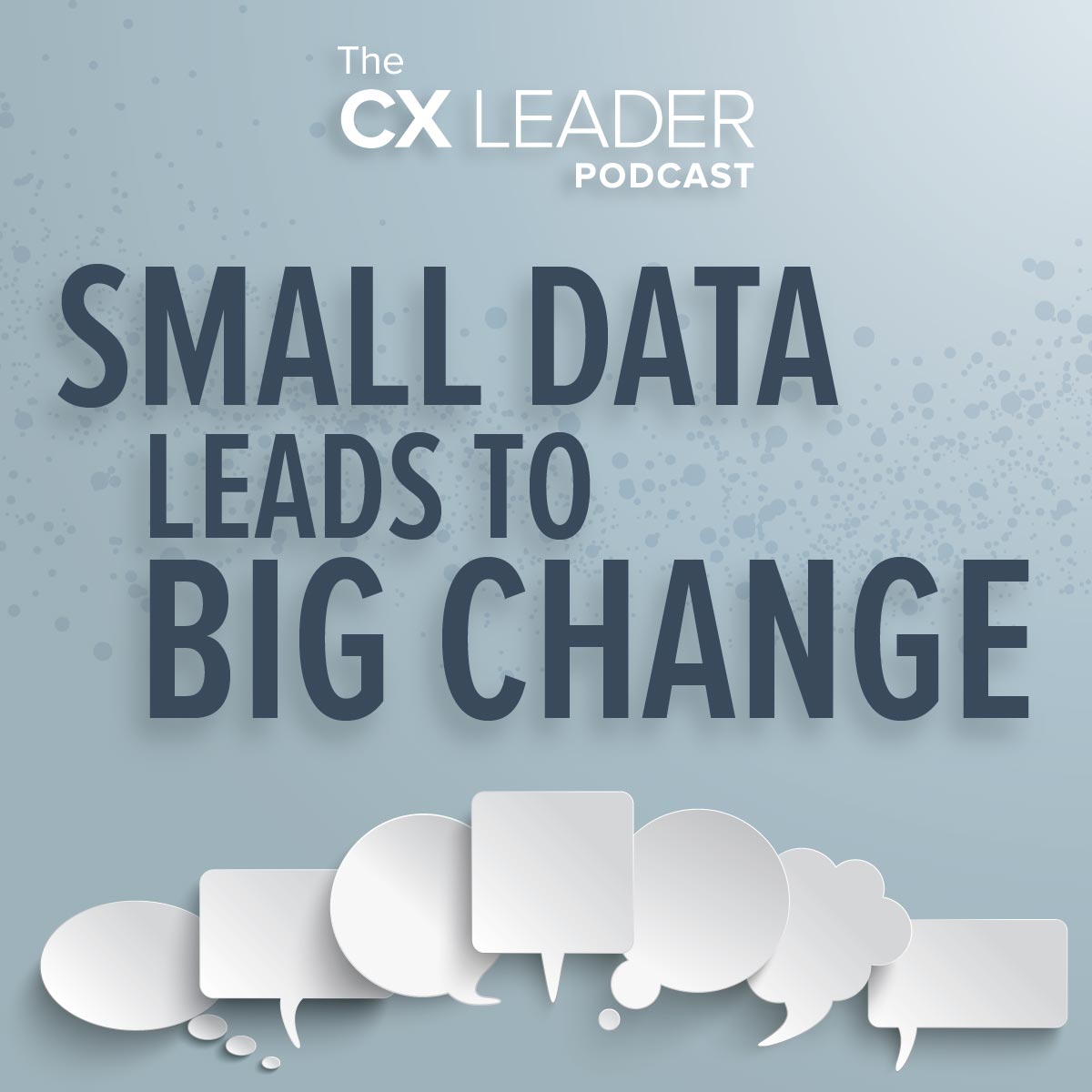 Small Data Leads to Big Change
Release Date: April 28, 2020 • Episode #114
CX leaders today are having to make critical decisions on whether they should bother customers for feedback or find other ways to gather insights. Luckily there are tools in our CX toolbox that can help CX pros collect feedback, and unstructured voice of the customer is one of those tools. Host Steve Walker welcomes Cary Cusumano, a certified customer experience professional and principal client partner in customer experience design for Verizon to discuss ways to reconstruct the customer journey without using surveys or other potentially intrusive practices.
Transcript
Download the "CX Leader Podcast – "Small Data Can Lead to Big Change" audio file directly. This wav was automatically transcribed by Sonix (https://sonix.ai).
CX Leader Podcast – "Small Data Can Lead to Big Change" was automatically transcribed by Sonix with the latest audio-to-text algorithms. This transcript may contain errors. Sonix is the best audio automated transcription service in 2020. Our automated transcription algorithms works with many of the popular audio file formats.
Steve:
We've been talking quite a bit about listening to your customers, especially during a time of crisis and finding ways to listen without being intrusive.
Cary:
I know we're recording these and I know our supervisors are listening to them so they can coach the reps, but who's listening to the calls to say why did the customer call in the first place?
Steve:
Using unstructured voice of the customer practices to gather customer insights on this episode of The CX Leader Podcast.
Announcer:
The CX Leader Podcast with Steve Walker is a production of Walker, an experience management firm that helps companies accelerate their CX success. Find out more at walkerinfo.com.
Steve:
Hello, everyone. I'm Steve Walker, host of The CX Leader Podcast and thank you for listening. On The CX Leader Podcast we explore topics and themes to help leaders like you leverage all the benefits of their customer experience and help your customers and prospects want to do more business with you. Raise your hand if you've gotten one of those "our response to COVID-19" emails from a company. I know I have. Honestly, I've gotten about 20 today and it's not really a bad thing for a company to communicate with their customers. But CX leaders today are having to make a critical decision: should we bother our customers for feedback or find other ways to gather insights? Luckily, there are tools in our CX tool box that can help CX pros collect feedback and unstructured voice of the customer is one of those tools. And I'm very happy to have Cary Cusumano, a certified customer experience professional and the principle client partner in customer experience design for Verizon as my guest this week and Cary is going to tell us how he's used unstructured voice of the customer to gather feedback from customers without having to rely solely on surveys. Cary, welcome to The CX Leader Podcast.
Cary:
Thanks, Steve. It's great to be here.
Steve:
Well, a pleasure to have you on, especially given the interesting times we are in. Certainly the world has changed quite a bit in the last five or six weeks. But one of the things I always like to do with our guests is just make sure that we hear your story about how you arrived at being a customer experience pro.
Cary:
Well, you know, it's been a little bit of a journey, Steve. In fact, it really began for me, I would say four or five years ago as a Lean Six Sigma black belt in our Verizon process improvement program. And one of the things those who are familiar with Lean Six Sigma will recognize is one of the inputs that is always supposed to be the voice of the customer. The reason you're doing a project is in some form or another, you're trying to improve a process that at the end, which is there's a customer involved. And there was a small group of us, I would say three or four, not too many who kind of came away from this feeling like, you know, this voice of the customer thing, it seems to be a slide on your first presentation to the project champion and then it gets shoved in a drawer and forgotten about. And in fact, you know, one of the characteristics that I think we walked away with was we never got asked at the end of project, you know, what… How did this… How did this impact the customer experience? We were always asked, how much money did you save? And so this small team of like minded folks, we kind of walked away with a sense of urgency to bring better focus to voice of the customer. And I think, at the time we really focused on how do I build better projects and I have the right outcomes for those projects, but it later evolved.
Steve:
Yeah, it's interesting. You come at it from the Six Sigma. You know, I came at it more from the traditional market research side. But that's one thing that the whole field benefited from, was the whole focus on continuous improvement, total quality management that really forced some of this customer feedback into that… those processes. So it's kind of a, you know, two routes that came back to the same thing. And it's interesting to see how we've become so customer focused over the last several decades.
Cary:
That's right, Steve. And in fact, you know, I would tell you that the two, I think are a good fit because sometimes CX professionals can come across as being a bit academic. You know, it's about let's go through the journey mapping, lets do the personas. And sometimes that stuff gets put into a nice three ring binder and set aside kind of as a trophy. Where when you back it up with some type of process improvement program, now you've got some teeth behind that. You actually can accomplish some real value in improving your processes.
Steve:
Yeah. So if you've been a career Verizon guy, or…
Cary:
Well, I like to say when I talk about some of these complex topics, you know, I used to be in submarines. So I'll tell people that, you know, it doesn't take a nuclear engineer, although I am one to figure out some of these things. I started in the submarine community and I went into to MCI, which, of course, MCI was ultimately bought by Verizon. And, you know, most of the time there really began in project management, in marketing, things like that. And it was only when I heard about this concept of Six Sigma and, you know, being a problem solver and the… and enjoying the idea of investigative analysis. You know, those types of things really interested me in this thing called Six Sigma. And that's where I got involved with that. And of course, we told you about how that evolved into seeing, you know, a gap or a weakness, I believe in how we approach voice of the customer. In fact, even back then, voice of the customer to us was really: "OK. I've got these transactional surveys scored on a zero to ten, maybe have a few verbatim comments." And like I said, all we were doing was saying, look, here is the overall satisfaction. That would get, you know, it was kind of a check in the box, you know, as part of that define tollgate in the present… In the in the project flow and then we get put in a drawer and forgotten that as you move through the phases.
Steve:
Well, let's fast forward today and some of the things that you're seeing in your practice, particularly with the COVID pandemic that we're dealing with. But what are some of the things that you're seeing your B2B clients do from a customer experience standpoint?
Cary:
Yeah. And you mentioned it early, you know, that it's changing the way people are approaching business and we're seeing that as well. You also mentioned how there's a fine line between being in your face and being available to these clients. And so, you know, our approach has been to really just, you know, give clients their space. Say "listen, we're at your disposal." Well, we don't want to go in there charging in with, you know, look, we've got these remote worker solutions. We've got, you know, cloud based call center type solutions. That's really not where these folks are headed. You know, we are seeing, at Verizon, we're seeing a lot of inquiries into how I can do those types of things better. And of course, we all want to help there. So, you know, we're seeing, you know, the level of demand actually on the increase. That makes sense. You know, you and I are right now on the on a conference call course, we look across at some of our other clients, maybe in the travel and hospitality industry who they're literally looking at and how many weeks they can really survive. That's a tough one. You know, we… just like consumers maybe calling their electric company, saying, I need a payment plan. We're trying to help do that with our enterprise clients as well. One other one that interestingly enough in the auto insurance industry we're seeing, you know, large – about 40 percent decreases in their call volumes for claims because people are not driving. So, you know, that's probably a little bit of a silver lining. But again, everything is being disrupted now. And there's a lot of question about what does this look like on the other side?
Steve:
Yeah, I saw a joke the other day about, you know, we got low gas prices, but we can't go anywhere. It's kind of like it being fifteen again.
Cary:
[laughing] Exactly.
Steve:
No, I… And actually, you're talk about… I actually just received a rebate on my car insurance just proactively from my carrier saying, hey, we know you're not driving, so we're going to rebate you a couple of months of premium, which I think is a really great…
Cary:
Right. Right.
Steve:
…response…
Cary:
For sure.
Steve:
So, yeah. You guys touch almost every industry and you're seeing this happen in real time. What are some of the other things that are just going on in the marketplace from a customer focused standpoint?
Cary:
Right. Well, you know, I mentioned that, you know, we're trying to give folks their space, but also being available to them if they have inquiries. And of course, we have had clients come to us with requests like, listen, I've never had an at home agent program here. I've got to have my people out of the office and working from their homes. Help me out. We actually had a large electric and gas utility come and say, you know, give us some help here. And again, this is not selling product. It's really just a knowledge share. And, you know, the guy said, listen, I understand that you you've actually moved twelve hundred agents to work from home. And course, we brought on one of our experts and she kind of started chuckling and said, actually, it's been 12000 agents that we've moved home. And there's… There's something important about this too, Steve, is, you know, folks in our team who are focused on how to help our clients prepare and deliver a better customer experience. We're looking on how do we have this dialog with these folks after we come out of this lockdown, this quarantine, whatever you want to call it, to help them be better prepared for the next particular crisis, because we're finding – it's a little bit surprising – we're finding that many of these enterprises weren't prepared for something like this. They were prepared for: I had a fire at this location and then I have to have an alternate location for that. Or we had floods or, you know, something where again, they have an alternate location and, of course, you can't put people into a different location. You have to get them separated. And so our advice right now is don't go making decisions right now about what you want to do in the future. That is to say, don't just create a new work at home program. Don't move the cloud right now. I know that sounds heretical for somebody in my business, but I think decisions made in a crisis tend to be not as good a quality decision as when you have had time to think through it. So what we're doing is we're kind of designing again, a not a top track, but more of a: here are the considerations you should take into account as you plan for, you know, what do I need to do in the future? Right now, try and work through with your current assets and then let's sit down and talk about what you should consider.
Steve:
Yeah, you said a lot there. And I want to just emphasize a couple of things I heard. You know, obviously this is a horrible situation, particularly for those of us who've have been touched personally by someone we know. But then on the other side, you know, you look at how fast things are changing and how much learning is going on. I mean, I was reflecting yesterday, actually, I'd take a little bit of a drive and I just didn't put the radio on. I was just thinking about stuff. And I've learned so much in the last month, you know, just like how to use this technology and how to use Zoom and how to set up this microphone now so I can do the podcast remotely. And, you know, those are kind of some of the positives that come out of this, I think, that we really are going to have some fundamental change in innovation that comes out of this. And we'll probably improve the human condition moving forward. You were always kind of a proponent of the unstructured voice of the customer, and I've heard that a couple of times. What was it about your experience that kind of set you off that way?
Cary:
Well, you know, again, like I said, there was a small team of us who had this notion that there's something missing in the way we are doing voice the customer. We made ourselves champions. I went off into what was being developed as our kind of newly formed B2B CX organization. You know, how do we improve the variety and experience for our for our enterprise clients? I had actually gone to a conference in San Francisco in 2015, heard a guy named David Mingle from GM speak about how Mary Barra, their CEO, would once a week go into their call centers and Y-jack with an agent and listen to what customers were calling about. And that gave me an idea. I said, you know, our you know, our leadership doesn't have that capability. They're not co-located with the call centers. So I'll bring the call center to them. You know, I know we're recording these and I know our supervisors are listening to them so that they can coach the reps. But who's listening to the calls to say why did the customer call in the first place? And so I just made it my job to start going through calls. I learned very quickly the five minute call that's not a big deal, don't worry about that. That's a password reset. The ten minute call, that's maybe an address change. And those are valuable in themselves, in as much as you can say: "listen, where do we have opportunities to offer additional channels to customers who may not want to wait 10 minutes on hold for a very short question." But the real value came, Steve, in listening to those forty-five minute calls and the fifty-five minute, hour-long calls, because that's where the customers were really expressing pain. The goal here was to kind of fall back on that Lean Six Sigma skill and say, you know what, we'll do a pareto diagram. We'll just take all of the… all the data that we're collecting from these these multiple calls, and, you know, using some of this analytics software, just put them into buckets. You know, this percentage is billing questions, this percentage is where is my circuit… things like that. But then we had a breakthrough at one point on that. That changed the way we approached it.
Steve:
Yeah. You actually you remind me back to some of my old days, a lot of the customer satisfaction measurement research was break-fix like, you know, how can we make this customer happy or what processes? But actually, when you're talking about is really kind of a strategic improvement of the business, you know, perhaps that you don't just react to problems, but maybe you can use that data to go back and fix things before they end up in the call center with an issue, so as you… as you were starting to share that data. Did you ever have an "ah-ha" moment and…
Cary:
I did… in fact, that this is where the breakthrough happened. And in fact, what was happening was as I started to listen to these calls and I could see patterns emerging, you know, they have the software that I had enabled me to actually type in words that I wanted to search for. And I would take these things, and again, their hour-long calls, and I would share them with the people at my team. And also, you know, I had a very good champion in our chief marketing officer who's also interested in this stuff, but he's not going to listen to hour-long call. And I'm just basically bought some editing software to chop these down to two or three minutes and I would share them with the team. And one day that colleague I told you about who went into the ERT, she said, it's funny, Cary, this call you just sent, I have an e-mail from the very same customer. And I thought that was kind of interesting. Out of the many, you know, thousands of business customers we have that we would have that. And we just sat down, said, you know what? Let's find out what else we can find in terms of interactions. It turned out the call that I had found was not the first call. In fact, it had been transferred in from a different center and they had actually reached out to us a couple of months before. And as we started to put the pieces together, I found through looking at our maintenance system that the e-mail that she had received was precipitated by an outage they had had, you know, while they were stalling a new service. And course, the call that I had received was precipitated by the customer getting a bill they didn't recognize. And we were able to put this all back together that showed that what we thought was a billing problem we just got today really originated four and a half months ago as we installed a service for this customer that was not compatible with their equipment. And you can imagine the value in seeing something like that, because many folks in the system of rule will say, we got billing promise, let's fix our billing problem. But if you want, if you trace it, you pull on that little thread all the way back, you find that it wasn't a billing problem, it was a sales problem. And this really became a practice where we said, I'm going to do it again. And we did it again and again till we created a practice of not only knowing where the sources of voice the customer were, but all the systems an order travels through to get to a completed circuit for a customer. And and we realized along the way we better document this because this is a powerful way to get to root causes.
Steve:
Hey, my guest on the podcast this week is Cary Cusumano. He's a certified customer experience professional and principle client partner in customer experience design for Verizon, and a big, big fan of unstructured data, voice of the customer data and also comes with a background in Six Sigma. We're having a fascinating discussion about how sort of his early days in Six Sigma has influenced his approach to CX. What do you think about some of the new topics in CX and and with your with your Six Sigma background, with some of the hot, hot things like journey mapping and process mapping and some of that.
Cary:
Well, you know, interestingly enough, you know, I you know, we talked a little bit earlier about how sometimes CX professionals can, if they're not careful, come across as being just very academic. I'm going to create journey maps to show, you know, how this this journey looks from the customer's perspective. But oftentimes those journey maps really end up looking like what you want the journey to be, not the way it actually is. And of course, we kind of reinforce this notion or I should say refuted this notion through what we found with this what I called the journey reconstruction practice here. I actually did giving it a more… a title called Small Data, because I want to… I want to balance that against the concept of big data. But what we found was, you know, the first scenario I told you about, it started as a billing problem, but it was revealed in the root cause to be something completely different. And so what would happen was that we actually put together three of these reconstructions for our chief marketing officer. Everyone of them began with a phone call saying, I've got a bill I don't recognize. Naturally, your… Your first reaction would be: "OK. Let's start evaluating our billing problem." But then I started to show him. Here's what happened when we reconstructed these things. In one case, we found that the customer had had a service install a year prior to the call. A year. And this customer had been trying to get help for a year. It turned out we had a third party provider who didn't understand how to sell the product correctly. And what had happened from that, we changed the way we operated with our partners. So we really turned that finding into action. And again, those types of problems went away. But yet you take that back to another beginning of the root cause, you'll find that we had a problem inherent into the process itself. And that is a point where I made a couple enemies, because the chief marketing officer said, you know what? Tell the product manager we're going to stop selling that. You're damaging the brand, OK? And it wasn't a permanent thing, it was stop selling and until you fixed it, that version, we had two versions of the product. Fixed that version of the product, and then you can resell it. So for about a month, I dried up their revenue stream, but I was appreciative having a chief marketing officer who was… had enough vision to say, listen, in the long run, this hurts our brand. OK, so he made a courageous decision. Then, and then in another one turned out it was caused by a change to our policies for auto pay. And, you know, in each of these cases, everybody would have stopped at seeing I've got a billing problem. That through this journey, reconstruction, you find out three different root causes and it gives you three different areas to work at. After you collect a lot of this type of feedback, you will start to see trends that point you toward root causes. And if you take the root cause out, those complaints never come in the first place.
Steve:
All right, Cary. We've reached that point in the show is sort of the hallmark of the CX Leader Podcast as we ask our guests to give their take home value, something that our CX pros can go and put into application as soon as they get out of their car or get home from the gym and… So Cary Cusumano. What is your take home value for our CX leader?
Cary:
Ok, Steve, got a couple of things. The first one would be take an inventory of your sources of voice of the customer. Oftentimes people will say, you know, I've got I've got these surveys that I do after every phone call, I've got semiannual survey I did with my customers. And those are good. But I would say that the minute you ask a question on a survey, it's already biased because in my opinion, you're saying tell me what you think of what's important to me. OK, you've said you know… And in fact, we saw some of that with regards to these billing problems. We saw how we would ask the question, how is your overall satisfaction? Then we would say, did you get it fast enough? Our assumption was the most important thing to our customers was getting their circuit fast. What we found, though, in listening to calls when they were calling us with some unsolicited feedback, it was more about I've got bill I didn't recognize. Then look beyond just the surveys. Look beyond just the call records, chat transcripts, emails, social media, even things like I've gone on to the Better Business Bureau website and TripAdvisor when I'm helping clients to see what people are saying about your brand out there in field. The second would be take an inventory of all the internal systems that your product, whether for us that might be a circuit, whether it be a plane ticket, whether it be some retail item, what are all the systems that that product goes through prior to reaching the customer on the other end, you know, whether it's a billing system in order entry system, a provisioning system, a customer service system, and find out where you can connect the dots, we say, through you. Maybe you have a customer I.D. embedded in there or you have a telephone number, things that will help you link across multiple systems so that you're reconstructing that customer journey even through elements that they don't see. And then finally, the one thing that really helped me would was having a champion, that chief marketing officer who really had the vision to to see, you know, how these negative experience would affect the brand. To have him as a champion and recognize the value of this. And give us time every month to share with him, find a champion who's willing to do that.
Steve:
Well done, Cary. Cary Cusumano is a certified customer experience professional and principle client partner and customer experience design for Verizon. Cary, thanks for being the guest on the podcast this week.
Cary:
Oh, it was great. Thanks for having me, Steve.
Steve:
Hey, and if people want to continue the conversation, I think we could find you on LinkedIn, right?
Cary:
Absolutely.
Steve:
And it's Cary Cusumano. C.U.S.U.M.A.N.O.
Cary:
That's right. That's right. Thanks, Steve.
Steve:
Yeah. Thank you. And thanks for all the good work you did and especially for your service and in the Navy. Admire that very much…
Cary:
Thank you.
Steve:
… in people. So thank you. If you want to talk about anything you heard on this podcast about how Walker can help your business's customer experience, feel free to email me at steve.walker@walkerinformation.com. Remember to visit our website cxleaderpodcast.com to subscribe to the show and find all our previous episodes, podcast series, and contact information so you can let us know how we're doing. The CX Leader Podcast is a production of Walker, we're an experience management firm that helps companies accelerate their CX success. You can read more about us at walkerinfo.com. Thanks for tuning in. Thanks for listening. We'll see you again next time.
Sonix uses cutting-edge artificial intelligence to convert your wav files to text.
Better audio means a higher transcript accuracy rate. Sometimes you don't have super fancy audio recording equipment around; here's how you can record better audio on your phone. Get the most out of your audio content with Sonix. Sonix converts audio to text in minutes, not hours. More computing power makes audio-to-text faster and more efficient. Are you a radio station? Better transcribe your radio shows with Sonix. Create better transcripts with online automated transcription. Here are five reasons you should transcribe your podcast with Sonix.
Sonix is the best online audio transcription software in 2020—it's fast, easy, and affordable.
If you are looking for a great way to convert your audio to text, try Sonix today.
Tags: Steve Walker customer feedback Verizon voice of the customer Cary Cusumano customer journey call center