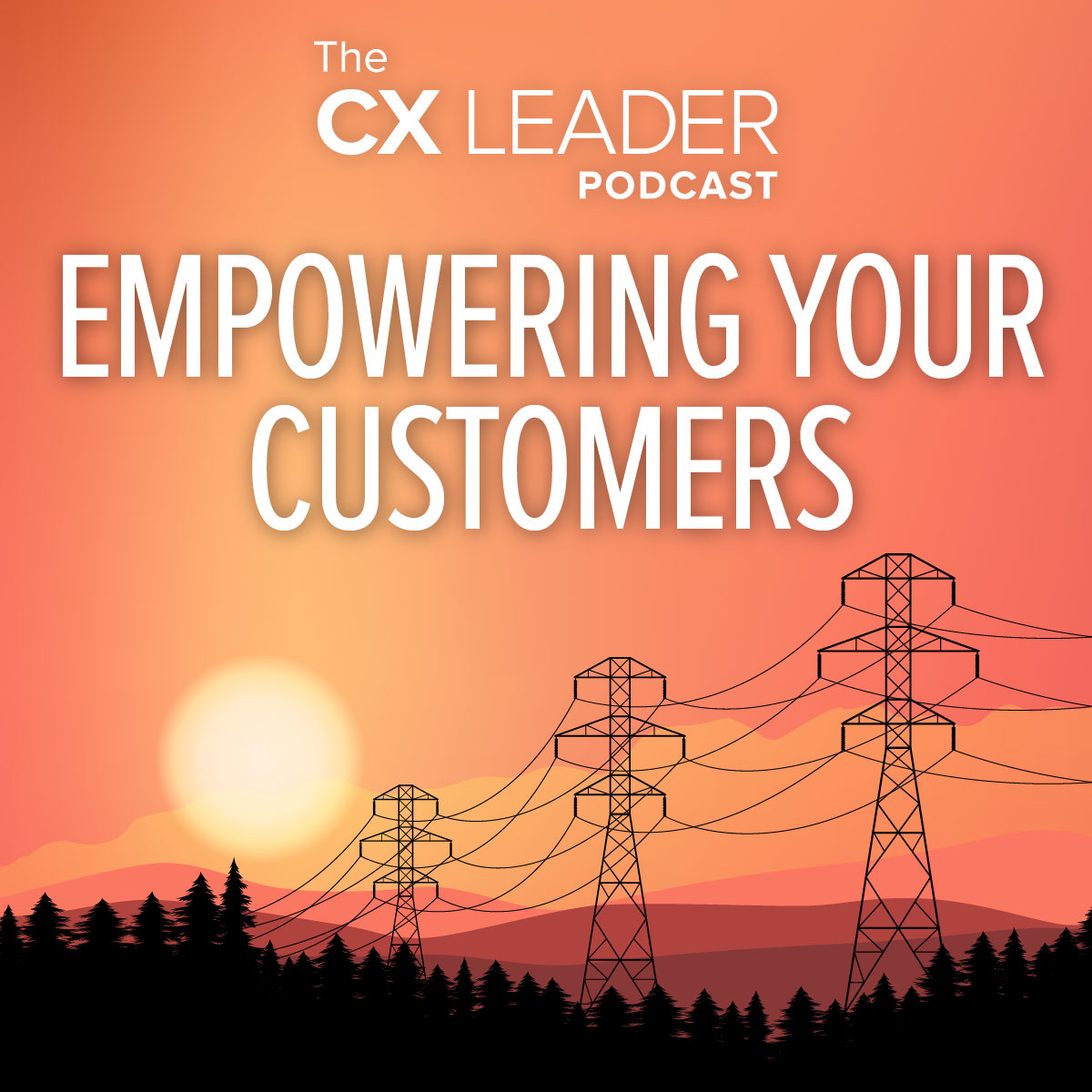 Empowering Your Customers
Release Date: September 29, 2020 • Episode #135
Competitive retail electricity markets give consumers a choice of who will supply their electricity. Only 18 states in the U.S., including Washington D.C., have introduced these types of markets, giving consumers a choice in who generates their electricity. This, of course, has a significant impact on how a utility company approaches customer experience. Host Steve Walker welcomes guests Suzie Dieth and Scott Burns from Reliant Energy, an NRG company and electric utility headquartered in Houston, Texas, to discuss how customer experience works in a retail utility market.
Transcript
Download the "CX Leader Podcast: "Empowering Your Customers" audio file directly. This wav was automatically transcribed by Sonix (https://sonix.ai).
CX Leader Podcast: "Empowering Your Customers" was automatically transcribed by Sonix with the latest audio-to-text algorithms. This transcript may contain errors. Sonix is the best audio automated transcription service in 2020. Our automated transcription algorithms works with many of the popular audio file formats.
Steve:
Here's a riddle for you. We use it every day, and without it, you wouldn't be able to listen to this podcast.
Scott:
If you moved to Houston, or move to the Dallas Fort Worth area, you could choose between anywhere between 50 and 100 different providers for electricity. Customers are very aware that they have choice. And so with that, what it means for us is an electricity provider, because we're not a monopoly, we really have to be hungry and customer experience has to be really core to everything we do.
Steve:
Exploring CX within a competitive electric utilities market on this episode of The CX Leader Podcast.
Announcer:
The CX Leader Podcast with Steve Walker is produced by Walker, an experience management firm that helps our clients accelerate their XM success. You can find out more at Walkerinfo.com.
Steve:
Hello, everyone. I'm Steve Walker, host of The CX Leader Podcast, and thank you for listening. On The CX Leader Podcast we explore topics and themes to help leaders like you leverage all the benefits of your customer experience and help your customers and prospects want to do more business with you. Competitive retail electricity markets give consumers a choice of who will supply their electricity. As of this podcast, only 18 states in the US, including Washington, D.C., have introduced these types of markets, giving consumers a choice in who generates their electricity. This, of course, has a significant impact on how a utility company approaches customer experience. And we're going to learn a lot more about that from our guests today. Suzie Dieth is the director of Customer Experience and Scott Burns is the VP for Retail Innovation, Customer Experience and marketing intelligence, both at Reliant Energy, an NRG company, an electric utility headquartered in Houston, Texas. Suzie, Scott, welcome to The CX Leader Podcast.
Scott:
Thanks for having us.
Suzie:
Thank you.
Steve:
Well, it's my pleasure. And actually, this is a really interesting topic because most of us have grown up in a world where utilities, there was no choice for your electricity, but we've seen this happen in some other regulated utilities and industries over the past year. So you guys are right at the cutting edge of this. I'm familiar with Reliant because I'm a sports fan. So I know that the stadium is still named for Reliant in Houston, isn't it?
Scott:
It's actually NRG, which is the parent company. But Reliance and NRG are both pretty integral to the sports marketing there. And we've been affiliated with the sports teams and that facility for a number of years now. So it's been a great partnership for us.
Steve:
Yeah, the home of the Houston Texans, right?
Scott:
Correct. Go Texans!
Steve:
Go colts. Sorry, we're in the same division, remember? [Laughing] Ok, we digress into football, but I can do that. So but why don't you just tell us a little bit for those of us who don't live in one of those 18 states, what is going on here without competitive electricity works in Texas? And just to educate our listeners a little bit about the market dynamics.
Scott:
So Texas is a is a unique market and there are a number of other markets that are at different stages of deregulation with respect to electricity. And you're in Texas, if you move to Houston or move the Dallas Fort Worth area, you could choose between anywhere between 50 and 100 different providers for electricity. So it's become very, very energized and customers are very aware that they have choice. And so with that, what it means for us is an electricity provider, because we're not a monopoly, we really have to be hungry and customer experience has to be really core to everything we do. And so depending on the type of energy you want to consume, whether it's green energy or you want to get a bundled product with a thermostat or another device, whether you're looking for the lowest price, there's a lots of different factors with which people will use to choose their provider. But we as as you know, in the innovation, the customer experience space, it really drives our behavior and creates a high sense of urgency for us to thrill our customers.
Steve:
Did you come through this transformation from being a monopoly to the deregulated or you knew to the utility world?
Scott:
I'm relatively new in that 2008… so, so that in Texas it was the early 2000s when the market really started opening up. And so it was definitely a an interesting transition for a lot of the incumbent providers to move from a regulated utility to to kind of breaking that up to where you've got kind of competitive power generation and competitive retail marketing, the ones that are actually acquiring customers and servicing customers. So there are a number of people that were there for the entire transition. I came from the telecom industry where there was a similar transition that occurred right where you saw kind of the baby bells deregulate, which is a highly competitive market. So my telecom experience actually came in really handy. And when I moved to the energy space, they were kind of well on their way. But new technologies were really enabling lots of new products and services that we could offer to our customers.
Steve:
Well, that… When I my introductory comments, I was thinking about telecom, which again, you used to not have a choice. And now there's a multitude of choices today. Do you see the same dynamic occurring here in electrical utilities or will there be some subtle or not so subtle differences in the way this works out?
Scott:
I think there actually are a lot of similarities in that, you know, the lines in many cases, especially when it was there was landlines were more prevalent. You would have a number of different providers that would basically offer services over those same lines. This is similar in that you've got a regulated distribution utility in the middle. You've got a single set of electricity lines that go to the home. You've got a number of different power providers that are actually providing you're creating the electricity, and again, there's a ton of different sources, everything from coal to natural gas to solar to wind that are that are coming online. But then on the customer facing side, you've got a number of different providers that are doing that. So it is very similar. And you're also seeing similar things occur in that, especially with the wireless carriers now. Right. They offer bundles with with cell phones and different technologies that kind of make them more interesting and unique depending on the customer's specific needs. And for us, we're doing the same thing. Right. So people want these tools to actively manage their energy like smart thermostats and smart plugs and some of those things, electric vehicles are coming online. So there's a lot of technologies that are really creating a more engaging experience overall with with energy. And so we will often bundle things like smart thermostats or Google devices where customers can access their energy information via these voice assistance, those sorts of things. And so there are a lot of parallels with what's what happened and is still happening within telecom.
Steve:
In the Suzie, maybe for you, with this focus on customer experience, how does this change the approach to providing a customer experience in a business that is now competitive?
Suzie:
Yeah, it's great. As Scott mentioned, customer experience really becomes core to what we do because it's so easy for somebody to switch from one provider to another. And so we have to differentiate ourselves based on that experience that we give to our customers. And so it's really challenged us to think outside of just day to day operations and typical utility or monopoly type mindset to say, hey, how can we create meaningful relationships with our customers so they stay loyal to us and they buy more from us. And ultimately that's what we want to achieve.
Steve:
And have you been with Reliant Energy for a while?
I joined in 2005, so almost 15 years.
Steve:
So you kind of came through a little bit more of the transformation from the regulated to the unregulated, deregulated.
Suzie:
Yes. That then I would say the details of that process had already happened, but it was early stages. So a lot has evolved in the 15 years that I've been there.
Steve:
So Scott, go back to something you said, kind of intriguing, but people can pick their type of energy they want. So you're really talking about like segmenting markets and tailoring products for specific needs. Can you talk a little bit more about that?
Scott:
Yeah. So in a regulated market, typically it's one size fits all. I think some of the regulated markets are being influenced a bit by the competitive markets and are seeing what's going. And so they're they're trying to to maybe make some steps in the direction of providing some choice. But for the most part, it's what you want vanilla or do you want vanilla? And that's that's what you get right. Here we do a lot of segmentation. And I would say the segmentation has gotten increasingly more sophisticated since I've been here. And you do have customers that are very interested in ensuring that they're getting their energy from renewable resources. So we have products and offers that are specifically for them. And some of them also, again, you've got as in any market you've got of cut the laggards and you've got the early adopters. And so we do pay very close attention to both, but in particular the early adopters so that we can see where the change in consumer sentiments are, so we can address that with specific products. So. So, yeah. So that is driving. You know, if you think about the revolution with respect to renewables and as we kind of slowly migrate away from carbon based fuel sources, consumers drive a lot of that. Right. As is their mindset. And especially now I've got teenagers and kids in college and it's very front of mind for them. Right. And so as they come into the the market and they're looking for energy providers, that's going to be something very important to them. So we ensure that we've got products that meet their needs, whether it's solar and frankly, in Texas, because Texas has is further along the maturity curve. You have customers that are actually choosing between wind and solar, for instance. Right. So it's not just renewable generically, it's it's the specific types of renewable.
Steve:
Yeah, I'm not an expert by any means, but I actually have a really good childhood friend that's very involved in renewable energy at Oregon. He was telling me recently that for some projects now, renewables are just as cost effective as carbon based. Is that true?
Scott:
You are as you look into the future and even now you're seeing it become much more cost competitive. Right. So so I think that I mean, there are still because there's so much embedded base of traditional generation. So so the incremental cost of that is not as great as the real cost of adding new renewables. But you're definitely seeing the cost curves come together, which is going to make for a really interesting market going forward. Again, the beauty of the competitive market is, is that it's not just giving customers choice, but it's kind of driving societal good. Right. So one of the other interesting things you see in our market is that prices throughout the day actually change. You in a in a traditional market are probably paying one price. Twenty four seven. Right. And that's not how supply and demand works right? When it's the hotter times of the day in August, in the summer in Texas, the macro system costs are going to be higher. So now we can create products and services to let customers take advantage of that, like free, nice products or free weekend products where the demand is actually less and encourages customers to shift their usage from those higher times of the day to the lower times of the day, they get a benefit and then the grid overall actually gets a benefit.
Steve:
So really we are seeing – and this would be very typical of what happened when you deregulated telephone – but we're seeing innovation that is driving down the cost for the end user and creating, you know, new opportunities that maybe we couldn't have found in a regulated industry.
Scott:
That's exactly it. Some people are not highly engaged. So I would say there's a broad spectrum, right. Energy, like you said in your riddle to start the show, some people are not highly engaged. They would just kind of an expectation and just some cases is just a necessary fact of life. But others are highly engaged. And so for those, you know, so we've got something for everyone.
Steve:
This is a CX Leader Podcast and I got so fascinated with some of the market dynamics there that I've probably spent too much time on that. But you guys have created a pretty unique, customer focused culture, which would probably be driven by market forces. But could you just give us an overall view of how you view CX and how it integrates with the overall strategy?
Suzie:
Sure, Steve, I can touch on that. And so over the years, we really sort of leveraged a phased approach to it, making customer experience core to our operations within Reliant. We started with the contact center helping our call center agents with their phone chat and email interactions. And it really was a great place for us to start because that group obviously sees their connection to the customer. They're talking and having conversations with them all day long. And so after a number of years of success in reducing effort for both our call center agents and our customers, we said we really needed to expand. We needed to involve everybody in the organization to think and about our customers and create loyal relationships for them, regardless of what role they have in the company. So currently we do that through kind of a hub and spoke approach where my team guides the overall program strategy and governance and our voice to the customer insights platform. But we work really closely with subject matter experts that are embedded throughout different departments like I.T. and human resources operations and marketing. And it's through those relationships with those subject matter experts that we're able to do a number of different programs that provide them with relevant insights from our customers and empower them to be innovative and drive change throughout the organization.
Steve:
Just broad based. Just give us kind of the specs on how many customers you have and the the range from B2B to consumers.
Scott:
So so have 1.3 million in Texas and then over 3 million nationwide. If you look at all of our different brands that NRG has.
Suzie:
And primarily B2C.
Steve:
Yeah. So but households. But you also have industrial users and corporate corporate accounts to, right?
Suzie:
Businesses. Exactly. That's correct.
Steve:
Is there more competition in the industrial commercial side than the residential?
Suzie:
I can't speak to the commercial industrial. I know there's a ton of competition in the residential side.
Steve:
Ok.
Scott:
There is. It's both both across the spectrum. So commercial, industrial, small business and residential is extremely competitive. So there are both large players in the space, you know, big kind of international conglomerates that have offers in market. And there's also the small startups that as well. So really everything in between.
Steve:
Hey, my guests on the podcast this week is Suzie Deith, the director of Customer Experience and Scott Burns, he's the VP for Retail Innovation, Customer Experience and Marketing Intelligence, both of them at Reliant Energy an NRG Company and Electric Provider in Texas. We've been having a fascinating discussion about the competitive electricity market. I understand that you guys were a finalist for an innovation award through the CXPA. They're a frequent topic that we talk about here on the podcast. But tell us a little bit about this innovation award.
Scott:
So as we talked about before, you know, there're customers are on a continuum of how engaged they are. And one of the things we have to talking to customers. And again, Suzie's team does a ton of voice of the customer surveys. And so we had a really good idea as to how customers are thinking. And one of the things we've learned is customers just want the information when they want it, where they want it. Right. So what's my bill? What's my usage? So one of the really cool innovations that's driven a lot of activity here in Texas as these new smart meters that have been deployed and what they are, is basically instead of having one meter read a month, you actually get ninety six meter reads a day. Every 15 minutes you get a read. And so it gives customers a really good idea as to how they're using energy. So we've been providing that through a lot of different channels, whether it's online or through the emails, that sort of thing. But we we've had a kind of a long term strategic partnership with Google. And as part of that, we actually give customers the ability to ask what their bill amount is, pay their bill, ask about their usage over the last twenty four hours, and they can see that on those visual voice assistance to the Google home devices, Google home hub, those sorts of things. And so really trying to take away all sorts of friction with our interaction to make that customer ever level as low as possible. So we kind of maximize our overall customer satisfaction.
Steve:
And was this something that came out of the CX work?
Scott:
It is. It's kind of it's really a combination of nexus of the CX work that we do, along with kind of the innovation team looking to see what's happening in the market. And we have this long term partnership with Google. So Google acquired Nest. So you're probably familiar with the Nest thermostats. And so we were their launch partner here in Texas for the Nest thermostat. And so that relationship has continued. And so as we kind of look to see what technologies are coming in, are our communication to our customer started really used to be a bill paper bill. That was the extent of it. Right. And that's what many regulated duties that that is kind of the relationship they have with the customer. We started there. But as these new technologies get on board emails, Web portals, mobile apps, and this is kind of just the next generation, right? Its customers are cooking in the kitchen and it's a hot August day and they want to know what you know, what is their usage look like over the last 24 hours or what's their usage to date? We can provide that information without them having to go get a device out, pull it up, log in. They just see it right there on the screen on these voice assistance devices.
Steve:
Well, you talk about engagement. That kind of a tool would probably start to increase people's engagement, wouldn't it?
Scott:
Yeah, it's just it's just a lot easier to access. Right. And so I know all of us have probably asked devices, things that we would have never thought to ask for. So I remember watching the Super Bowl last year, you know Gladys Knight, I think the the national anthem. Right. And so I wasn't going to go look up how old Gladys Knight was like. She's been around forever. She's a legend. But yeah, I've got a device sitting right next to me why not yell across the room, get that answer immediately? Right. And so, again, that speaks to the engagement. So that's an area likely again, I wouldn't have taken any additional effort. But when it's effortless, why not find out how much energy you're using?
Steve:
It's a great story. And I was just going to make the point for the CX pros here is that your customers probably didn't tell you to create this program, but you combined kind of your relationship with Google, your desire to engage your customers more, and then the real desire from the customer to understand how they can manage their usage better. And you came up with this solution and and that is exactly what CX does for our organizations today. We can listen to the customers and we know the business and we can come up with those solutions. But that's that's really the trick. So kudos to you guys for that. How long have you had your CX program in place, Suzie?
Suzie:
We've had formal CX program in place since about 2008 was when we started.
Steve:
Actually some of the earliest uses of what we call customer satisfaction today were actually created by the regulated utilities back before the days where there was market pressure, but they used them as case studies to go to the regulators in terms of capital investment or rate changes. So we did tons of work for the Bell system back in the 70s, not as much in the electrical utilities, but, you know, in those days when it was so regulated. But they had these longitudinal metrics about the level of satisfaction to basically defend or protect whatever their business objectives were. They were based on these basically feedback from customers. So a lot of the antecedents of what we have today in terms of customer experience really were borne out in the regulated utilities world of the 70s and 80s, so.
Scott:
And just think about the dynamic, the difference of dynamic there, though, right? So their primary motivation is to stay out of trouble. Right. So in a market that, again, a customer can't leave. Right. So so at the end of the day, as long as you're staying out of trouble, you're OK versus our market is it is so transparent and so frictionless to switch from one provider to another that if any misstep we take, we risk losing a customer. Right. And so the the motivation and again, we're huge proponents of markets and me as a consumer. I'm a huge proponent of competitive markets. Right. So we talk now, especially in this work and home environment. Right. I wish I had a couple more choices for high speed Internet to my home. Right. And and if. If I did, it would be very easy for me to to lean a little heavier on on my current providers because my current providers and in many cases are not meeting my needs. The competitive market for electricity eliminates that right. With 50 different providers, you have leverage and you have the ability to to demand certain things from your providers. And we in turn, like you said, we have to look ahead. Right, because many people don't know what they want until they have it in front of all the options from. Steve Jobs, the famous quote about you didn't know they needed an iPhone. Right. And so it's that sort of thing. We need to be thinking and trying things for our customers and see what resonates because they're not thinking about electricity all the time and thinking about the family that that we're going to keep going and going over all sorts of things going on. We need to be thinking ahead and try things right and use the tools that Suzie and the team have put in place to get some feedback from customers. But some of that stuff is going to stick. And again, it does make a difference and hopefully will keep customers with us a lot longer.
Steve:
Great story. You're right. The historical roots of customer satisfaction are what we used to kind of call, break-fix. So we ask customers what's wrong and then we go fix it. But here you guys have kind of flipped that on its head because you're coming up with solutions based on their feedback that they don't even know about. So, you know, it's more than just fixing what's wrong. It's about learning things that can even further that innovation in that curve. And that's been a fascinating discussion. I really want to thank you. I learned a lot just from being able to interview you guys. So thanks for coming on. Well, Suzy and Scott, we've reached that point of the The CX Leader Podcast where we aske for take home value. That's something that our podcast listeners can take back to the office right today or tomorrow and put into their approach that could improve their own customer experience at their organization. So, Susie, what's your best tip today for our listeners?
Suzie:
So my tip would be don't lose sight of the positive. Oftentimes we think about what experiences we want to improve or what we might want to do differently. And that's certainly great and we want to continue to do that. But we have to keep our employees and our teams motivated and engaged. And so it's really important that we consistently share what our organization is doing well. What are those positive comments that customers are saying in our surveys or social review sites? Those simple, positive communications that we can share back internally with our employees can go such a long way to help us achieve our ultimate customer experience goals.
Steve:
That's a great tip. I'm a big optimist and positive energy creates positive results. So thanks for sharing that. That's a great one. Scott, how about you from your perspective?
Scott:
I think what has been a major change for us is once we started really quantifying the impact of customer experience on our business, you know, customer experience is a discipline, if you think about it, a high level. I think many people think about it as a squishy, fuzzy thing. And let's let's just of course, we want to make customers happy. But actually putting metric metrics around it and quantifying it has been huge for us, especially if you think about our legacy as an electricity provider. It's a very operations driven business. Right. If you think about kilowatt hours and the trading and the hedging, all the things that go with that is a very quantative business. And so by creating metrics that show when we are able to improve customer experience and eliminate those pain points for customers, it makes a huge difference on on on the metrics in the overall business. I think doing that in a business like ours has been really critical.
Steve:
Great. Well, again, Scott, Suzie, thanks so much for being a guest on the podcast. If folks wanted to continue the dialog, are you guys on LinkedIn? Can people find you online?
Suzie:
Yes, absolutely.
Steve:
Again, Suzey Deith is the director of Customer Experience and Scott Burns is the VP of Retail Innovation, Customer Experience and Marketing Intelligence for Reliant Energy and NRG Company and electrical provider in Texas. And thanks once again for being on the podcast.
Scott:
Thanks a lot Steve.
And if you want to hear about anything else you heard on the podcast or about how Walker can help your business customer experience, feel free to email me at podcast@walkerinfo.com. Be sure to check out our website, cxleaderpodcast.com to subscribe to the show, find all of our previous episodes, podcast series, and contact information so you can let us know how we're doing or drop us a note. The CX Leader Podcast is a production of Walker. We're an experienced management firm that helps companies accelerate their XM success. You can read more about us at Walkerinfo.com. Thanks for listening and we'll see you again next time.
Sonix uses cutting-edge artificial intelligence to convert your wav files to text.
Automated transcription is getting more accurate with each passing day. Do you have a podcast? Here's how to automatically transcribe your podcasts with Sonix. Rapid advancements in speech-to-text technology has made transcription a whole lot easier. Sometimes you don't have super fancy audio recording equipment around; here's how you can record better audio on your phone. Get the most out of your audio content with Sonix. Here are five reasons you should transcribe your podcast with Sonix. Sonix takes transcription to a whole new level. Automated transcription can quickly transcribe your skype calls. All of your remote meetings will be better indexed with a Sonix transcript.
Sonix is the best online audio transcription software in 2020—it's fast, easy, and affordable.
If you are looking for a great way to convert your audio to text, try Sonix today.
Tags: Steve Walker utility Suzie Dieth Scott Burns Reliant Energy NRG electric competitive utility market