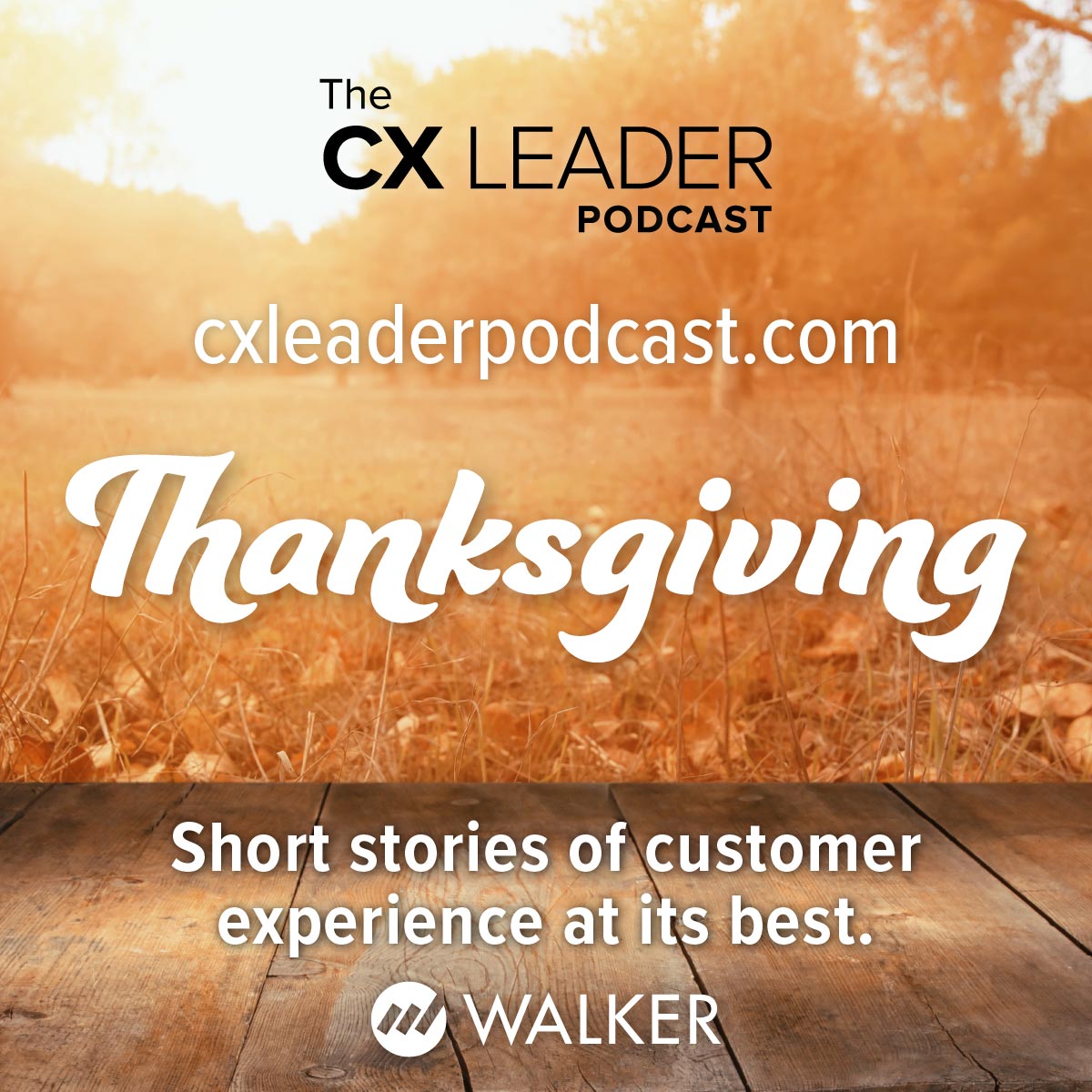 Thanksgiving
Release Date: November 26, 2019 • Episode #94
It's Thanksgiving here in the United States and we've dedicated an episode to sharing some short stories of customer experiences that made a positive difference in people's lives. Producer Chris Higgins hosts an episode with stories that include industries such as retail, automotive, restaurants, government agencies, and hospitality.
Transcript
Download the "CX Leader Podcast: "Thanksgiving" audio file directly. This wav was automatically transcribed by Sonix (https://sonix.ai).
CX Leader Podcast: "Thanksgiving" was automatically transcribed by Sonix with the latest audio-to-text algorithms. This transcript may contain errors. Sonix is the best way to convert your audio to text in 2019.
Chris:
It's that time of year where in the United States we like to celebrate and give thanks for all the good things in life. So we thought we'd do the same by saying "thanks."
(guests):
Thank you. Thank you. Thank you. Thank you.
Chris:
Let's thank some companies for exceptional customer experiences on this episode of The CX Leader Podcast.
Announcer:
The CX Leader Podcast with Steve Walker is a production of Walker, an experience management firm that helps companies accelerate their CX success. Find out more at walkerinfo.com.
Chris:
Hello, everyone, I'm Chris Higgins, producer of The CX Leader Podcast, sitting in for Steve Walker, and thanks for listening. On the CX Leader Podcast, we explore the topics and themes to help leaders like you leverage all the benefits of customer experience and help your customers and prospects want to do more business with you. It's a holiday week here in the U.S. and, like many others preparing for Thanksgiving, we're going to take a break from our normal format and take a moment to highlight some companies that go out of the way to create a great experience. So we gathered some stories from around our office of times when our colleagues had a great experience with a company or organization and to say "thanks." We'll keep it short this week: no commentary, no analysis – just some happy stories of companies going that extra mile for a customer. We hope you enjoy.
Jeff:
So in February of this year, I purchased my first Subaru and my wife was coming… her vehicle was coming off of lease in September. So I was aware that Subaru had a loyalty program. If you wanted to purchase another Subaru, just give them a phone call and they'd throw $500 at you, which you could take in to the dealership and apply towards the purchase of new vehicle. So when I called Subaru to see if I could take my loyalty coupon and give it to my wife, the gentleman, you know, asked me some questions and he was asking me how I liked the vehicle and so on and so forth and what I thought of Subarus and and things like that. And then he said he wanted to check on the… whether he could apply that that loyalty rebate to my wife. And so he placed me on a brief hold. And, you know, I didn't expect that when he got back on the line, he said, "Jeff, you know, what we actually want to do is offer you $750." So we got an additional $250 from that, just from giving them a phone call and having that experience. And my wife was able to use that $750 coupon on purchasing a new… a new Subaru vehicle. So completely unexpected. And, you know, that's 50 percent of the of the initial rebate. So, yeah, totally unexpected. And it was a great experience. Thank you, Subaru.
Kerrie:
Every year we go to a resort on family vacation. We always go back to the same one because of their wonderful customer service. It's almost like going home and seeing your family. They are so wonderful to our family and our kids that every morning at breakfast they'll ask them if they want pancakes. They'll ask them if they want the same drink. They'll know our children by name. It just really makes us feel special and relaxed and happy. Because of their personal service, that's why we keep going back year after year.
Mike:
When LED light bulbs started coming out and showing up in the stores, I was very fascinated with them… with their efficiency. So actually over the course of the first year or so, I had probably purchased at least 25 of them and started putting them throughout my house. And at that time, those LE[D] bulbs actually had a 10 year warranty. And literally since then, which was probably over the last eight years, I have worked with Cree and probably received over 40 bulbs back on warranty claims over that 24. And during that time they have never questioned me or challenged me. They continue to just say… they apologize for the inconvenience and they will give me the latest version. There's new versions coming out all the time. They continue to send me out the newest bulbs and literally ship them out… probably I'll get them within 2 days. And they never… I would keep thinking they're going to challenge me because they think I'm doing some kind of scam, but they don't. And so it's a relationship that just seems to be extremely positive.
Paul:
On a recent trip to Taiwan, I got to my layover in San Francisco and realized I had left behind a key piece of medical equipment that I need at night to help me breathe. And so I sent a note ahead to the concierge at the hotel where I knew I would be staying. Described my predicament, and 15 hours later, when I got on the ground in Taiwan, had a note from the concierge giving me the name and address of a place I could go to pick up the device I needed and had my driver swing by there on the way and had a very productive two weeks in Taiwan thanks to her extra effort.
Liz:
This year, I've had to go to the BMV more times than I ever had in my life, but every time I've gone, there has been a person circulating the waiting area asking people what they need to do and making sure they have all their documents so that if they don't, they need to go home, they don't have to wait in line for an hour before they find that out. And also, all of us who were behind them in line then don't have to wait as long either. It makes it a lot easier. Thank you, BMV.
Frank:
I recently applied for a Costco credit card supported by Citi. When I called for additional information, the city representative came on the line saying her name and stating she was located in their South Dakota call center. I asked in passing what the weather was like, adding that when I served in the Air Force, I was stationed at her sister-state, North Dakota. The representative very efficiently handled my request, asked if there was anything else she could do to help me, and then when I was ready to close, she said the following: "Mr. Walker. Next week we will celebrate Veterans Day. Thank you for your service for our country." I was floored and told her how much I appreciated her "thanks." Needless to say, City went way up in my book that day. Thank you, Citi.
Kelli:
Both of my daughters are diagnosed with autism, and my youngest daughter is non-verbal. A few years ago, when she was about 6 years old, she had difficulty waiting in lines and would get very overwhelmed and upset; she didn't like the loud noises in the restaurant. So my husband, I wanted to go out for dinner one night at a local restaurant and I called the Oaken Barrel, which often has wait times to be seated, which could be very long and very hard for her to do that. So I spoke with the server and asked if we can make a reservation and they told me they don't do reservations. And so I explained the situation that my daughter had autism and she has a hard time waiting. And then the guy I talked with said, don't worry about it, we'll get you in. Once we arrived, I gave him our names and the hostess said, "Yeah, we have your table ready." And they seated us in a very quiet part of the restaurant. They had the drinks ready. They had the menus out. And once my youngest got in her chair and situated, she was doing great. We had a great time as a family. And I just want to say thank you to the Oaken Barrel for being really accommodating for our family.
Chris:
You know, it's just nice to hear some happy stories about great customer experiences. And I have one more to add. Airlines are often the target of CX pros, using them for examples of an industry that has a long way to go when it comes to a good customer experience. But a colleague here at Walker read this experience online about Southwest Airlines. This particular person wrote: "flying home on Southwest Airlines tonight, and the flight attendant announced a young girl was celebrating her eighth birthday. They asked all the rows to push the call lights and we all sang Happy Birthday. When they asked her to make a wish and on the count of three, blow out the candle lights and we all turned them off at the same time. Love their creativity and attention to creating great customer experiences."
Chris:
That's a great story to end on for this special Thanksgiving episode. I want to thank Jeff, Kerrie, Mike, Paul, Liz, Frank, Kelli, and Pat all who contributed their experiences and stories for this podcast. If you have stories you'd like to share with us, we'd love to hear them. E-mail podcast@walkerinfo.com and we might use your story in a future episode. If you want to talk about anything you heard on this podcast or about how Walker can help your business's customer experience, feel free to email Steve Walker at steve.walker@walkerinformation.com or give us a call here in the U.S. at 1-317-843-8890. Be sure to check out our new website, cxleaderpodcast.com. You can subscribe to iTunes, Spotify, iHeart Radio, Google Play, and YouTube, and find all our previous episodes, podcast series, and contact information so you can let us know how we're doing. The CX Leader Podcast is a production of Walker. We're an experience management firm that helps companies accelerate their CX success. You can read more about us at walkerinfo.com. Thank you for listening and for everyone in the U.S. or anywhere around the world, even if you celebrate it at a different time of the year: Happy Thanksgiving.
Sonix uses cutting-edge artificial intelligence to convert your wav files to text.
Thousands of researchers and podcasters use Sonix to automatically transcribe their audio files (*.wav). Easily convert your wav file to text or docx to make your media content more accessible to listeners.
Sonix is the best online audio transcription software in 2019—it's fast, easy, and affordable.
If you are looking for a great way to convert your wav to text, try Sonix today.
Tags: Chris Higgins thanksgiving automotive retail hospitality restaurant government agency